For a generation of diners in south Palm Beach County, Uncle Tai's was the place to go for authentic Hunan cuisine. Far less known is that it's also the place that gave rise to college football in Boca Raton.
It's there that Anthony Catanese, then the president of Florida Atlantic University, invited Howard Schnellenberger to lunch in the spring of 1998. For the better part of a decade, Catanese had been telling anyone who would listen that football could be a game-changer for a school that, despite its growing academic reputation, struggled to hold the spotlight compared to other state colleges. After finally snagging support for an exploratory committee, Catanese set his sights on a football coach synonymous with raising programs from the dead.
The question was: Could Schnellenberger start one from scratch?
When news of Schnellenberger's death at age 87 began circulating last weekend, most stories led with his most memorable accomplishment—taking a University of Miami program that was nearly shut down in the late 1970s and leading it, in a shocking Orange Bowl upset of then-powerhouse Nebraska, to the first of its five national championships in 1983. He would later put a storied basketball program, Louisville, on the national football map with yet another impressive turnaround.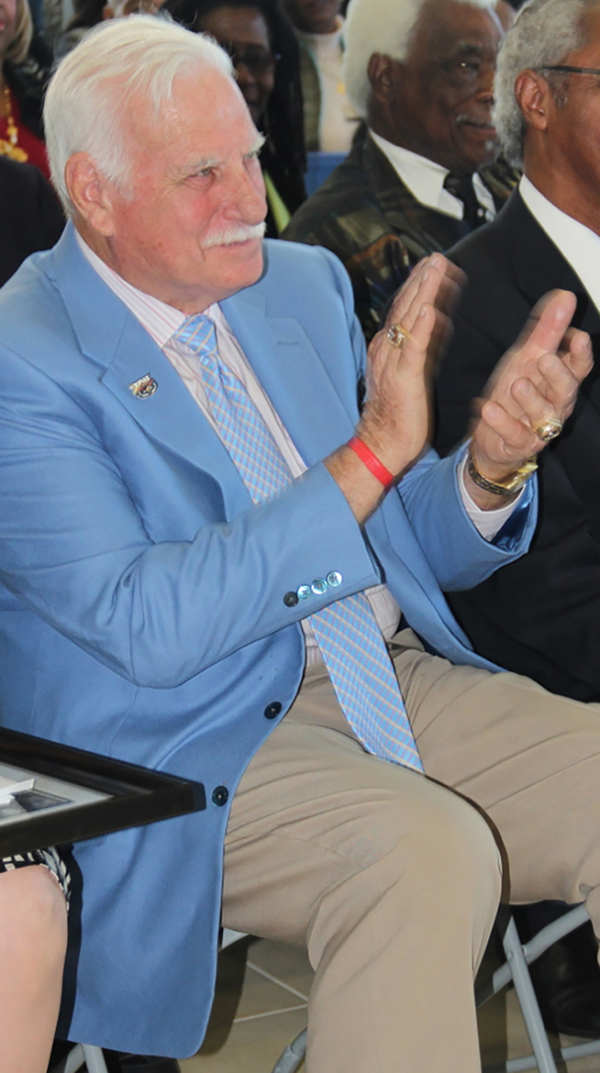 But when Schnellenberger took the FAU position over lunch at Uncle Tai's—before Catanese even explained what the job entailed, as the story goes—his reputation no longer had the luster it once did. His last college football stop, a troubled stay at Oklahoma in 1995, prompted his resignation after one season—the Sooners' first with a losing conference record in three decades. He had ventured into the financial world of bond trading prior to Catanese's call, and was back in South Florida with wife Beverlee, in part, to be near his oldest of three sons, Stephen, who lived with endocrine cancer (he fell into a post-surgical coma in 2003 and would die at age 48 in 2008).
What happened between 1998 and the kickoff to the 2001 season is a gift to FAU and the city of Boca that will keep on giving for decades to come. Schnellenberger spent three years creating a football program out of thin air. "The program didn't have a nail to hang a jockstrap on—much less a room to put the nail in," Schnellenberger once told me.
By the time he stepped down as head coach of FAU at age 77, the Owls had moved into Division I-A, after starting as a I-AA independent. They had become the second-youngest program in history to score a bowl invite. They won back-to-back bowl games in 2007 and 2008. And, in 2011, Schnellenberger's 11th and final year as head coach at FAU, the university unveiled a $70 million on-campus football stadium.
Prior to the start of that 2011 season, I had the pleasure spending time with Schnellenberger, as well as coaches and players from the inaugural FAU team, for a feature on the birth of Owls football. Part of Schnellenberger's job in those days involved selling students on football amid faculty concerns that the sport would lower academic standards.
His efforts to build an aura of excitement about the future program included stump speeches in the student cafeteria—using an actual wooden stump.
"The only time I could get a good group at the cafeteria was Wednesdays; most people had classes that day. I'd have somebody carry my stump, and I'd visit as many students as possible," he told me. "I was trying to teach the students a little political science—Lincoln and Douglas debated on stumps, right?
"I'd tell them I was their football coach and that we were developing a team. The first 10 times, I couldn't keep their attention at all. I'd get up on the stump and whistle really loud, but that just pissed them off. They'd look at me like, 'Stop screwing up my lunch.'"
Ultimately, Schnellenberger would win over the doubters. In just their third year of existence, the Owls finished the 2003 season 11-3. I asked him, given all the hurdles, how he was able to develop a winning program in such a short span of time.
"You gather unselfish players, kids with a burning desire to win and be the best—even if their best isn't very good," he said. "I then promise them two things: 1) You will be in better physical condition than anybody we play. 2) You will be better prepared because we're going to work longer and harder than our opponents. There will never be a time in the fourth quarter where you'll feel more tired than our opponents. There will be times when we're behind at the end of a game, but we'll never be beaten.
"People ask me what's the greatest game you've been associated with. Before this, it was easy—the national championship with Miami and the Super Bowl [1972] as an assistant coach with the Miami Dolphins. But when you think about what it took to get to the point where we reached the I-AA playoffs in our third year … if you think about winning a bowl game at the Division I-A level four years later—and take all that together? That's special."