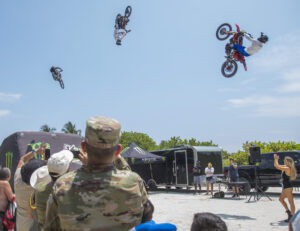 The Hyundai Air & Sea Show on Miami Beach added the U.S. Army SaluteFest to its long list of entertainment over Memorial Day weekend. The National Salute to America's Heroes and the U.S. Army are presenting the showcase, highlighting top technology, innovations, and career opportunities in the U.S. Army while also honoring and celebrating the men and women of the United States Army and their dedication to the nation's freedom and security.
On Saturday, May 27 in Miami Beach, the U.S. Army SaluteFest features three A-list musical acts, an interactive Display Village, a drone show and a fireworks extravaganza. The world-class signature event will be held at Lummus Park on Miami Beach during Memorial Day Weekend, May 27 and May 28, 2023. Event attendees can enjoy an array of engaging activities, including state-of-the-art military air assets, Cigarette Offshore powerboat racing exhibitions, extreme water sports with professional jet skiers, and a 4-block long Florida Power & Light Display Village that includes flight and navigation simulators, tactical training equipment, rifle range simulators, interactive displays, and the Monster Energy Action Zone, showcasing Keith Sayer's FMX (Freestyle Motocross) demonstration team.
"There is no better time than Memorial Day weekend to pay tribute to our military, First Responders, and those that have paid the ultimate sacrifice on behalf of our freedom," Mickey Markoff says, Hyundai Air & Sea Show Executive Producer. "The U.S. Army SaluteFest is a thrilling way to celebrate and honor these brave individuals and to promote all the U.S. Army has to offer."
For more information and to view the promotional video, please visit www.USAsalute.com.
(Photos Courtesy of Hyundai Air & Sea Show taken by Avatar Productions)