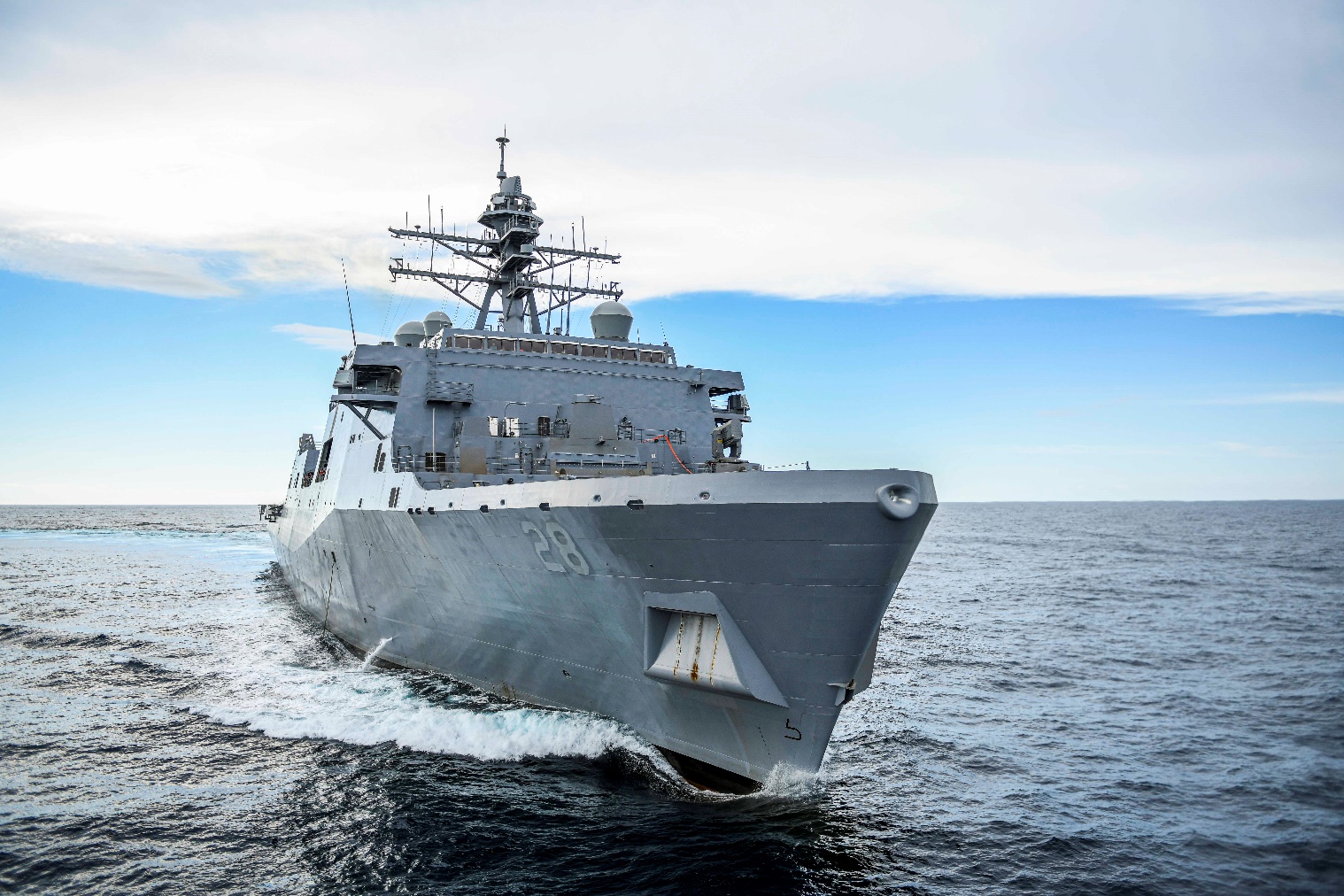 Presenting: The USS Fort Lauderdale
A longtime connection between the city and the U.S. Navy is recognized with the upcoming commissioning ceremony for the ship
Fort Lauderdale's reputation as a marine-friendly city extends to a branch of the United States military. The city established a hub for the U.S. Navy in 1942 when Naval Air Station Fort Lauderdale was created at what is now the Fort Lauderdale-Hollywood International Airport. While the airfield's military purpose ceased after 1946, the city remained a favorite "liberty" port of choice for U.S. Navy sailors.
Despite a mutual affection spanning 80 years, the city never had a naval ship bear its name. But after a decade of cutting through bureaucratic red tape, the USS Fort Lauderdale stands ready to join the U.S. Navy fleet. A commissioning ceremony will occur at 10 a.m. on Saturday, July 30 at Port Everglades, which is expected to draw thousands of attendees when the U.S. Navy formally places the ship into service.
Captain James Quaresimo, a Navy veteran of over 33 years, will command the Fort Lauderdale (LPD-28), the 12th San Antonio-class amphibious transport dock ship of the U.S. Navy. Historically, the secretary of the Navy decides the naming of ships. Quaresimo says the city's tradition of being associated with the U.S. Navy holds added meaning for him and the crew.
"I don't think I could be more proud and more honored to be able to take that ship to sea with the fantastic women and men that I have to work with every single day," he says. "We're so fortunate to be associated with such a great city."
Construction of the Fort Lauderdale, which is 684 feet long, 105 feet wide, and displaces 25,000 tons, occurred at Huntington Naval Shipyard in Pascagoula, Mississippi; the ship's future homeport will be in Norfolk, Virginia. After undergoing sea trials to ensure the vessel operates up to the U.S. Navy's standards, the first crew of nearly 400 sailors was expected to man the Fort Lauderdale in April.
"It's a big ship with a lot of equipment and a lot of new systems onboard, very technical in nature," Quaresimo says. "The team has to learn every piece of equipment to make sure they understand how to operate and maintain it—and, if something goes wrong, what to do."
As a U.S. Navy warship, the Fort Lauderdale is classified as an LPD amphibious transport dock vessel. Its primary mission involves transporting up to 600 U.S. Marines and their landing craft onto any beach in the world. It is also equipped to support humanitarian missions with a 24-bed hospital, two surgical centers, six ICUs and two dental operating rooms.
The U.S. Navy announced the naming of the Fort Lauderdale in March 2016 after years of lobbying from local and state politicians, as well as retired Senior Chief Petty Officer Charles Black, who died shortly after the official announcement.
"He was really the person who was instrumental in making sure that the ship was able to be named after the city of Fort Lauderdale," Quaresimo says. "There's been multiple ships commissioned here in Fort Lauderdale, and now they're going to get the best ship commissioned in Fort Lauderdale—the one named for the city."