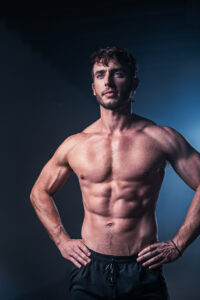 Long before he came out as gay, Patrick Frost struggled with the intensely masculine military environment in which he grew up. He recalls the self-induced pressure to conduct himself in a way that honored his father's standing as a chief master sergeant in the United States Air Force—because of everything he believed that represented.
"I was constantly physically changing the way I walked and talked," says Frost, recalling his time living in central Georgia near Robins Air Force Base. "It was a big part of me hiding who I was."
Now, at the age of 32 (he turns 33 in September), the owner of Frost Fit training in South Florida says he's proud of, and more comfortable than ever with, his sexuality. "But there's always still something in the back of my head," he admits.
By Frost's own admission, that something is tethered to the suppressions in his past and the ideals surrounding a different kind of masculinity in the fitness world. He offers an example: While gaining a following as a trainer at the prestigious Barry's Bootcamp in New York City, Frost was handpicked by Nike in 2015 to be one of 50 master trainers. As a Nike master trainer, Frost was tasked with creating a set of video workouts.
As he began filming the videos, Frost found himself becoming self-conscious.
"I felt like I needed to sound and behave a certain way," he says. It certainly wasn't a directive from Nike, he notes. Instead, it was something bubbling from within—a moment of self-doubt regarding his sexuality, triggered by perceptions and personal experiences.
"I don't know. Maybe it was one of those code-switching defense mechanisms," Frost says. "I want to be taken seriously in my work—and this is a very masculine-heavy field. I think I'm still battling my own issues."
And yet, moments later, Frost also shares that he's in a special place in his life, both personally and professionally. He responded to a business roadblock at the start of COVID-19—he became a franchise owner of a gym in Coral Gables, Burn Boot Camp, two weeks before the disease shut down South Florida—by launching an online concept around the same time, Frost Fit, that delivers live and on-demand training. Frost Fit's mix of HIIT, resistance training, bodybuilding, and animal flow (ground-based movement) has developed a steady fitness following—plus, he's still running Burn Boot Camp.
He said the catalyst behind Frost Fit is that it's as much about advocacy as it is about fitness. Part of every dollar made from memberships is donated to a different organization each month. Over the past year, Frost Fit has raised more than $50,000, with individual donations going to nonprofit organizations, including the Transgender Law Center, the NAACP, and Lucie's Place, which helps homeless LGBTQ kids.
"I call it sweat equity, Frost says. "We work out not only for ourselves but for a better world."
Frost says he's grown a lot professionally in the four years since moving to South Florida from New York City to build a life with his partner of six years, Thiago Guerra, who is now his husband.
"We'll celebrate our two-year anniversary on Aug. 10," he says. "We want to have kids. That's our next step."
Frost admits that Guerra has brought a different perspective into his life. "He has his own spectrum of queerness, and I've learned a lot from him. Being gay is not the most important thing about me, but I think, in that same breath, I would like to start leaning into it more. I don't think I've done enough of that."
He confides that he has tears welling up in his eyes during the phone interview.
"We don't talk about [these challenges] enough. We've squashed all of this, and it does live inside us. When I was younger, there wasn't access to people in the mainstream that led a lifestyle similar to what I would want to lead—or to showcase that it was even possible," Frost says.
There's a drive in him, he says, to be a positive role model for the gay community.
"The gay experience of life doesn't need to look like how it's portrayed in movies. There [are so many ways] to live a full life. You can have fun, you can party, but you also can be masculine, and you can be feminine—and all that is capable in one person."
– Photography by James Woodley