With greater attendance comes greater responsibility, or so it would seem for Joe Cox in his role as president and CEO of the Museum of Discovery and Science. The sprawling facility in downtown Fort Lauderdale attracts more than 400,000 people each year—more than double the number of annual visitors at the EcoTarium Museum of Science and Nature in Worcester, Massachusetts, where Cox previously served as president for five-plus years.
But where others might see challenges, the native of England has seen nothing but opportunity.
"With 400,000 visitors, you have the chance to make an impact on each person—that's always my goal," says Cox, who, earlier in this career, spent eight years as executive director at the Golisano Children's Museum of Naples (Florida). "When you have two 7-year-olds coming down the stairs, and one turns to the other and says, 'Dude, this place is like a playground for your mind!' that's when you know you've done a good job.
"When you have kids looking into a microscope for the first time, using their phone to interact with an augmented reality exhibit—those moments where inspiration takes flight—that's what I find so exciting."
The opportunities that Cox and his team are bringing to MODS extend beyond the chance to pose with a prehistoric megalodon—or to tell time with the museum's iconic, 52-foot-tall Gravity Clock. Since joining MODS in February 2018, Cox has emphasized diversity and inclusion in everything from the museum's internal practices to its inaugural Family Pride Day this past June to the nationwide "Museums for All" initiative that MODS joined (where people receiving food assistance receive significantly reduced admission).
Cox spoke about the museum's strategic planning around inclusivity, which included an LGBTQ task force, during an interview with Lifestyle.
Why has the concept of inclusion been so important to you from a professional standpoint?
When I was at the Children's Museum, that institution came from one woman's passion to create a place where families could be together. She and her husband had lost their daughter. Their son was on the autism spectrum. So, we literally built that museum to be friendly and welcoming to kids on the spectrum.
That led to working with groups who don't have the access [that most people take for granted]. I'll never forget working with a group from the shelter for abused women in Naples. We came up with the idea of bringing moms and their kids, after regular hours, to the Children's Museum. The museum was locked up, it was safe, and the kids could come and play. I noticed one little boy tapping on all the windows. I asked him why. He said, "My dad broke into our house with a baseball bat, so I'm just making sure the windows are strong." My heart just sank.
At MODS, it's also about opening doors to those communities, for those individuals, those groups who don't have the same opportunities. … The world is not getting easier for people. Those kinds of inclusivity, diversity and access programs have to keep going.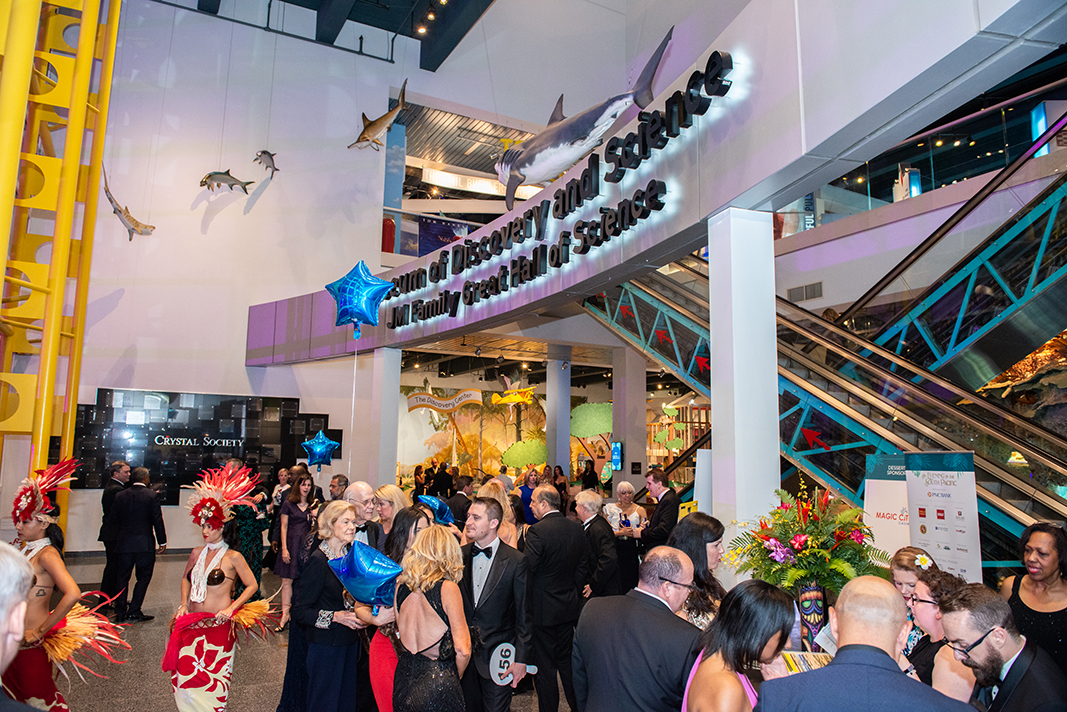 As part of the Community Foundation's Broward Pride program, MODS received a grant last year to launch an LGBTQ task force. What were the marching orders for the task force?
This grant happened early in my tenure, and I didn't know many people in town yet. So, I reached out to the board and asked them to introduce me to the heads of the inclusivity committees at their companies. That quickly snowballed.
So, now this task force represents 20, 25 people from Citrix, PNC, JetBlue, UPS, social service agencies and other [entities].
The reason the inclusivity initiative has felt so authentic is that it wasn't just the museum saying this is what we think the LGBT community needs. It was really that task force—looking at the museum, looking at our market, looking at our facilities, and giving us feedback as to what they, as representatives of the community, felt we should be doing.
Family Pride Day at MODS came out of this initiative. Can you talk about the importance of not just having a Pride Day, but making it about the family?
That came from the task force. We spoke to South Florida Family Pride, an organization that supports hundreds of LGBT families; they're always looking for events and programs. Yes, some of them were already coming to the museum. But there's something comforting about coming on a day when you know that no one is going to question why there are two moms or two dads.
Similarly, I've had evenings for families with specific physical or emotional needs. Say you have a child who's intensely on the autism spectrum, but who looks physically typical. If that child has a meltdown in a grocery store, people might think you're just not a good parent. On autism night at the museum, I've seen parents almost comparing notes while their kids are having meltdowns. There's something about the level of comfort that comes with being around your peers or seeing people who share the same life experiences as you.
Beyond elements like school field trips, where do you think MODS makes its biggest impact when it comes to education?
If schools can't come to us, we'll go to them. We pack everything we can into the museum van and hit the road. Our outreach goes to schools, churches, malls, community centers. Thanks to an American Express grant, we'll be identifying seven ZIP codes next year that are the lowest in educational attainment, lowest in income. Much like Broward College's Broward UP program, we'll be bringing science programming into those communities.
We also work with Broward County Public Schools' BECON [network], which [delivers programming, distance learning and other services]. So, we do live broadcasts from the museum that go out into the school system.
This month, we're premiering a new IMAX documentary, Back From the Brink, which is an incredible story about researchers from all over the world who've been bringing endangered species "back from the brink." The museum was selected to create the national curriculum, so everywhere that shows this documentary—and this could be hundreds of museums around the world—will have a curriculum that was developed by MODS. That's a powerful way to get our educational message out there.
What's something about the museum that you think people don't know enough about?
A science museum of this size [150,000 square feet] is always changing. There's always something new going on. With our Discovery After Dark adult nights, for example, we're now seeing 400 to 500 people come to the museum after hours, have a drink, have some food—and be kids again.
Running a museum is like painting the Golden Gate Bridge. By the time you're done, you have to start over again. It really is exciting because every day is different.
Portrait photo by Eduardo Schneider