From South Florida to rural Oregon, households are adding new flavors to their Italian-inspired kitchen adventures—all because a young Pompano Beach entrepreneur refused to accept insults as truth at home in Minnesota.
As Justin Comparetto tells it, the story of his multimillion-dollar business, Just Ryt Foods, begins right after high school, when he overheard comments made by a close and admired family friend.
"He made remarks about how I would never strive to be anything great because I was never a good student and, as a result, couldn't get into any good colleges," Comparetto says. "For me, that served as a huge motivation and eye-opener. So, I took a leap of faith and decided to move to Florida."
After a short stint in real estate, and as the financial crisis hit, he decided to partner with another family friend who had faith. Only 19 at the time, Comparetto began importing olives from Toronto-based Sardo Foods for sale across Broward County.
"I knocked on doors of little mom-and-pop markets, selling out of my car with a pad of paper," he recalls. Because of his age, he once again encountered skeptics.
"On some big meetings I had to bring my grandfather along. He didn't know squat about the business, but it [was] more about perception," Comparetto says. "It was impossible to gain respect [early on], but I persevered. I showed up on time. [And I proved] to my peers [that I] do what I say and follow through on it."
Today, at 29, he is the co-owner and CEO of a $4 million company he founded in 2013 with grandfather Joe Comparetto and cousin Ryan Braun. Employing 25 people, the company has its own brand, Giusto Sapore, which means Just the Right Flavor—it's a play on Justin's and Ryan's names as well as a mission statement. Italian and Mediterranean staples such as olives and olive oil, vinegar, cookies, biscotti, canned tomatoes, pesto and pasta are sold to grocery stores and markets. In all, Just Ryt Foods distributes more than 2,500 products, primarily to national grocery chains in the Midwest, eastern region and Mid-Atlantic, as well as on Amazon and in South Florida.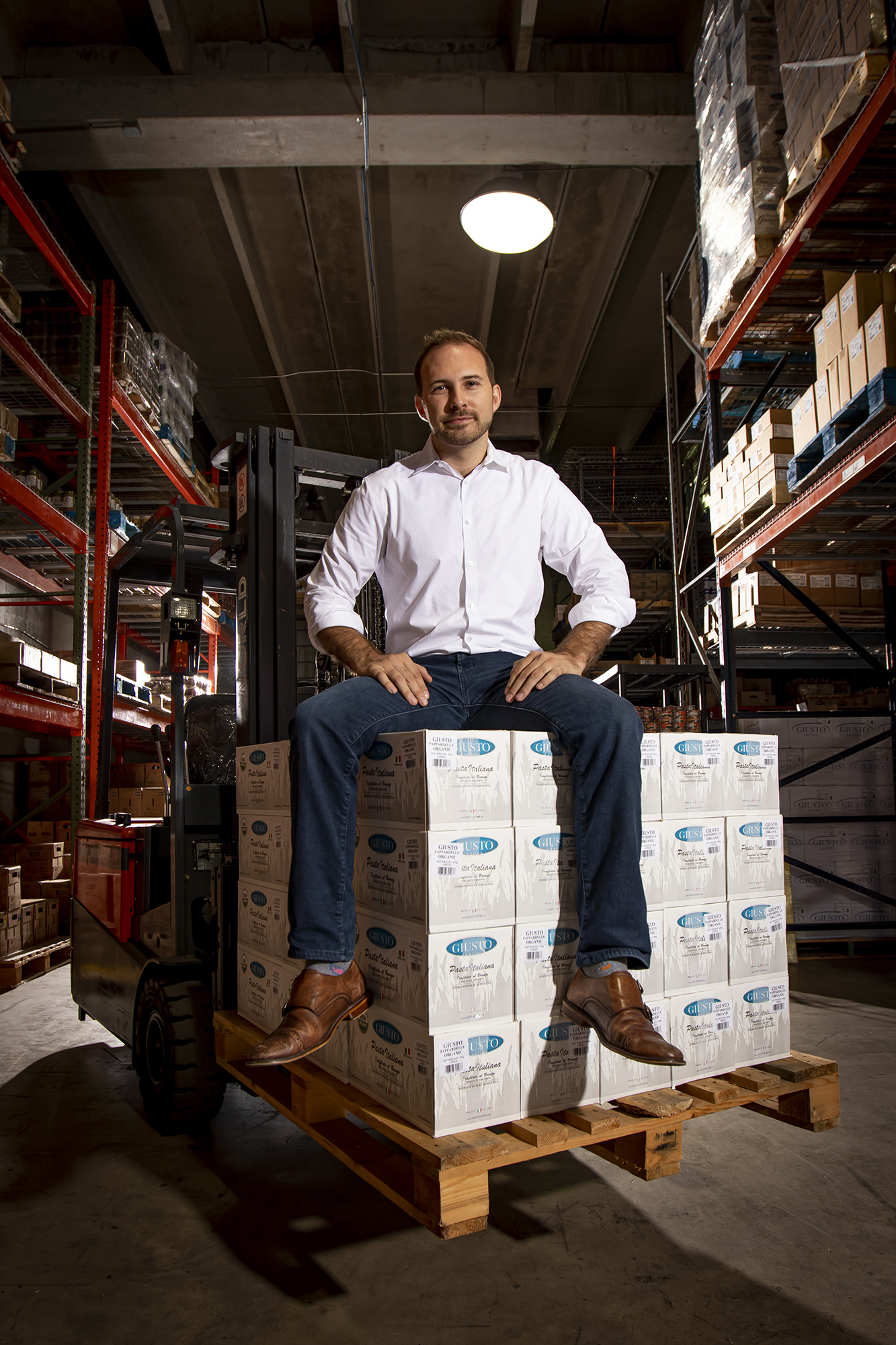 Over the years, Comparetto has been up and down Italy to meet manufacturers and farmers, becoming an expert on the local culture. He has distant relatives in Sicily who grow cherries and apples.
"They still are running like they were hundreds of years ago," he says of his relatives, "and the government is subsidizing them so they can continue the tradition. It's 100 years old. How the hell are they still around? It makes you want to learn more about your family."
Choosing his products requires hustle and a lot of airplane tickets. Olives, in particular, require two trips over the course of five months. During the fall harvest, he tastes various fruits, choosing the flavors and sizes he likes from a particular grove. While part of the batch makes it to an hors d'oeuvres table, other olives are pressed for their oil.
By winter, when the oil settles, he samples it again to ensure he still likes the taste. Fortunately, his suppliers are consistent; normally he doesn't have to repeat the process. Once the deal is done, the oil is shipped to South Florida in 1,000-liter containers. His local production team takes care of the bottling, regional delivery and e-commerce fulfillment. Customers across the country are buying Giusto Sapore goods online.
"Most of our sales are in rural areas and small towns where you can't find any of this stuff because it's not a high-volume product for the grocery store," he says, "whereas the cities have gourmet markets." 
His target audiences are both millennials, who prefer artisanal products, and seniors who appreciate the idea of the "old country." Across the generations his customers are value-conscious, looking for quality fare at reasonable prices.
"We have two ways to target millennials—always try to get the most natural products out there, and the fewer ingredients the better," he says. "Another thing is complete traceability of the products, so you can see from seed to table where everything is coming from."
Comparetto is currently seeking investors to fund an app so customers can track product origins; in the meantime, he's using video content to highlight the people and places making his offerings possible. As a marketing strategy, video is known to drive purchases—to that end, it's no surprise that some of the company's most shared online stories are related to behind-the-scenes footage.
"We're hiring film crews to go to the factories, so people can watch products being made and see how artisanal it is," he says. "We'll film the wheat fields; you'll see olives being crushed."
Though Comparetto's business story is really just beginning, he's already gleaned his share of wisdom during the 10 years since he first started importing olives.
"It's not just believing in myself," he says. "It's about believing in the people you work with, both on the local side and growing side. I'm only as good as I want to be, my packers want to be, and the help that supports [us]."
Just Ryt's Giusto Sapore products are available at South Florida retailers, including Doris Italian Market, Lucky's Market, Milam's Market, Carmine's Gourmet Italian Market and Joseph's Classic Market. Or go to amazon.com/giustosapore.
Photos by Eduardo Schneider