The itinerary that day for the luxury charter Capt. Kelly Gordon had picked up in The Bahamas did not include an emergency rescue. But that's how quickly things can change on the high seas, even when you're tending to exclusive clients at the helm of a 106-foot-long San Lorenzo superyacht.
When a muffled voice called out "Mayday! Mayday!" over the radio, Gordon and first officer Shawn Reira sprang into action, steering their superyacht, Freddy, toward nearby Shroud Cay. A male sailor on another yacht there, according to the distress message, was minimally unresponsive; he couldn't move, was slurring his speech, and his pupils were dilated.
The thousands of hours Gordon had logged at sea, and the extensive training that goes into being a captain, prepared her for such unexpected detours. Upon arrival, Gordon boarded the other yacht. From her training, she recognized the symptoms as a possible stroke.
Understanding that time could be of the essence, Gordon arranged to get the man to the nearest hospital as quickly as possible. With the help of two nearby boating crews, they calmed him, placed him on a stretcher and strapped the man into a tender, a small boat that's used for transporting passengers. When they arrived at the hospital, her intuition was confirmed.
"I wasn't going to allow this man to die," she recalls of the rescue. "As the captain, you're responsible for keeping passengers and crew safe." Fortunately, the man made a full recovery.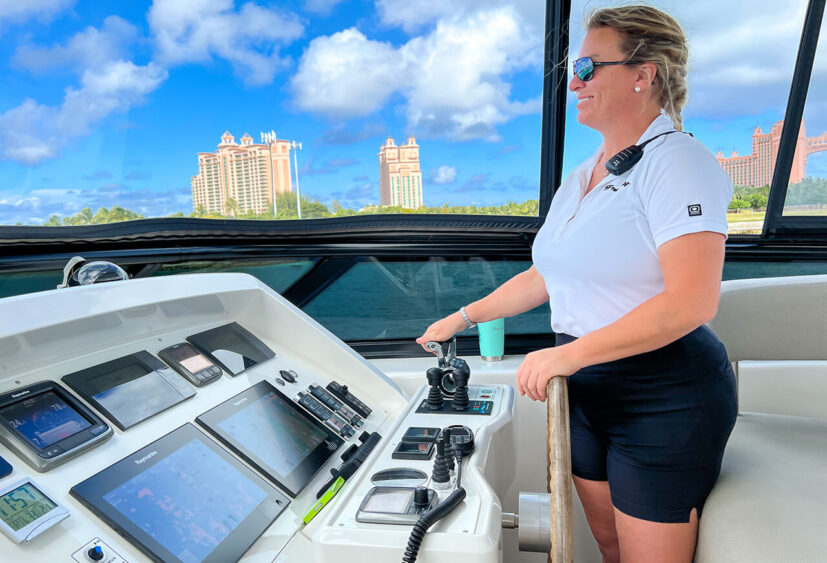 Episodes like that one—and countless other tales about the untold stressors at sea—have made Gordon a role model in her industry, an inspiration to boating enthusiasts and an influencer thanks to her thousands of followers across Instagram, YouTube and TikTok. She complements an insider glimpse at the skills, training and dedication necessary to become a yacht captain with open-book candor about the choppy waters she's navigated—and the emotional toll that can take—as a female in a male-dominated industry.
"From the outside, the yachting industry is perfect and pristine," Gordon says. "But for the crew, no matter what we feel, we have to put a smile on our face. Our work lives and private lives are enmeshed. We share rooms, eat together and are away from family. And then you have the people on board that come from different cultures and backgrounds. Put all of that together, and if you don't manage it, it can be messy."
Gordon admits that, growing up, her own life was a bit messy. She was an anxious kid and didn't know how to deal with her worries. Her relationship with her dad was strained. She matured—both physically and emotionally—quicker than other kids, but she wasn't always the best in school. At age 15, she dropped out of high school and found her way into welding—another male-dominated field—as a teen.
"I grew up fast," she admits.
Gordon dreamed of being a veterinarian one day—an ambition she credits to her mother, a nurse. So, she secured her GED and went off to college. She soon learned that vet school was too expensive. Instead, she earned a master's degree in chemistry and started teaching. She enjoyed exploring the different learning styles of young adults and creating lessons that could hold their attention. She mastered the art of commanding a classroom—skills she now uses to teach and mentor her crew.
Surprisingly, Gordon didn't find the boating industry until she was fully immersed in her career as a chemistry teacher at a college in North Carolina. Yet, from the time she first stepped on a yacht in the summer of 2009, she was fascinated by how familiar it felt.
"I grew up in Elwood, Indiana, and worked on farms with tractors and combines," she says. "When I first saw the engine room of a yacht, I thought, 'Hey, they're like tractor engines.' I was able to draw similarities to what I was familiar with."
During summers off from teaching, Gordon worked aboard a yacht called Everest, took online sailing courses and networked with others in the industry. She couldn't get enough.
Still, even in those early years, the dark side of the yachting world would reveal itself on occasion: alcohol and drug abuse, sexual harassment, verbal abuse, bullying and more.
"It's not [unheard of] for members of a crew to snort cocaine or for a captain to be intoxicated," she says, emphasizing that she does not drink and that drug use is not tolerated on charters she captains.
"The dynamics in this industry are different. You can't clock out at 5 o'clock and go home. We're always together all the time."
Gordon admits that her 20s were a tumultuous time. Though being at sea was a new and mostly exhilarating experience, she was still trying to find herself. Gordon shares that she was in and out of romantic relationships, seeking validation from others. "It came to a point where I spiraled," she says. "I was depressed and thought I can't do it anymore."
However, Gordon would stay the course—and embark on a new career.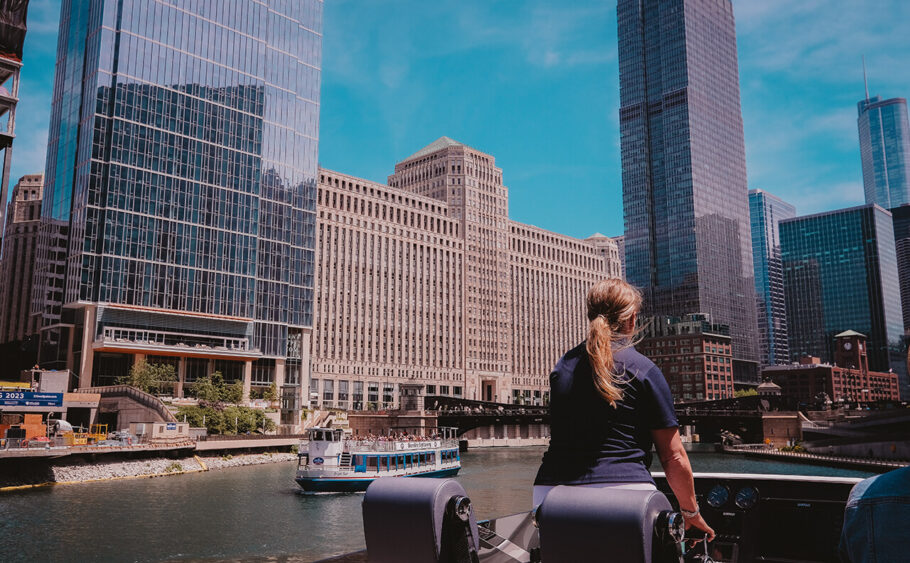 Leading by Example
In 2011, Gordon received her captain's license at age 29. She's commanded various vessels ever since. She took freelance jobs delivering goods and boats up and down the coast, on the Great Lakes and through tough waters on inland rivers. She's experienced some close calls—navigating through treacherous weather conditions, tight turns, mayday calls and difficult crew members over the years.
There was nothing typical about the experience Gordon was gaining at the helm. According to a "Diversity and Inclusion in Yachting" report, women account for 1.9 percent of captains in the yachting industry. Gordon's goal is to change that. With her background aboard all types of vessels and leading people from various backgrounds, Gordon is now answering the call to recruit the next generation of yachting industry professionals—male and female.
"Imagine being a 19- or 20-year-old girl wanting to get into the deck department, and you don't see many women," she says. "That can be scary and intimidating. As a female captain, we have to be supportive of other females in the industry."
One thing that Gordon never set out to achieve was social media renown. In mid-2020, during the COVID-19 pandemic, she joined Instagram just to keep up with her siblings while at sea. But then she started posting and documenting her work travels. After a story in a yachting magazine chronicled her impressive rise in a male-dominated field, Gordon's following rapidly increased.
As her followers reached the thousands, she realized she was ready to create her brand. So, Gordon hired a social media manager out of Chicago and a PR manager out of Fort Lauderdale. That's how her series, "The Captain's Classroom," took shape. She missed teaching and knew videos roughly 1 minute in length were the way to connect with today's youth. So far, she's done 60 episodes on a variety of topics, from yacht safety and best practices to breaking into the industry. Today, she has close to 10,000 followers on TikTok and around 8,000 on Instagram with a growing YouTube following.
That Gordon shares her journey—and speaks about the industry—with such candor is part of her appeal. She's recognized by fans, who thank her for recounting her struggles with mental health, for spreading positivity and for educating them about the industry she loves.
"I'm really not a fan of social media, but if all I have to do is share my story to help others and create change in the industry, I'll do it," she declares.
Although self-doubt can creep in, the 41-year-old credits the work she's done on herself—including therapy, positive self-talk and breathing techniques—for being in such a good place these days. She uses her platform to make mental health a priority in the yachting industry. To start, Gordon hosted a mental health seminar at the Palm Beach International Boat Show in March. With a full audience in attendance, the discussion focused on what really happens above and below deck.
"After this, I had someone call and tell me she got too tipsy one night, and a crew member followed her to her cabin. He busted the door open and raped her," Gordon shares. "This stuff happens. Our industry [wasn't] talking about mental health. I said screw that. I will!"
For Gordon, this is just the start of using her voice to influence the yachting industry of the future. She has been invited to speak on mental health and other topics at a boating show in Monaco in September. She'll also speak at the Fort Lauderdale International Boat Show (FLIBS) in October.
Most importantly, Gordon—who's now captain of a 108-foot Pershing Italian luxury yacht out of Palm Beach, Andiamo II, feels that speaking out about mental health has helped to give industry leaders the tools to identify issues, influence change and access resources.
"I want to change the culture of the industry entirely," she says with conviction. "We need a cultural shift. I want to see drug and alcohol abuse pushed out, [sexual] harassment pushed out. I want to see owners become educated and realize the importance of their employees' welfare. I feel obligated to try to make a difference.
"I'm the happiest I've ever been, and I did a lot to get there. I want to share that with others."