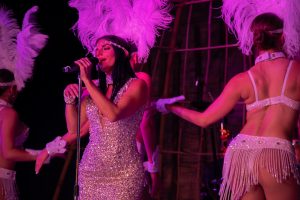 A Miami-style cabaret is returning to Kuba Cabana at CityPlace Doral when its 2022 "Cocktails & Cabaret" series launches today. The lively dining concept where "Old World Cuba Meets Modern Miami" features a series of entertainment headlined by a Las Vegas Style Cabaret, a seven-piece band and DJ, and a welcome cocktail and prix fixe menu. The dining entertainment event debuted in 2020 and will return starting today on the last Thursday of every month for guests aged 21 and older.
The "Classic Night Out" dinner show, hosted by Miss Noel Leon and singer/songwriter Sunni Stephens, features a Las Vegas Style Cabaret music revue reminiscent of Old Hollywood. Burlesque, drag, cirque, and worldwide dance performers perform various songs ranging from the Golden Age of Hollywood to today's chart-topping hits with a seven-piece band starring Jonathan Cahm, a DJ.
Upon arrival, guests will receive a signature welcome cocktail followed by a prix fixe menu. Guests are invited to stay after the show for a meet and greet with the Cocktail & Cabaret cast. Kuba Cabana features unmistakable Cuban and Caribbean flair, an energetic, culinary experience-based venue serving modern Latin-inspired cuisine. This dining concept stems from the beautiful traditions of Latin and Caribbean music, cuisine and culture. Vibrant décor ranges from neon signs and tropical foliage to walls donned with Cuban-inspired art by local artists.
The 3-course Latin-style menu, prepared by Kuba Cabana's celebrated Corporate Chef Jorge Mas and Executive Chef Pedro E. Sarracino, which is subject to change, will include:
First course – select one from: 
Tequeños | Spiced Guava Sauce   

Croquetas de Jamon | Garlic Aioli  

Kubiche | Corvina, Aji Cachucha, Leche de Tigre, Red Onion  

Tuna Tartare | Papaya, Adobo, Avocado, Blue Corn Chips 

Burrata & Papaya Salad | Burnt Papaya, Pesto, Balsamic Glaze 

Not Your Caesar Salad | Charred Romaine, Migas, Chickpeas 

Empanadas de Carne o Pollo | Herb Mayo, Red Pepper Aioli  

Pollito Canton | Crispy Chicken Thighs, Gochujang, Sesame
Second course – select one from:
Prime Palomilla | 10oz, French Fries 

Arroz de Mar | Octopus, Squid, Shrimp, Corvina

Grilled Red Snapper | Sauteed Vegetables, Red Pepper Sofrito 

Smoked Guava Pollo Barbacoa | Congris y Maduros, Guava Jus 

Carne con Papas | Prime Eye Round, Salsa Criolla, Potato Puree

Kuban Bistec |16oz Prime New York Strip Steak + $30 

Grilled Maine Lobster | Half + $35, Whole +$60
Third course – select one from
Chocoland | Nutella Mousse, Chocolate Cookies, Dark Chocolate 

Arroz Con Leche | Coconut Strudel, Passion Fruit, Meringue
Cocktail hour lasts from 8 p.m. to 9 p.m., followed by a 3-course meal and entertainment. The cost is $99 per person plus 21% gratuity and taxes.
Prime tables are available and range from $750 to $3,000, including bottle service. All table reservations include a bottle of select premium spirits and a bottle of Prosecco.
For more information, please visit https://kubamiami.com/promo/ or https://www.opentable.com/r/kuba-cabana-doral. For inquiries and table reservations, contact 305-800-KUBA (5822) or [email protected].