As told to Kevin Kaminski
I went to college for marketing and business at Howard University [in Washington, D.C.]. I figured I'd work in an office one day. I'd have my suit and briefcase. That's what success looked like to me growing up.
Honestly, I wasn't great in school. So, for a time, I focused on nightclub and music industry promotions. Does the flyer look sexy? Is the party fun? I had this knack for getting large groups of people together. Who knew then that those skills—customer service, marketing, advertising, design—would serve me down the road? Instead, I took those skills into a finance career.
My wife and I were living in Atlanta. She applied for a better position [that would bring them to South Florida]. I didn't want to leave Atlanta, so I made a bet with my wife. I gave her this list of things to ask for [as part of her potential promotion], never thinking she'd get all of them. She did. I had to honor the bet.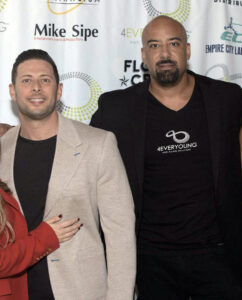 At the time, I was working for a private-equity company in Atlanta. It took me seven months to land a job in South Florida. For me, it was a step back into retail banking. The leadership style was so bad, so unhealthy, with so much micromanaging, that it rattled me to my core. I looked like an actor in a Zoloft commercial. I'd wake up in the morning, move to the edge of the bed—and when my son walked into the room, I'd almost start crying. I'd have to shake it off, put on my suit and drive to work. I was super depressed.
I was ready to do anything else. At one point, I thought about quitting the bank and working at Mango's in South Beach. I was in great shape at the time, and the male workers there danced on top of the bar. At least I could make money doing something fun.
Instead, I asked my soon-to-be business partner to meet me at Starbucks.
I had an idea.
I'd been using my time at the bank to plot an entrepreneurial venture. The idea came to me after doing testosterone replacement in Atlanta. It had been a life-changing experience for me, one of those things you want to tell all your friends about. Sitting in the lobby of the clinic, I'd count the patients coming in per hour. When you did the math—figuring out office rent based on the square footage, estimating start-up costs and staff salaries, etc.—it seemed like such a great business model.
Among my many customers at the bank were plastic surgeons and medical professionals. When I worked with them, I'd ask a few questions about their profession, their business model, their pricing. And I put that information into a working business plan.
One of my customers, who had experience in the [wellness] industry, said I needed to sign up 50 people early to sustain the business. I didn't know 50 people to sign up. But my personal trainer did.
Deniz Duygulu was a renowned fitness coach [and participated in bodybuilding competitions, as did Carlton]. I called him and asked if he'd join me at Starbucks. I remember he brought his son. We talked for 30 minutes about the idea.
A week later, we were looking at real estate for our first office. Deniz and I both chipped in about $30,000 apiece to launch the business. We opened 4Ever Young [in Boca Raton] in August 2014.
The anti-aging industry, especially in South Florida, was viewed as catering to the luxury crowd. So, we disrupted the space by attacking pricing. Next was service; we wanted customers to have a [concierge-level] experience. Finally, the environment. These services often are delivered in sterile offices with sterile music and plain walls. We piped in chill electronic dance music, we gave the space a South Beach vibe, we brought down the lighting to create a sexy atmosphere.
We were both big fans of [the TV series] Nip/Tuck at the time. That's what we wanted to present—but at half the cost of the plastic surgeon's office.
Deniz and I were extremely competitive and aggressive in our marketing. We wanted to be seen by everyone, all the time. But we had no budget. So, we got creative. We worked events at nights and on weekends—and our team, maybe 20 of us, might show up wearing our 4Ever Young clothes.
People were curious. Who are all these fit people—and what is 4Ever Young? Even if we went to, say, a nightclub, we were still working. We made sure to meet five or six [prospective] patients.
Everything we did came with a positive result for the customer. If there was a complaint, we spent time with the patient and made it right. That level of service doesn't always exist today. People could see we really cared about and believed in our business. The authenticity and transparency was appreciated. There's no secret sauce. It's doing the things that other businesses forget about doing or don't want to do anymore.
After six months, 4Ever Young took off.
When we started, I don't think Deniz and I ever looked at the business as something that would expand to this extent. But as our respective families grew, the one store wasn't enough. So, we did store No. 2, which was a huge trial-and-error situation. But we got good at what we did. We've always boot-strapped everything we've done, so from there the best way to grow the brand was to give like-minded individuals the opportunity to launch the brand across the state. That meant franchising.
At first, we were skeptical. We didn't know much about franchising. And, honestly, we sucked at it at first. Someone who's had success told me that the first rule of franchising is "to never franchise your business." But since you started, he said, it's too late. "So, make it work."
We did. We learned the business of franchising, which involves opening new stores, providing support, training staff.
We ended last year with 87 units in some stage of development. We're in 13 states. We anticipate reaching more than 100 units in the works by March 1.
Neither Deniz nor I are medical professionals. We coach people, like we did when we first started, to hire the proper medical director/professional, the right nurse practitioner—a person who's qualified to do the work. Our job is to support the operation from the back so it runs well—and let the medical professionals do what they do. It all comes together as a 4Ever Young.
We are our customers. So, our offerings have been born of that. We started with hormone-replacement therapy, which Deniz and I are both on. Medical skin care. And treatments that your wife or girlfriend may do, like Botox and fillers. We only use treatments that we would use on ourselves. They've been tested. And they work.
There's a revolution going on in health care, and there are two lanes. You have the sick-care lane with all the orange bottles. Or the wellness-care lane, which is what we represent, where people take accountability for their health. They're getting in front of diseases. And they're making the best of their lives based on that roadmap.
I said this to my father recently. In simple terms [beyond the medical component], this is like my days of nightclub promotion. We're giving people what they want, we treat them right, and we make sure they have a good time. That way, they'll come back.
We're still in this business 24-7. We have franchisees in different time zones now. It never stops. And there's a massive weight to that at times. But that weight keeps me focused. We don't have investors. Our parents aren't rich. So, we're responsible. We sign our names on every single loan, every document.
We're learning how to navigate all this without the in-fighting and backstabbing that leads to breakdowns in other business relationships. We always try to focus on doing the right thing.
We're hoping, one day, that we'll be able to enjoy the fruits of our labor. Right now, it's all labor.
Photography by Nick Garcia