Early on the morning of May 4, 2021, Tess Rowland climbed into the 2019 Honda HR-V that her grandfather had purchased for her from Rick Case Honda in Davie as a college graduation gift.
Because she had to be at ABC affiliate WMBB News 13 in Panama City by 3:30 a.m. for her shift as a morning television reporter, Tess left the house a little after 2:30. She followed the same route that she always took, traveling along U.S. Highway 98 in Panama City Beach. Her commute to the station was about 15 miles.
"At that hour, there was rarely anyone on the road," Tess says. "It was a normal Tuesday for me.
"Until it wasn't."
At age 22, the native of Weston was living her dream. The one-time theater major at American Heritage—who'd performed with classmates at Carnegie Hall in New York and at the world's largest performance arts festival (Edinburgh Festival Fringe) in Scotland—had embarked on a different but equally compelling path while attending Loyola University in New Orleans.
Through her volunteer service projects with the college she met countless residents still affected, more than a decade later, by Hurricane Katrina. The idea struck her like a thunderbolt.
"The people of the city needed to be given a microphone to share their stories," Tess says. "I wanted to be that sounding board and outlet for them."
Between her theater training, her relentless curiosity and her innate empathy, Tess was a natural as a broadcast journalist. She gained invaluable experience at stations in New Orleans, including investigative work at WVUE, the Fox affiliate, before graduating from Loyola and accepting a job at News 13 in Panama City.
Her goal of one day becoming a fixture at the anchor desk of a large-market television station seemed well within her reach.
Until it wasn't.
Today, at 24, and no longer a television reporter (she left the station last October), Tess is sharing her own story as the new national president of Mothers Against Drunk Driving. According to the Centers of Disease Control and Prevention, 32 people in the United States are killed every day in crashes involving an alcohol-impaired driver—one death every 45 minutes.
As Tess explains, we don't hear many drunk-driving stories from survivors because so many people in such crashes don't survive—deaths, she emphasizes, that are all preventable.
"Not only do I get to share my story, but I get to share their stories too," she says. "Because they're not forgotten. And their deaths should not be in vain."
In this candid interview with Lifestyle, Tess, who began her two-year term in February as national spokesperson for the nation's largest nonprofit working to end drunk and drugged driving, describes in detail what happened next on May 4, 2021.
What do you recall about the crash and the aftermath?
I remember seeing the bright headlights. And then, blackness.
I still see those headlights in my dreams.
My understanding of the crash is that this individual had turned into my lane, the left lane, driving in the wrong direction. It was a head-on collision. [Note: The suspected drunk driver spent a day in jail and was bonded out; there's pending litigation.]
I remember waking up in the hospital room [Ascension Sacred Heart Bay in Panama City]. I went from being a completely healthy 22-year-old girl—who had completed a 7-mile run the day before—to being told that I needed emergency surgeries for extensive injuries on my entire right side.
The first responders said that it was a miracle that I survived. There was [initial] talk of amputating my right leg; my knee had been pulverized by my dashboard. The doctor said that I'd have to relearn how to walk. I also had fractures to my elbow, arm and shoulder. And I had part of my intestine removed.
They couldn't tell me how much range of motion I'd have in my shoulder, only that it was a grade-4 fracture—it's the equivalent of the ball of the shoulder being blown to bits. Because of my age, the doctors wanted to take a chance and rebuild it with plates and screws. They put it together as best they could.
I was in the hospital for 12 days, with five surgeries during that time. In total, I've had seven surgeries, requiring four plates and 22 screws to fix my injuries.
It's only a matter of time until the next surgery. My shoulder is in a state where it's a ticking time bomb because the bone hasn't healed. Doctors have shared that I could wake up one morning and not be able to move my arm, and that's when I'll need a total shoulder replacement.
What was the emotional fallout from processing this physical trauma?
The mental aspect of the injuries was the hardest to get over. I have four large scars. Being a TV figure, that was an immense blow. I had to cover up the mirrors in my house. I couldn't stand the sight of myself. Obviously, I dealt with severe PTSD.
I want to give kudos to my mother here. My parents live in Weston. My mother [Teresa] received the call at 3 in the morning that night from a police officer. She packed her car and drove nine hours to Panama City Beach. When she saw me, she quit her job and committed to my recovery. She lived with me for a year and a half.
As I eventually made my way back to News 13, I didn't feel comfortable driving. [Note: Her recovery included five days of physical therapy a week for three hours at a time.] My mother would wake up at 2 in the morning and drive me into work. It took about eight months for me to feel comfortable enough to get into a car and drive again.
How did sharing your story with viewers of News 13 play into your recovery?
After the crash, a lot of viewers were asking where I was. I decided to be vulnerable and share with them. For a time, we did updates that were very honest and raw. I'd tell viewers what was happening—that I was feeling pain that day, that I was starting physical therapy.
Eventually, it led to me coming back to work. The viewers were so supportive. I'd get Facebook messages about, "Hey, you used your right arm to hold the microphone! I'm praying for you!" That helped to carry me through the recovery. I was blessed to have the support of the community.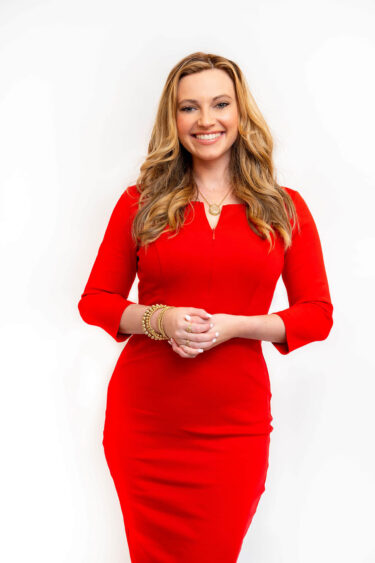 How did MADD enter your life?
I received what's called a victim [services specialist], Lynn Ivey, who works in the northwest Florida region. She heard about my case and reached out to offer support. Every victim that MADD [is made aware of] is assigned such an advocate. They connect you to resources in terms of therapy and victim assistance—and they hold your hand during this dark, devastating time.
I told Ms. Ivey, for my own mental health and recovery, that I didn't want to hear about the legal proceedings. I couldn't focus on that aspect of my case because I needed to walk first. I needed to learn how to use my right arm. I couldn't be bothered with dealing with that trauma and anger. She stepped in and said she would be that contact person, which was crucial for my recovery.
When did the idea of taking an active role with MADD begin to percolate?
I actually attended the Fort Lauderdale MADD Dash 5K when I was in high school; my father [Peter] ran the race. I vividly remember seeing the crashed car parked [at the event], and it stayed with me. I told my parents back then that this would never impact me because I'd never make the choice to drive impaired. And yet, I still became a victim of this crime.
After the crash, this became my life's purpose. I told my mother when I was in the hospital that I didn't want this to happen to anyone else. I committed myself to working with law enforcement and getting the message out there in a big way.
[Note: With the support of local and state law enforcement, Tess helped to create the first-ever DUI Task Force in Bay County. She went on to earn a local Emmy nomination for reports that raised awareness about drunk driving in the Panama City Beach area.]
Heather Geronemus [founder of the nationally renowned Fort Lauderdale Walk Like MADD/MADD Dash] is still my inspiration and an amazing mentor. She was the board chair of MADD at the time. I told her I wanted to do something just like MADD Dash 5K in northwest Florida, and she helped me launch that race.
Later, she spoke to me about the opportunity [to be become president], and all the stars aligned in the most perfect way.
What do you hope to bring to the position that differentiates you from past presidents?
My commitment always has been to the youth. I want it to be known throughout my presidency that this is not the same Mothers Against Drunk Driving from 1980. One of my platforms is Coalition 45, which is rooted in the statistic that every 45 minutes someone is dying in a drunk driving crash. Nearly 30 percent of these fatal crashes involve someone in my generation—the 21 to 24 age group.
Through Coalition 45, we're working on a new platform to engage Gen Z to be part of MADD's preventive efforts. I'm living proof that this crime can impact anyone in the blink of an eye.
There's a feeling of invincibility that can go with being in your early 20s. Because of that, is this a challenging message to impart to teens and college students?
Invincibility is a part of it. But we need people [to realize] that this is not an accident. It's someone actively making a choice.
In this crime, the incredibly sad aspect is that the consequences happen to completely innocent people. We need youth to understand that they should have a plan when going out. The designated driver should not be the person who drinks the least. You need a completely sober driver. Or you need to utilize ride-share options.
Even if you do everything right, you can still be impacted by this crime. When an impaired driver is on the road, absolutely nobody is safe.
As president, you'll be sharing your story over and over again. Is it a challenge to relive the details so often?
I relive my injuries every day. I'm still in an immense amount of pain. I can't bend or straighten my arm fully. I don't have the shoulder range of motion to, for example, braid my hair or zip up my dresses.
My knee has a bright red scar. My arm has scars on my elbow and shoulder. I also have a stomach scar from just below my bra line to my pelvis area from all my surgeries. I like to think of them as battle scars. I've tried to reframe my thinking, that the scars are evidence that I'm a warrior and champion for this cause.
But you never really heal completely from this type of trauma. Some of the scars may have faded, but when I look in the mirror, they will always [appear to her as] bright red.
Physically, I live with an uncertain future—and I'm 24. In my wildest dreams, I couldn't imagine having such extensive injuries. They've changed my life forever.
But you know what? I'm trying to prevent this crime. If it requires me reliving the trauma, it's worth it if one person changes their mind. I don't want to meet young people, like me, who share this same story.
I've turned my pain into purpose. This crime is so preventable. And I'll continue to be loud until there's a day where there are no more victims.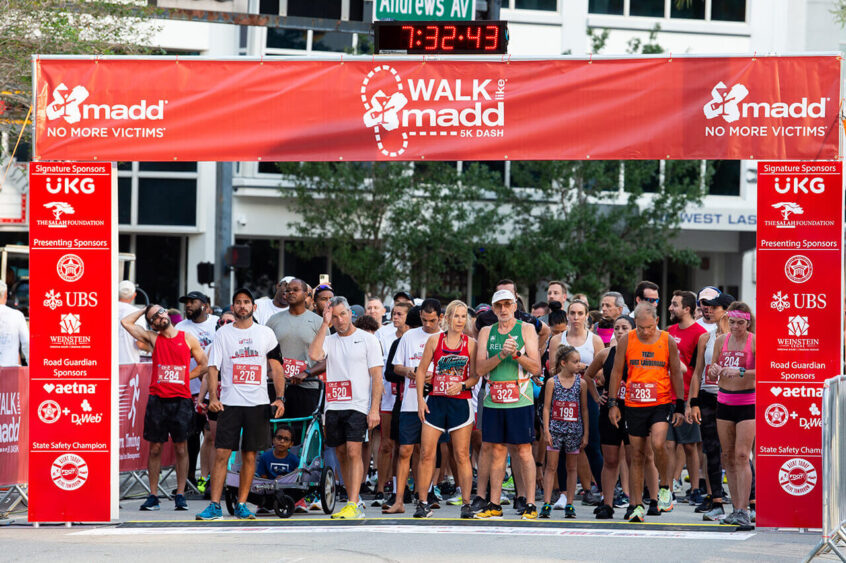 Walk Like MADD/MADD Dash 5K
When: Sunday, May 7, 7:30 a.m.
Where: Starting across from Huizenga Plaza, Fort Lauderdale
What: Expect thousands of people to participate in 12th annual race (presented by the Sheriff's Foundation of Broward County) that benefits the work of Mothers Against Drunk Driving. Since its inception in 2011, the Walk Like MADD/MADD Dash Fort Lauderdale 5K has raised more than $3.5 million—money that stays in South Florida to raise awareness and support victims of drunk/drugged driving. The event was founded by Heather Geronemus, whose father was killed by a drunk driver in 2009.
Fee: $35 for adults; $30 for youth (ages 5 to 18); $10 for dogs
Registration: walklikemadd.org/fortlauderdale