Earlier this year, the oceanfront 3030 Ocean at the Fort Lauderdale Marriott Harbor Beach Resort & Spa applauded the appointment of Chef Damoriae Graham. Originally hailing from Los Angeles, he made the move to South Florida to be closer to his wife's family, who reside in Miami. Following in the footsteps of lauded chefs like Dean Max, Paula DaSilva, Adrienne Grenier and LaTasha McCutchen, he's proven he can bring his own culinary spin with Caribbean, Italian and North African flavors to the menu.
What flavor notes did you want to bring to the 3030 Ocean menu?
My style is Mediterranean driven; it's something that I've always loved. I grew up with a friend who was from Sicily, so that whole background plus my own Jamaican heritage, plus my love of the huge span of Mediterranean cooking. I knew that once I came to the restaurant, it would be very easy because I knew I'd be able to bring in fresh fish every day and then the purveyors that we have in Marriott are amazing. 
And this region is very familiar and comfortable with Caribbean cuisine.
It's not only my own influences with the area, but also a lot of my cooks being from Jamaica, being from Haiti, we're doing full fish with pikliz from Haiti. And actually, our smoked chicken right now has a very traditional, not-too-spicy jerk with a tamarind glaze, something that kind of represented one of my line cooks as well, because that's a combination that his grandmother would make at home. So really fostering my guys in the back and all of their creativity as well.
I was reading that you started cooking as a kid with your grandmother. What are some smells or dishes that take you back to that time?
Everyone always talks about cooking onions and garlic. And that's truly that's the thing for me….If you really want to cheat at home with whoever you're cooking for — onions and garlic for literally anything, they'll be like "oh my god it smells amazing." It's really the basics of cooking.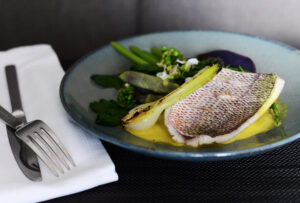 What's something you're especially proud of on this menu?
The octopus is absolutely amazing, but then also my pride and joy is actually our roasted carrots. So the heirloom carrots will be harissa with honey, something that, for me, stems from the Middle East and also North Africa with the harissa and the honey giving you a sweet and spicy play and the goat cheese on the bottom is very tart, and also kind of rich without being too indulgent. And then we'll toast the pine nuts and the chermoula, which is like Iranian style chimichurri sauce.
What can we look forward to?
We have a couple of things in the works. Right now we're redeveloping our pastry program, we just hired an amazing pastry chef, and she has been kind of helping us with the very gradual moves. 
We're actually reaching out to local farms and local ranches to just see what's new, see what's out there. I'm relatively new to the area; I've only been here for about a year. So I'm making it a point myself to head down to Homestead to places like Robert Is Here and just hit up the local markets, driving out to Lakeland — there's a couple of ranchers out there that are doing some really good things. Really just kind of like finding my grounds and like really, really settling myself into the area.