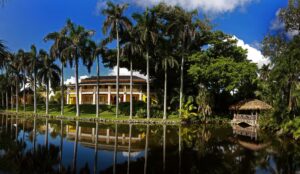 Strike a Pose at Wynwood: Arguably the most popular spot in South Florida to take selfies, Wynwood continues to reign as one of the hippest neighborhoods in the tri-county area. The main attraction is Wynwood Walls, dubbed the world's largest outdoor street museum, with more than 50 larger-than-life murals by an array of renowned and up-and-coming artists. The shopping is equally compelling, as is the dynamic foodie scene. But there is art in literally every direction, including the street beneath your feet.
Info: wynwoodmiami.com; museum.thewynwoodwalls.com (for tours and ticketed events)
Travel Back in Time: The winter retreat of the Birch/Bartlett family, built in 1920, maintains all of its picturesque charms thanks to the Bonnet House Museum & Gardens in Fort Lauderdale. Tour the 35-acre subtropical estate and house museum while the foliage is in full bloom this summer, and learn about the art, architecture and history connected to this Broward landmark. Summer specials include free admission for guests ages 17 and under with the purchase of an adult ticket.
Info: bonnethouse.org
Groove and Feast: Restaurants throughout Miami-Dade and Broward have added live music to their menus. On Miami Beach, Villa Azur invites DJ Stephan M. to raise the roof on Wine Down Wednesdays and Cosmo Night Fridays; he's joined by a live saxophonist during the Thursday Night Dinner Soiree. In Fort Lauderdale, on the first weekend of each month, diners at Casa Sensei can feast on Pan-Asian/Latin-Fusion dishes while enjoying live performances during the Rock N Roll Brunch. Meanwhile, Quarterdeck's flagship location on Southeast 17th Streets features acoustic performers on Wednesdays and Thursdays from 7 to 10 p.m.
Info: villaazurmiami.com; casasensei.com; quarterdeckrestaurants.com
Paddle for Charity: Some 150 paddle boarders from all over the world are expected to make the 80-mile trek from Bimini, Bahamas to Lake Worth Beach as part of the Crossing for Cystic Fibrosis, scheduled for Sunday, June 27. The fundraising event for Piper's Angels Foundation, which supports families in the cystic fibrosis community, features a special participant. Scott Johnson, a relay-team paddler, is the first double lung transplant recipient to join the Crossing; it's the 20th anniversary of Johnson's life-saving procedure. The Crossing has raised more than $1.3 million over its first four events.