Seven years ago, when Jessica Goldman Srebnick became CEO of Goldman Properties—her late father Tony Goldman's successful real estate company—it was simultaneously the happiest and saddest day of her life. Her father was sick, and, less than a week later, he died of heart failure.
"I worked with my dad for 15 years," she says. "We shared a partner's desk and spoke multiple times a day. He was a true visionary, with such a special way of thinking. On what would have been my 15-year anniversary, he made me CEO and then passed away five days later. It's been one of the greatest privileges of my life, but one of the saddest. I feel really lucky that he entrusted me with continuing the family legacy with my mom and brother, and when he died, it became my job to take all he had done and add something of my own."
Despite Srebnick's exposure to Goldman's unwavering success in reconstructing and transforming undervalued and declining urban districts and neighborhoods across the country—from SoHo in the 1970s to Miami Beach in the 1980s and Center City Philadelphia and Wall Street in the 1990s—she never planned to go into the family business. In fact, she studied to become a child psychologist at Boston University, and before applying to Ph.D. programs, she spent five years as a director at Saks Fifth Avenue.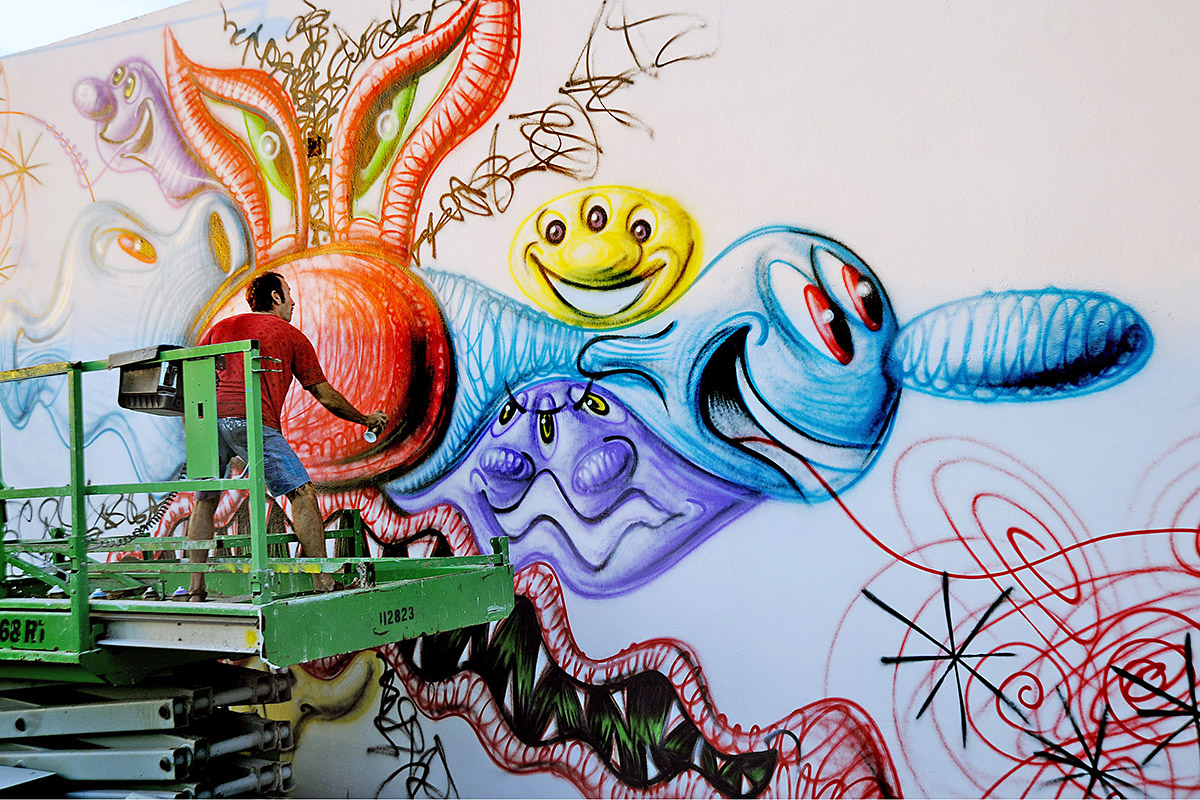 "I loved the relationship I had with my dad. I didn't want to change that," she says. "But it came to a point where I wanted to go to business school instead of pursuing a Ph.D., and I'll never forget my mom telling me, 'You should go to the Tony Goldman School of Business.' I gave my dad a one-year contract outlining all the different areas of the business he'd put me through. More than 22 years later, and I'm still here."
During Goldman's last years, he set his sights on Wynwood, a neighborhood Srebnick says her brother, Joey, originally found.
"He was tasked with finding my family's next place," she says. "We love urban and pedestrian environments, and because Miami was and still is a very vehicular city, this was the perfect place for us to transform. It already had a lot of street art. It just needed someone to curate it."
Goldman's vision for Wynwood has remained the same since the family started developing around 2005: to create a center for the creative class, Srebnick says. On the cusp of the neighborhood's 10th anniversary in December 2019, Wynwood Walls welcomes about 3 million visitors every year, growing exponentially since it began.
"I think Wynwood grew faster than some of our others because of how visual it is," she says of its success. "With technology and social media, visitors have shared our message and what we have in Wynwood with the rest of the world in such a quick amount of time. We haven't seen this kind of light speed transformation anywhere else."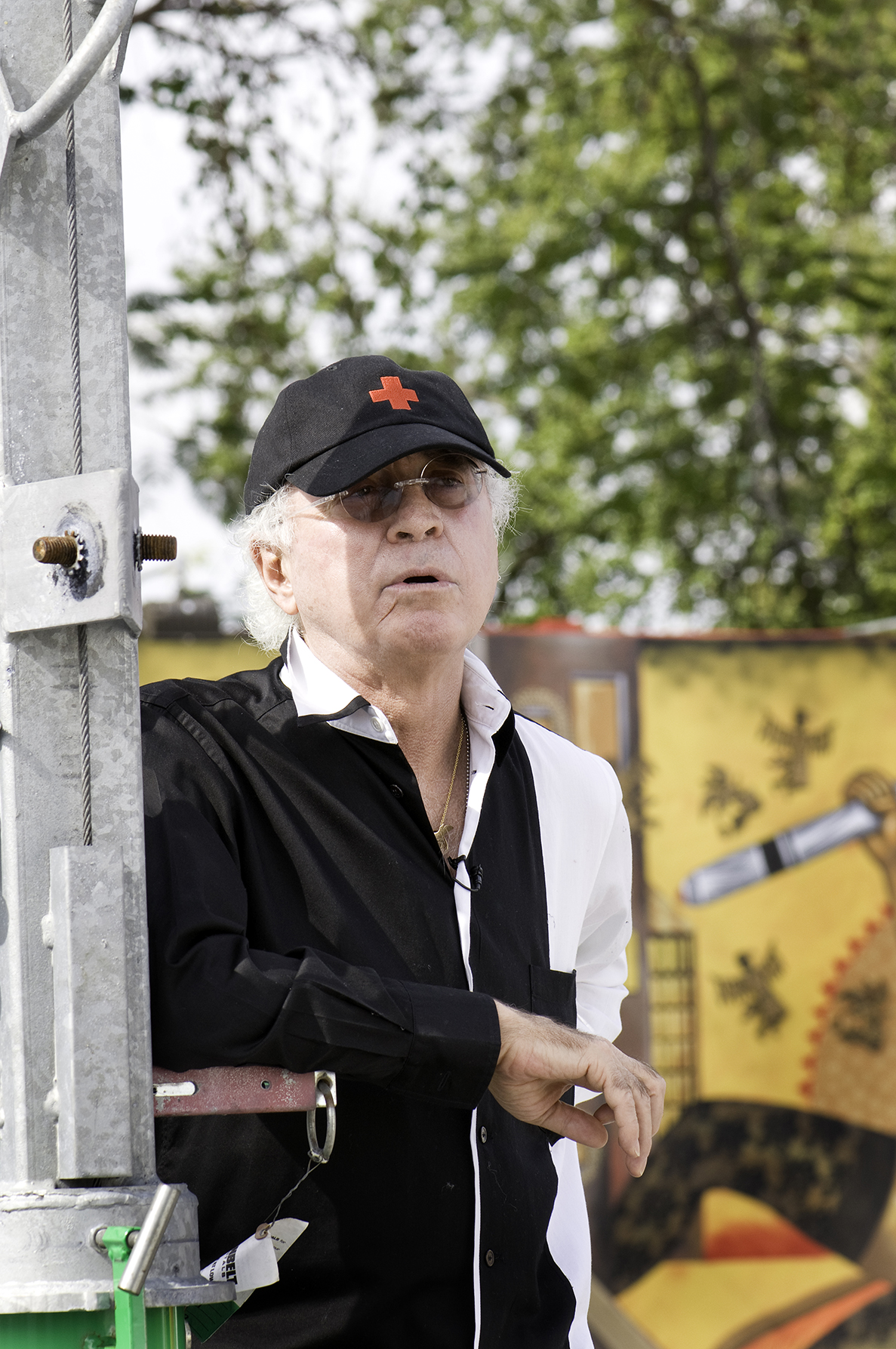 Growing up in New York City in the 1970s, Srebnick remembers when Goldman walked her through Manhattan's SoHo neighborhood for the first time. "This is going to be an incredible neighborhood," Goldman told her.
"But my family and I looked around and thought he was out of his mind," Srebnick says. "He was a person who never doubted himself. That's a pretty powerful thing to be around."
As a young girl, Goldman put Srebnick and her brother, Joey, to work, whether it was tending to the family's restaurant, Greene Street Café, or creating business plans for imaginary companies.
"We used to do this thing where we would go around New York and taste-test different restaurants, all in the same day," Srebnick says. "My father was all about exposing us to culture. Our parents opened our eyes to the world, and art has always been at the center for my family. That set the foundation to what the family business would one day become."
Today, Srebnick calls Wynwood Walls the "Olympics of street art." She believes the neighborhood has had a great influence in moving the genre of street and public art forward in ways no one could have anticipated.
"There are so many street-art festivals now, and tons of people integrating art into projects that never would have before," she says. "Whether it's a real estate company or a brand or product, people expect creativity in the places they go and products they use."
That desire for creativity helped spark Srebnick's Goldman Global Arts, which brings art to the public on a grand scale. In addition to her curation in Wynwood, she taps artists, most notably British street artist Banksy, for the Houston Bowery Wall in New York City.
"I founded Goldman Global Arts in 2015 as a result of people wanting to integrate creativity into things they're doing," she says. "Now, we have real estate clients, stadium clients and even product clients that look to us to help them integrate art into what they're doing.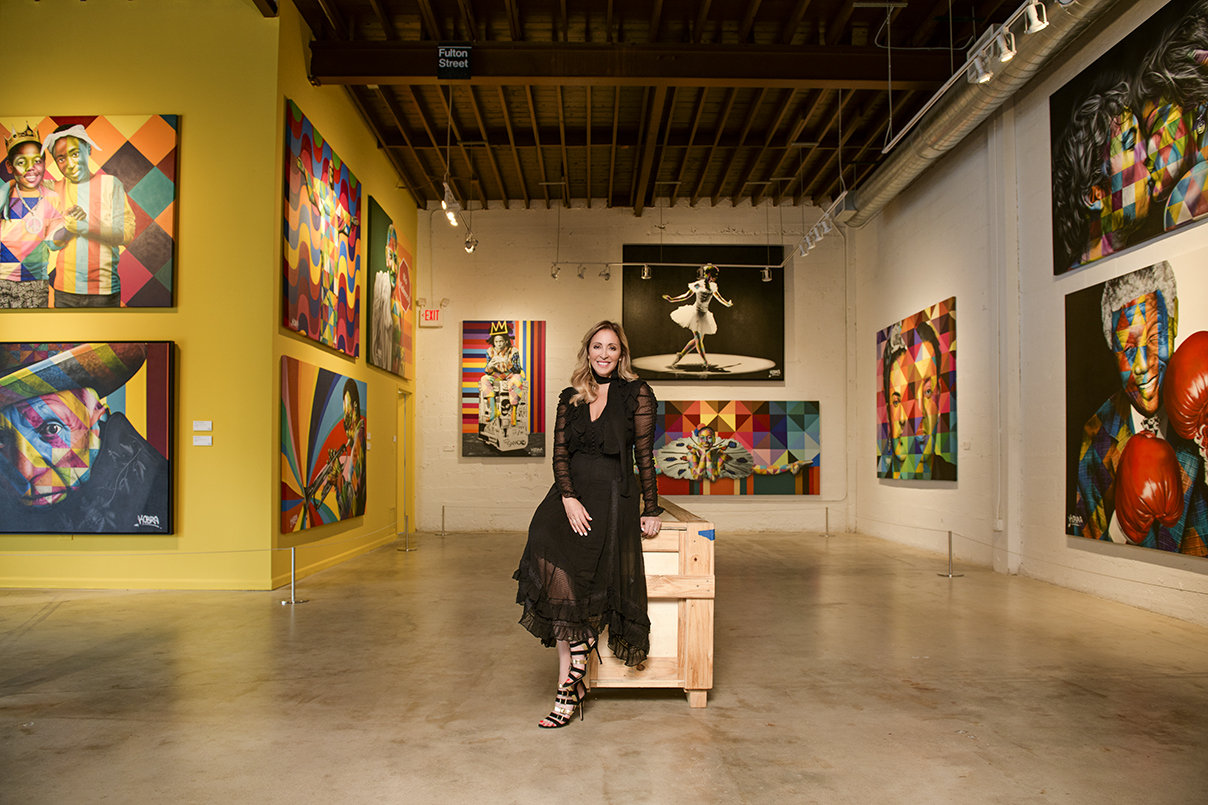 "If we can make the world a bit more beautiful and thoughtful and give a platform for the world to take it all in––be it an 8-year-old child who all of a sudden recognizes they want to be an artist or an 80-year-old who's moved by a public piece––then we're doing our job right," she adds. "If we can help the world think different, then we've won."
As for what's next, Srebnick says her family's work in Wynwood is just beginning. "We're not quite in our infancy stage anymore," she says, laughing. "We're probably middle schoolers—not toddlers but not adolescents, either. There's a lot more growth that will happen here. Right now, we're focused on our retrospective show inside the Goldman Global Gallery, featuring artists past and present at the Wynwood Walls.
"It's weird to say you love and care about a piece of real estate, but we take a lot of care in what we do. When you're standing in Wynwood, you know exactly where you are. There's no place like it in the world."
Goldman Global Arts Gallery is located inside Wynwood Walls at 266 NW 26th St., Miami. Visit ggagallery.com.
Srebnick photos by James Woodley
Hair by Ethian Hugo Hair
Makeup by True Hair Miami Salon
Shot on location at Goldman Global Arts Gallery and Goldman Properties