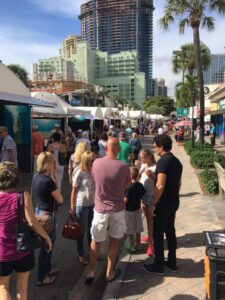 One of South Florida's preeminent art walk events will celebrate a significant milestone as the annual Las Olas Art Fair fall showcase celebrates its 35th year on Saturday, Oct. 15 and Sunday, Oct. 16. The free two-day event from 10 a.m. to 5 p.m. is produced by Howard Alan Events (HAE).
"We are proud to return to the heartbeat of Fort Lauderdale with the Las Olas Art Fair," Elaine Laurent says, the event producer. "We have watched two generations of artists now participate in the show and return each year. This year, we are welcoming a record number of artists making their Las Olas premiere with works that will inspire and delight everyone who comes out. We are grateful to the Las Olas Boulevard Association for working with us all these years in making this one of the top art fairs in the nation."
The Las Olas Art Fair features a unique selection of fine art from local and national artists offering fine jewelry, life-sized sculptures, exquisite works of art and handcrafted apparel and decor. The showcase runs multiple times a year, with different artists attending each event. Attendees can also meet with the artists, ask questions, commission a specific piece and discover the inspiration behind each creation.
For more information about the Las Olas Art Fair, please visit Artfestival.com or call 561-746-6615.