Catch a Baseball Game: Don't let the spring sale of its naming rights fool you. LoanDepot Park (formerly Marlins Park) is where the Miami Marlins play Major League Baseball, and the team hosts its share of must-see opponents throughout the summer. The world champion Los Angeles Dodgers are in town for a four-game series from July 5-8, followed three weeks later by seven straight days of Big Apple baseball. The New York Yankees are here from July 30-Aug. 1; the New York Mets visit Miami from Aug. 2-5.
Tickets: mlb.com/marlins/tickets
Discover Dinosaurs: It seems that prehistoric intruders are making themselves right at home amid the collection of ferns and flowering plants at Fairchild Tropical Botanic Garden. That's because the lush setting in Miami is turning back the clock through July 18 thanks to its Jurassic Garden program. Expect to see realistic life-sized dinosaurs amid the cycads and conifers; daily walking tours provide context, including how plant life that sustained certain dinosaurs still exist millions of years later.
Info: fairchildgarden.org/events/jurassic-garden
Check Out a Mammoth Market: The lower level of Aventura Mall t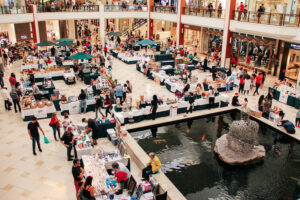 ransforms on Saturdays and Sundays, as more than 80 pop-up vendors set up shop at the ever-expanding Farmers and Artisans Market. Explore an array of fresh produce, exotic foods, baked goods, handcrafted jewelry, fashion, florals, candles, coffees, cosmetics—and much more.
Info: Visit aventuramall.com/Aventura-market for the full list of vendors.
Have a Pedal Party: Imagine exploring the coolest bars in Fort Lauderdale—and working off a few calories in the process. Thanks to the Bar Crawl tour, courtesy of Cycle Party in Fort Lauderdale, groups of up to 15 people can do just that. The piloted Party Bike, powered by your pedaling, makes stops at popular spots along Las Olas Boulevard and in Himmarshee Village during the two-hour tours. Cycle Party also caters to corporate gatherings, bachelor or bachelorette parties, and other specialty groups.