Raquel Case
Director of community relations and business development, Rick Case Automotive Group
Backstory: Rick and Rita Case never pressed their children, Ryan and Raquel, to join the family automotive business. Then again, they didn't have to. Raquel recalls being intrigued as a child by the nightly conversation around the dinner table, the talk of employees and customers and inventory, not to mention all the community events her parents supported—many of which Raquel and her brother attended and even worked, doing things like selling raffle tickets.
"Part of it was to show us that this is what our family does," Raquel says. "This is how we thank our communities. And this is how we make them better places to live."
Not only did Raquel earn a degree in automotive marketing and management from then-Northwood University (the West Palm Beach campus was later sold to Keiser) and join Rick Case Automotive Group, but she's adding to the family's rich benevolent legacy in South Florida.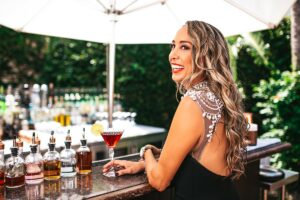 Charitable pursuits: Any mention of Rick Case (who died in September 2020) and local philanthropy often begins with the Boys & Girls Clubs of Broward and its more than a dozen locations—including the Rick and Rita Case Club in Davie. A charitable association that started after the family moved to South Florida in 1986—with a continuation of the Bikes for Kids program originally launched by the automotive group four years earlier in Ohio—now encompasses vocational scholarships and scholarships to Nova Southeastern University for Boys & Girls Clubs members, and major fundraisers like the Boca Raton Concours d'Elegance and the annual Yacht Rendezvous, all of which Raquel is now involved with and/or oversees.
Raquel is especially proud of the Rick Case Habitat Community, a nine-acre, 77-home site in Pompano Beach that's the largest Habitat for Humanity neighborhood ever built in Broward (the community already is at 50 percent capacity). "The families that qualify are working so hard, but they're often living with their children in a small apartment in an unsafe area," Raquel says. "When you give them the keys to their new house, you realize that it's a life-changing moment for that family."
As part of its countless other charitable connections, including the Hurricane Dorian relief effort that Raquel coordinated, delivering desperately needed supplies to the Bahamas in the summer of 2019, the family also takes an interest in how funding will be used.
"That's been one of the biggest gifts from my mom and dad," she says. "You can give money, but it's also important to give the time and your business wisdom to the nonprofits so that they're being run effectively and efficiently."
The last word: "When you hear the stories [from those served by the nonprofit groups with which Rick Case Automotive Group is involved], you're struck at first by the challenges people face. But, ultimately, it's more about their success. The scholarships they've earned. The families they've raised. How they're now giving back to the community. If we can provide children with a helping hand to thrive in a career that they're passionate about, it creates a positive start to their adult life. They'll always remember where that help came from—and they'll pay it forward."