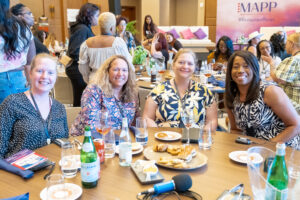 The second annual MAPP Impact Conference will return to Miami on May 1 to host a series of panels, speakers and events featuring top chefs and restaurateurs nationwide. MAPP (Mentorship, Advocacy, Purpose and the Power of women) is a nonprofit organization aiming to empower women in the culinary and hospitality industry. 
The day begins with a panel discussion featuring celebrity chefs and owners focused on redefining restaurant operations and profitability based on health and well-being, including Andrew Zimmern (TV personality, chef), Tiffany Derry (celebrity chef, Owner of Roots South Table and Co-Founder of T2D Concepts), Lorena Garcia (executive chef and Partner of Chica), Jason Hammel (Chef and Owner of Lula Café), and more.
At 4 p.m., guests can attend the Road MAPP Live Pitch Session, where they will hear from three finalists paired with a leading restaurant group as a mentor (Michael Shemtov, Ellen Yin and Lorena Garcia) for the chance to win part of a $100,000 seed-funding prize pool from presenting sponsors PepsiCo, inKind Hospitality and FOH. The other workshops will focus on building financial independence and mental health to prevent business burnout and non-traditional paths to success.
Following the forums featuring insights and information into the industries, attendees and guests can enjoy a Food, Wine and Spirits Festival at 7 p.m. highlighting top-tier South Florida restaurants, including Miami's very own Santorini by Georgios, Chica by Lorena Garcia, Coté, Red Rooster Overtown, Phuc Yea, Sushi Bar, l'artisane, Karina Rivera Sweets with Love and many more. All events will occur at Miami Iron Side, 7580 NE 4th Ct. in Miami.
Joanna James, Founder and CEO of MAPP, was pleased with how pivotal the inaugural conference was last year for many women who attended and wanted to keep the momentum going by making it an annual occurrence.
"The most rewarding thing I kept hearing was 'I don't feel so alone anymore' because women from nearly every state were represented learning from each other and also making friendships and business deals on the spot," James says. "The energy was incredible."
James is the director and producer of the award-winning film that had its national broadcast premiere on PBS, A Fine Line. The film inspired greater gender equality in professional kitchens and the building blocks of what MAPP is today. 
Pricing for the MAPP Miami Conference Day Pass is $175 per person and 
$175 per person for the Food, Wine and Spirits Festival Pass. A Conference and Festival Bundle for $325 per person is also available to purchase here.