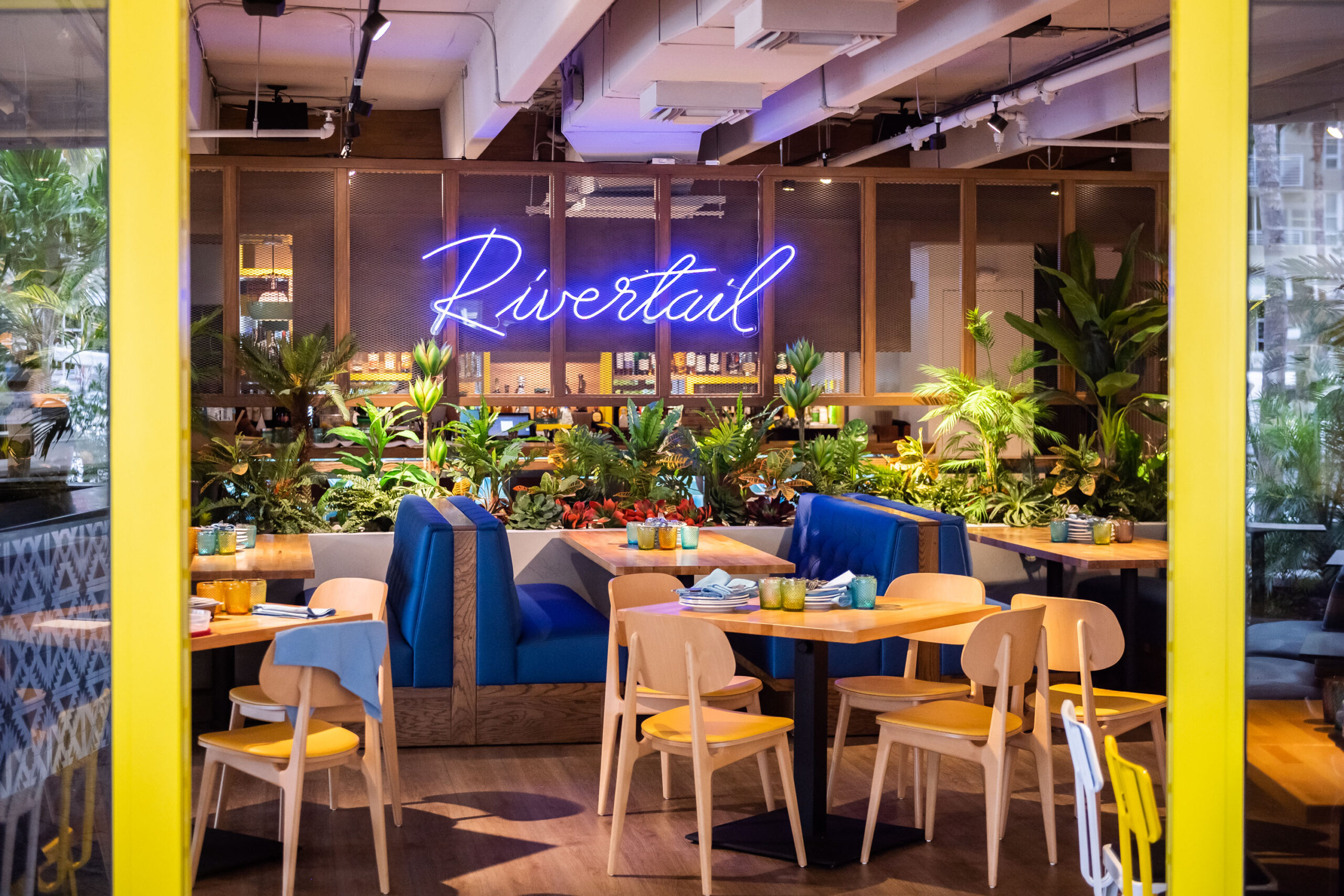 5 Things to Know About: Rivertail
The seafood sensation adds to the growing scene along the New River
Growth spurt: The success of The Wharf Miami, which debuted in late 2017, had shown the creative minds at Breakwater Hospitality Group that if you build a 30,000-square-foot open-air setting with cocktail stations, cultural and entertainment offerings, and culinary pop-ups, people will come … in droves. But as Breakwater co-founder Emi Guerra and his team zeroed in on a location along the New River to launch a Broward-based sequel, another opportunity presented itself. Briny, the Irish pub next door to that location, was closing. The time was right to double down on Fort Lauderdale, especially given how the downtown area was exploding. But what kind of restaurant could best complement a gathering spot like the Wharf FTL?
Two if by sea: Though he suspected it was a longshot at best, Guerra reached out to renowned Miami chef José Mendín, the five-time James Beard Award nominee known for restaurants like Pubbelly Sushi, to help develop the concept that would become Rivertail. Not only would Mendín help to create a chef-driven seafood experience unique to downtown Fort Lauderdale, but he would contribute (with chef Santo Agnello) a pizza/pasta spot called the Piefather inside the Wharf FTL. Rivertail and the Wharf opened within weeks of each other at the end of 2019.
Show of shows: Rivertail, with its bright, airy and upbeat waterfront vibe, survived the COVID-19 shutdown and quickly established a following. Part of what distinguishes the restaurant from traditional seafood spots is how it goes heavy on shared-plate originals and chef specials that showcase Mendín's kitchen artistry. "He has incredible creativity, combining flavors that surprise you with each bite," Guerra says. "Some of the recipes are very complex, and some are incredibly simple. He's able to figure out what tastes good with what and create a dish that you didn't expect. Only certain people have that talent. He's one of them."
Let's share: The starter side of the menu speaks to that creativity with items like crab-filled doughnuts (with spicy honey), broiled oysters "concha" (with parmesan, kimchi and horseradish) and yellowtail ceviche taquitos ("I could order 100 of those," Guerra says). Mendín also puts his spin on expected seafood apps like ceviche (with watermelon, guajillo peppers and amazu), chowder (with clams and crab) and mussels (think tomato, Bermuda onions and lemon-caper butter). For meat lovers, don't miss the to-die-for steak tartare with caviar and Texas toast.
Star turns: For more adventurous diners, the specials (some of which may change seasonally) never fail to stir the palate. Fans of Mendín will recognize the pork belly with butterscotch miso glaze, an award-winning dish from his restaurant past that he brought to Rivertail. The shrimp spaghetti fra diavolo (with red chilis and Sunday gravy) and clams carbonara bucatini (with cured guanciale, pancetta and poached egg) both feature fresh pasta made in-house. Additional showstoppers include the whole branzino a la grenobloise and the Bahia-style Brazilian stew (with white fish, shrimp, mussels, scallops, clams and coconut milk).
Contact: 4 W. Las Olas Blvd., No. 120, Fort Lauderdale; 954.306.2665; rivertailftl.com