Unlike some athletes, Marlee Fray doesn't have any pregame rituals. No prayers or affirmations or double-tying her shoelaces.
But the 19-year-old soccer player from Coconut Creek doesn't really need luck—not when the sport is in her blood. Her father, Michael, played for the Jamaican national team, and her mother, Desiree, grew up playing in the U.S. Youth Soccer Olympic Development Program. Both also played the sport at University of Hartford in Connecticut where Marlee was born. And Fray's maternal grandmother, Charlotte Moran, is remembered as an advocate for girls' and women's soccer. Fray was with her mother when Moran was posthumously inducted into the U.S. Youth Soccer Hall of Fame in 2013.
Though Fray was young when her grandmother died, her story made Fray realize "the impact girls can make on the game itself."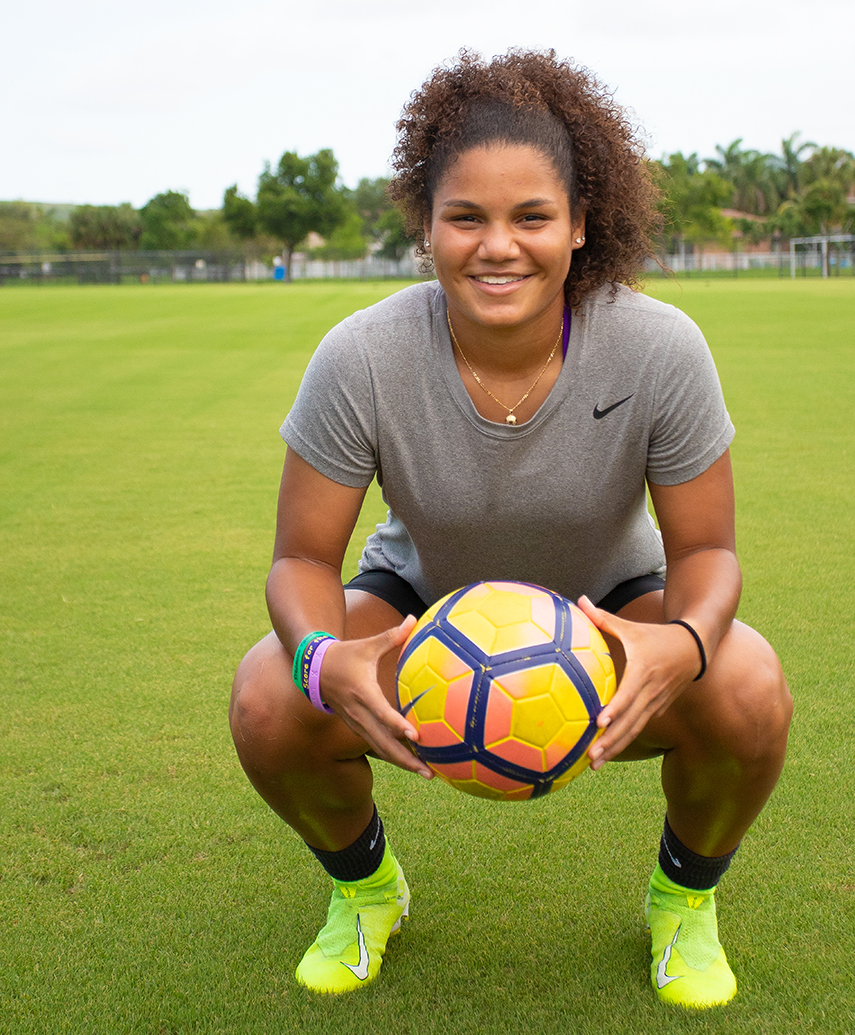 "She made such a big impact on people's lives, and she really helped pave a career for girls like me to be able to do things that most girls weren't able to do back then," Fray says. "That really sunk in with me. Not necessarily put pressure on me—just gave me a drive to want to play."
That drive translated into finding her niche as a forward, winning state and national championships with local team Sunrise Sting and being named a small school player of the year by the Sun-Sentinel when she was a junior. At American Heritage School, she won two state championships—one of which is still her most memorable moment in soccer.
"It was my freshman year in high school. We were at the state championship. There were six or seven minutes left on the clock," she says. "And I ended up scoring the winning goal in that game. That one [has] always stuck with me."
Fray's talent also took her abroad. Like her father, she joined the Jamaican national women's team, called the Reggae Girlz, winning the Caribbean Football Union's under-17 championship in Puerto Rico in 2015. Add to that the 64 goals scored in her high school career, and Fray was more than ready to commit to University of Central Florida.
But the summer before her senior year, playing with the Sunrise Sting, she tore her ACL and meniscus during the first five minutes of the opening game of the 2018 U.S. Youth Soccer Southern Regional Championships in North Carolina. Her trajectory was stalled. She wasn't cleared to run until January of her senior year, and when she did start at UCF in summer 2019, it was as a redshirt, meaning she practiced and trained but didn't play games.
"Some days were harder than others. Going through the first couple weeks after surgery was the worst. You can't really do anything; you have to have help all the time. You're on crutches," Fray says of her recovery. "It took some time, but once I focused and realized what I wanted, I got harder on myself. … This is what I want. I want to have a soccer college career. So if I want that, I have to put in the work."
Fray found that putting in the work led her toward a new chapter. As the spring semester started, Fray turned to her mother to discuss her struggles and lost opportunities. And she slowly decided she needed a new start.
"UCF was great. I loved the girls and the college," Fray says. "But I just really wanted to be able to start off my career [with others] not looking at me as injured."
If she had any doubts about leaving UCF, they probably dissipated once she stepped onto the field with the Jamaican team in February at the Confederation of North, Central American and Caribbean Association Football (known as CONCACAF) Women's Under-20 Championship in the Dominican Republic.
"We played scrimmages and practice games, but it's still not the same as stepping on to a field during a real game," Fray says. "It felt really good. I realized how much I missed it, and how much I wanted to get back out there and play. …
"The first game when I stepped on the field, I was like, 'I need to score. This is where I need to prove something—here in this first game.'"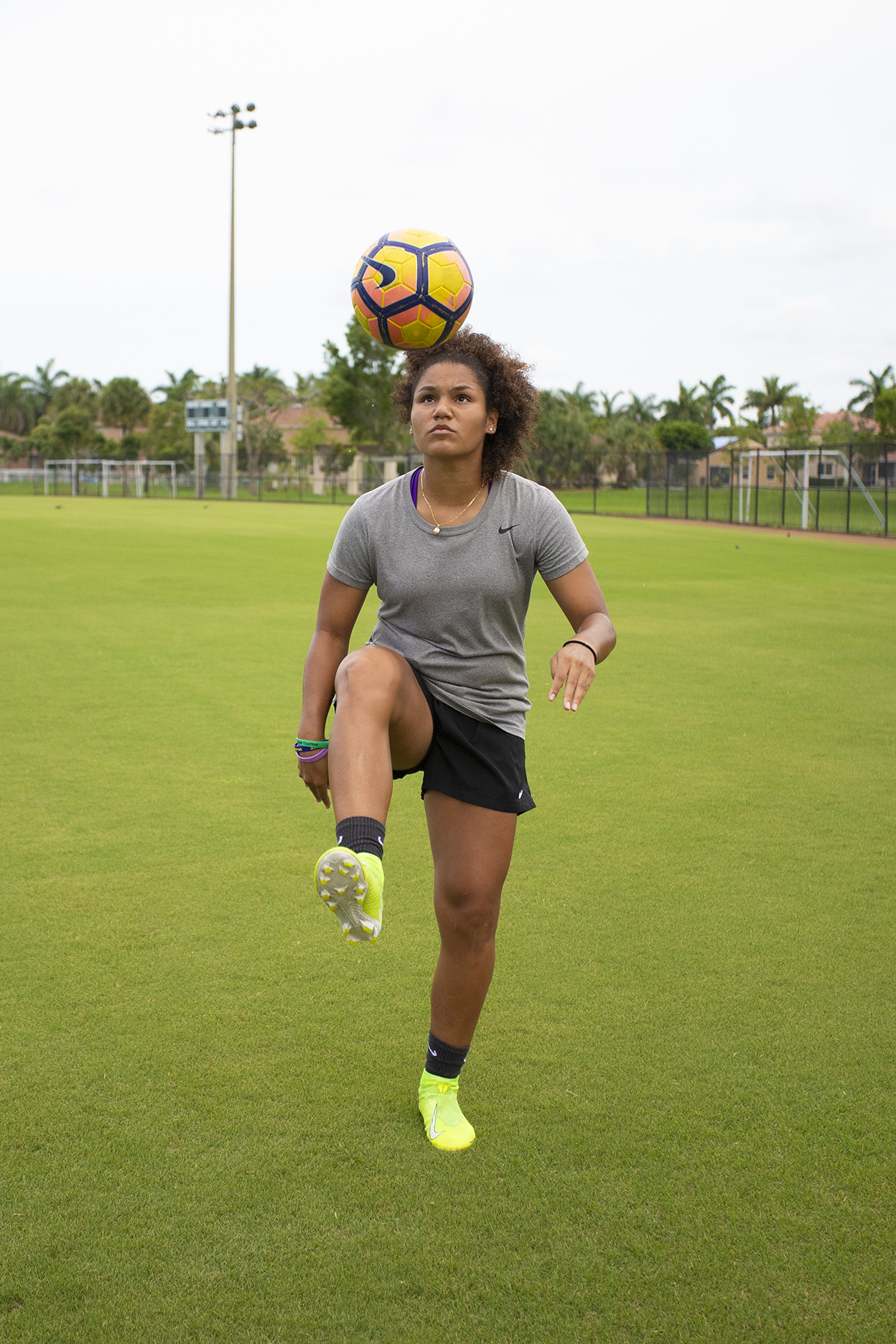 She ended up scoring three goals, helping to tie the score at 4 against Guatemala. Overall, she scored five of the team's 20 goals in the tournament, during which they reached the quarterfinals.
Now, Fray is starting her new chapter with a leap of faith—in the middle of a pandemic, no less. She connected with a University of Texas at San Antonio recruiter, who was familiar with her from her Sunrise Sting days. But because of the coronavirus shutdown, she wasn't able to visit the campus. Still, she chose UTSA after talking to coaches and players online from her Creek home, and she's eager to explore the possibilities that await her as part of a new team.
"I want to be able to hold a goals record. How many goals can I set? How much of an impact can I make within Conference USA [in which UTSA plays]? How much of a difference can I make on that team? How many goals can I score? Can I be the leading goal scorer? Can I help the team? Is there any way possible to be an impact player?"
Though Fray will major in kinesiology, she admits she's not certain about a career path. What she does know is that she wants soccer to always be a part of her life—the same way it always was in the lives of her family members.
"You have to do it for yourself. Stop relying on other people to say this about you or say that about you," Fray says, echoing their advice. "At the end of the day, where you want to reach your goals is going to come from within you."
Fray's Faves
Teams: "I love watching the U.S. national team and the women's team. I grew up watching them play. Outside of the U.S., I really love where the women's Jamaican national team has gone. I love seeing the progress in that. I have some good friends that are on the team right now. I also really like watching England and Germany play [both women's and men's]."
Players: "Carli Lloyd—I really like watching her play because I feel she has a really good knack for scoring and finding the goal. [For men], I'll be pretty generic and say [Cristiano] Ronaldo. I mean, what's not to like about him?"
Personal accomplishment: "Right now, I would say it's to play for the Jamaican national team. Not a lot of girls get the chance to play for their national team. Just being able to play and represent my country is a good accomplishment that I'm proud of."
Photos by John Hartzell | Shot on location at Sabal Pines Park