If you're wondering where to celebrate National Guacamole Day on Thursday, there is no shortage of bars and restaurants offering great specials to ensure patrons can enjoy the popular dish. 
This year, some of South Florida's best Mexican restaurants are offering specials and authentic and creative guacamole dishes. Some of our favorites include: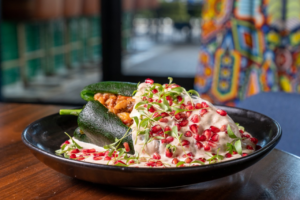 Venue: Bakan Wynwood 
Address: 2801 Northwest 2nd Ave. Miami
Description: Bakan Wynwood provides a wide variety of authentic regional dishes and expansive mezcal and tequila offerings. As a unique offering, the restaurant will be serving a traditional Mexican dish known as 'Chiles En Nogada.' The dish is prepared with roasted poblano chile and stuffed with slow-cooked pork, almonds, pecans, dried and fresh fruit, herbs and served with a walnut and cherry wine cream sauce. The dish is then sprinkled with fresh pomegranate and served at room temperature.
Venue: El Vez
Address: 401 N Fort Lauderdale Beach Blvd. Fort Lauderdale
Description: Located in the W Hotel Fort Lauderdale, this restaurant offers dishes with Mexican fare combined with Baha-style cooking incorporating fresh seafood from South Florida. The eatery provides new dishes like Pina Camarones and Shrimp Tacos, the Crispy Whole Snapper, and the Baja Branzino.

Venue: Mayami Mexicantina & Bar
Address: 127 NW 23rd St. Miami
Description: Mayami Mexicantina & Bar in Wynwood is an indoor and outdoor restaurant and lounge that features traditional Mexican cuisine, uniquely crafted cocktails and insect-infused Mezcal shots.
Venue: Pilo's Tequila Garden
Address: 158 NW 24th St. Miami
Description: Pilo's Tequila Garden is offering $5 guacamole, tacos, and beers along with live music to ensure. The restaurant's open-air Tequila Garden provides various types of tequila expressions and cocktails along with live entertainment.
Venue: El Camino Delray
Address: 15 NE 2nd Ave. Delray Beach
Description: From 11 a.m. to 1 a.m. on Thursday, patrons can enjoy the Red Chili and Herb Guacamole with achiote compressed shrimp crudo and housemade blue corn tortillas for $18.
Venue: Lona Cocina & Tequileria
Address: 321 N Fort Lauderdale Beach Blvd. Fort Lauderdale
Description: This eatery is celebrating the occasion by offerings its Tradicional Guacamole with lime, cilantro, jalapeño, tomato and onion for the discounted price of $10. The restaurant is also offering a specialty guacamole for $10. The concoction is topped with jalapeño, goat cheese and strawberry to symbolize Mexico's national colors: green, white and red.