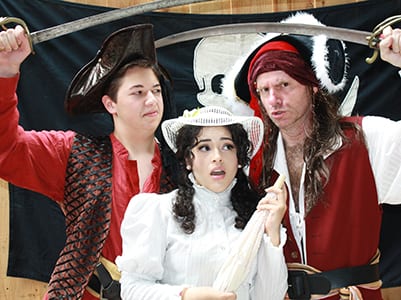 The Pirates of Pinecrest
From Nov. 19-22, a three-masted ship, bristling with cannons and flying the dreaded Jolly Roger, will drop anchor at Pinecrest Gardens' Banyan Bowl for the Miami Acting Company's performance of Gilbert and Sullivan's "The Pirates of Penzance." Pirates will plunder, young lovers will swoon, and the valiant bobbies of the Royal Police Force will march to save the day.
This will be the Miami Acting Company's fourth season as a Banyan Bowl resident company. Previous performances have included "Man of La Mancha" (2012), "A Funny Thing Happened on the Way to the Forum" (2013) and "Fiddler on the Roof" (2014). The 18-actor company includes several Pinecrest residents, including Ken Kurtz (director/designer) and Francine Birns, who plays Ruth in this year's production. The cast and crew also include Palmetto Bay residents Judge Bill Altfield as the Major General and stage manager Maritza Prados; Coral Gables residents, costume designer Jon Weiss and Meghan DiMeglio, who plays Kate; and South Miami resident Chris Dreeson as the Pirate King. Coral Reef High School has provided the two romantic leads: Sophia Aranda as Mabel and Jonathan Mitzenmacher as Frederic.