It's been 37 years since Ricky Marcellini's father opened a piano bar in Belo Horizonte, Brazil, next door to the eclectic store owned by Ricky's mother that sold furniture, pots, pans, frames and other home goods. Initially, the piano bar didn't serve food. As the story goes, customers pointed to the fondue pots that were part of the decor and urged Ricky's father to start putting them to better use.
Before long, the national dish of Switzerland was all the rage in Brazil thanks to The Little Chalet, which turned fondue into a culinary art form in Belo Horizonte and São Paulo. By 1997, the next generation of Marcellinis (Ricky and his brother) had taken over the family business—but the beloved restaurant wasn't done conquering new lands.
Anxious to move his family (wife Carol and daughter Nina) out of the hectic urban scene in São Paulo and to the United States, Ricky began scouting places in South Florida to open The Little Chalet. He settled on Boca Raton for its upscale audience, as well as its proximity to Miami (he travels to Brazil for one week each month to help oversee the family's restaurants, nightclubs and catering business). More than that, Ricky saw an opportunity to create a different kind of dining experience.
"What I notice in the States is that, after dinner, the server wants you to move on and go home," he says. "Here, we want you to stay and enjoy the night. We're seeing guests stay two, three hours at a table."
And for good reason. The first stateside Little Chalet (485 S. Federal Highway, 561.325.8000, thelittlechalet.com) is drawing raves for its cozy, whimsical, Old World ambience—Ricky's mother handled the interior decorating—the charms of its staff, the sweet sounds of its piano player, and a menu of appetizers, pastas and entrées that celebrates the flavors of Europe (think French mussels, Italian chipotle chicken sausage risotto, Swiss filet mignon filled with prosciutto and Catupiry cheese).
Then, of course, there's the fondue—three cheese offerings, which many diners count as their appetizer; a filet mignon-only entrée; and the requisite to-die-for chocolate dessert fondue.
An ongoing favorite, however, is the aptly named Royal Chalet, a fondue for two that features cubes of filet mignon, slices of chicken breast and tiger shrimp—ready to be speared and bathed in a pot of piping-hot red wine consommé and then dipped into one of seven made-from-scratch sauces. Ricky shares some of the secrets of this popular dish.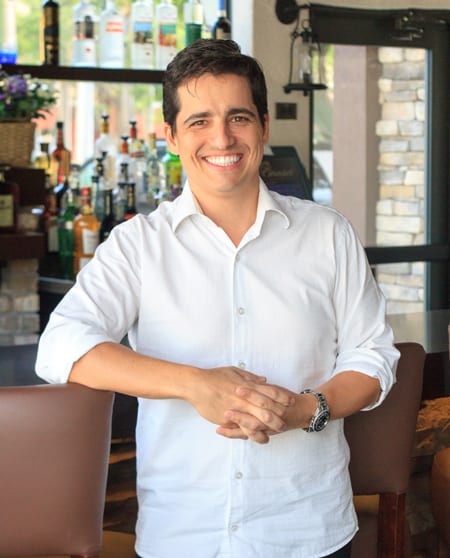 1. The staples: "We season the shrimp, chicken and filet mignon with herbs, and we pre-cook the chicken and shrimp a bit. In Brazil, diners don't want to mix shrimp with their meat, so, instead, this dish features pork. When we first opened here, we had pork, chicken and meat, but the customers didn't want pork."
2. In the pot: "We use a red wine broth with herbs to cook; the temperature will reach [176 degrees Fahrenheit]. … The shrimp and chicken cook for three minutes; the meat is five minutes. Some fondue restaurants use sirloin; we only use cubes of filet mignon."
3. Trial and error: "We tried Merlot and Pinot Noir for the wine broth before settling on Cabernet Sauvignon. The cabernet grape is much stronger and stands up to the heat; the pinot turned to water when the alcohol burned off."
4. Palate preferences: "A few sauces are strictly for our American customers; the blue cheese and the horseradish cream are too strong for Brazilians. Also, all of our sauces at this restaurant are heavier. In Brazil, customers prefer more of a liquid consistency; here, guests like a thicker, creamier sauce."
5. Mix and match: "The first time I tried the horseradish sauce, I tasted it on its own—and I didn't like it. But then I tried it with the filet, and the combination was so good. I also like the mustard sauce with the chicken; the spicy pineapple flavors work well with the shrimp; and the blue cheese is perfect with the filet mignon. I love garlic, so that goes with everything."