Origin story: The bulb didn't go off during his early restaurant days at Indochine, but something about the renowned establishment (an institution in lower Manhattan since 1984 and one of the first U.S. fine-dining eateries to feature the cuisine) lit Rick Wahlstedt's path as an entrepreneur. In 1993, the Swedish restaurateur debuted a high-end French-Vietnamese concept, Le Colonial, which enjoyed a nearly three-decade run on the Upper East Side. However, Wahlstedt's vision always extended beyond the Big Apple. In 1996, he partnered with co-owner Joe King on a Le Colonial in Chicago. The two later added Houston (2016) and Atlanta (2019) to their burgeoning destination-dining chain. In February, the pair planted restaurant roots in South Florida with a dreamy 7,000-square-foot space at Atlantic Crossing that's without comparison in Delray Beach.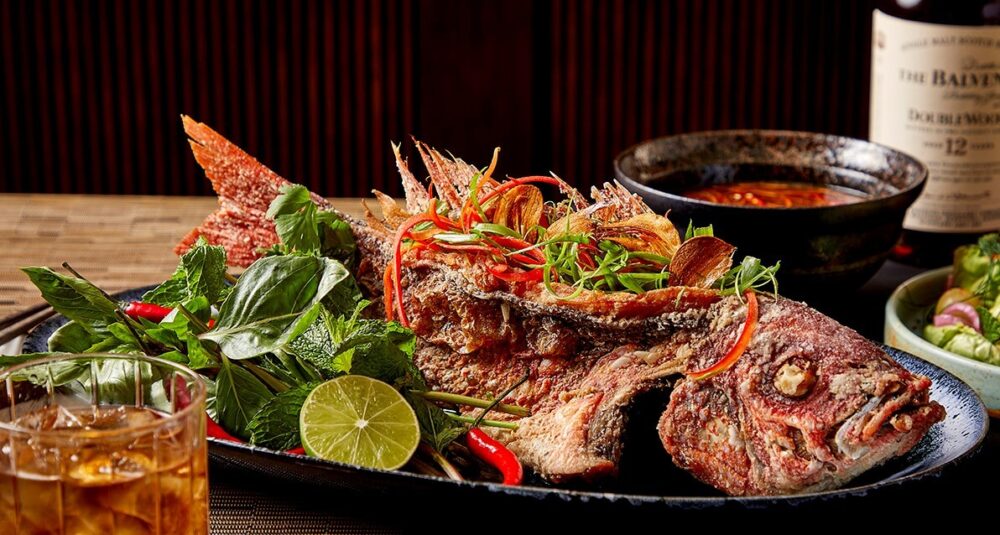 The vibe: Wahlstedt describes Le Colonial as an escape, an opportunity to "transport people to a different time and place." In this case, that time recalls 1920s Saigon but with a breezy, tropical allure that's perfect for South Florida. Think wraparound windows, wicker chairs, coastal fans, turquoise wood shutters and potted palms, as well as mosaic tile, steel French doors, period photography and a custom canvas rendered by Swedish painter Jonas Wickman. In addition, Le Colonial implements a dress code to remind guests that this is a white-tablecloth experience. "We worried there would be an outcry because Delray is a beach town," Wahlstedt says. "Interestingly enough, it's 100-percent the opposite. I can't tell you how many people have expressed appreciation that, finally, there's a local restaurant with at least a minimum policy about dress."
The cuisine: For those unfamiliar with French-Vietnamese food, Wahlstedt describes it as leaner than Chinese and less spicy than Thai. It's an easily accessible menu, with familiar items—chicken dumplings, baby back ribs, tuna tartare, fish and beef offerings—across the board. "It's just that they're prepared differently," Wahlstedt says. In big-picture terms, that's good news for health-conscious diners, who can enjoy a three-course meal—and still look forward to an after-dinner stroll along Atlantic Avenue.
The menu: Vietnam native and executive chef Huy Hoang and his kitchen team execute Le Colonial's classics and Delray-specific dishes to perfection. The latter includes galangal-cured halibut, one of several seafood-based showstoppers. The miso-glazed roasted Faroe Island salmon (ca hoi nuong) is bathed in coconut-lobster broth and served with baby bok choy and organic shiitake mushrooms. The crispy whole snapper has been turning heads since it debuted at the first Le Colonial in New York. The South Florida version (ca chien Saigon), weighing in at more than 2 pounds, is deboned and served tableside with peppers, dill and chili garlic fish sauce. On the meatier side, shaking beef (bo luc lac)—caramelized Heritage Angus—arrives with onions, greens and lime pepper vinaigrette.
Go west: Entrees aren't the only dishes drawing raves. Fried spring rolls (cha gio), a street food staple in Vietnam, are sliced and served with mint, cilantro, carrots and leafy lettuce with which to wrap the ingredients and dip in a light and spicy fish sauce. The gourmet treatment extends to specialty cocktails like the Delray Daquiri with Cor Cor rum, elderflower, fresh lemon, mint, honey and bitters. Wahlstedt and King aren't done making a Florida statement—construction already has started on a Le Colonial in Naples.
Bonus Bites: Wahlstedt points to the patio—with its leafy shelter of bougainvillea, wrought-iron decor, a white stucco fountain, copper lanterns, and outdoor bar and fireplace—as one of the restaurant's aesthetic highlights. … Le Colonial's Saigon Social (3 to 5:30 p.m.) features a $10 food and cocktail menu with dishes including a chilled shrimp roll and Brussels sprouts topped with caramelized fish sauce. … Speaking of cocktails, the main lounge at Le Colonial is an intimate space with plush sofas, mood lighting and room for up to 66 guests.
Contact: 601 E. Atlantic Ave., Delray Beach; 561.566.1800; delraybeach.lecolonial.com