It's not that the question catches Shauna Sweeney by surprise. But in the same way that the auburn-haired singer/songwriter has been patient about the doors that have opened in her career, she's not about to rush an answer that perhaps says more about her as a person than as an artist.
So, she pauses for several beats when asked if the journey that's unfolded since Sweeney returned to South Florida in 2004—one that's seen her release more than 15 original songs, open for major rock acts and work steadily as a professional musician throughout the tri-county area—has been fulfilling. Or if a part of her is disappointed, with 15 years invested, that she's not touring the country with a national following.
"I want both. And you can't have both," says Sweeney, 34, who lives in Margate. "You can't have the stability of sleeping in your own bed every night and also have a big career. That takes a level of sacrifice that I've never been 100-percent willing to give.
"The things that are most important to me are the things that I've sought out—love, family, friends, music and time in nature. Growing the career is something that I certainly work toward, but it's not more important to me than the other things on the list. … It's OK to be happy with what you have."
In that sense, Sweeney has been living her best life since once again putting music front and center.
As early as age 8, she was writing lyrics and recording songs at an arts-rich elementary school (Wolcott) in West Hartford, Connecticut. After her parents separated, Sweeney moved with her mom to South Florida and attended Western High School in Davie. Within a year, Sweeney, by now proficient on guitar, was performing at open-mic nights. She later joined a band, Never Enough, and, at age 16, was playing gigs at local bars and coffee houses.
"It wasn't only an outlet at that time [given the move and the separation of her parents], but it allowed me to continue to find joy in my world," she says. "Being around music is the place where I've always been the most comfortable, the most like myself."
That realization hit Sweeney especially hard after she put music on the back burner while bouncing from Emerson College in Boston to Stetson University in DeLand, before leaving school and moving to Chicago for six months. (Note: She would later earn a degree at Broward College.)
By late 2003, Sweeney had a nagging feeling that something was missing in her life. Though she was dating someone at the time, she went alone to an open-mic night in the suburbs of Chicago and played three original songs.
"The people were so into it, so full of applause and encouragement," she says. "I remember walking off the stage, and it was like I was walking on air. I understood for the first time what that expression meant. Over the course of a few weeks, I came to terms with what I had to do. I left my boyfriend, drove myself back to South Florida and arrived on my 20th birthday."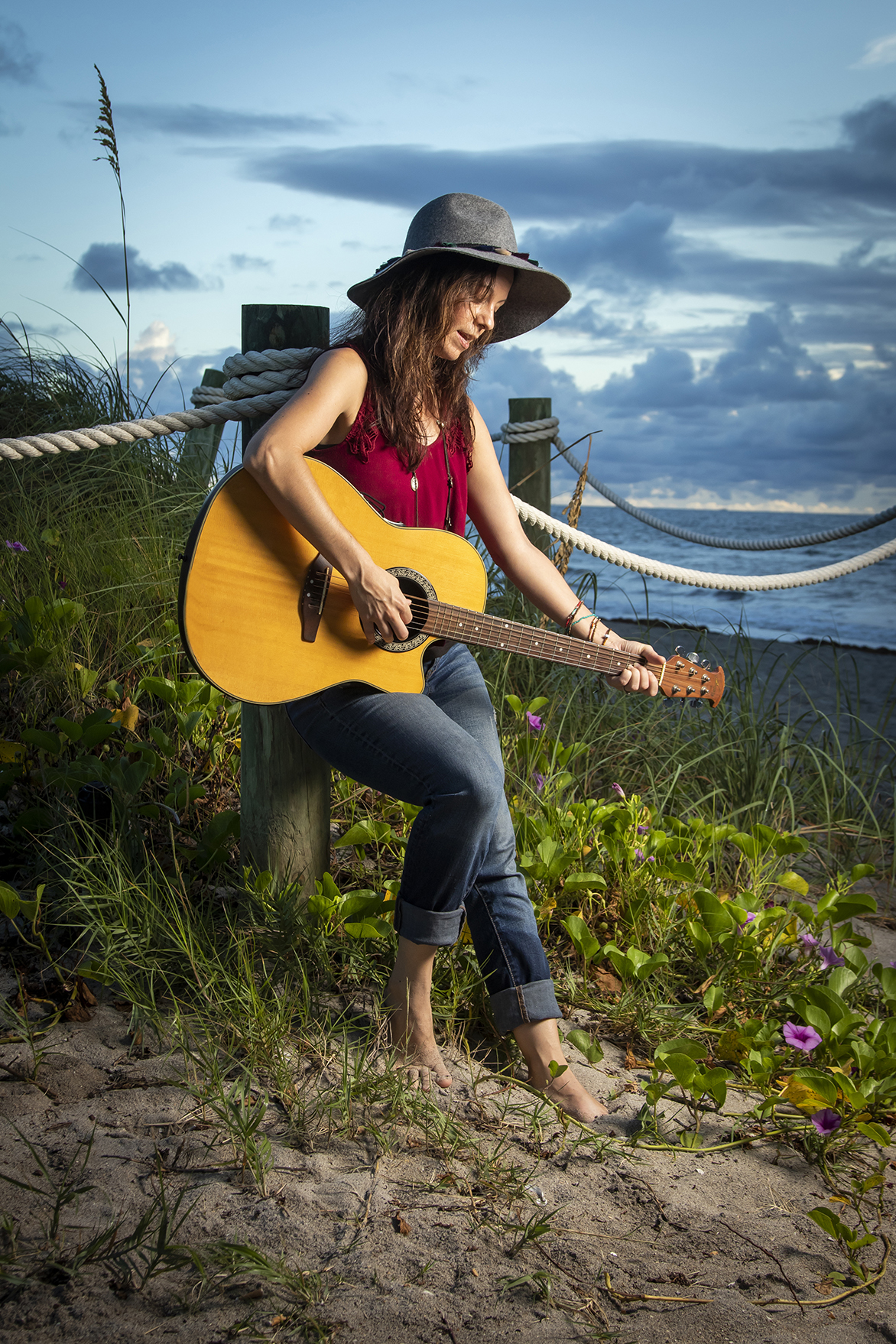 Since then, Sweeney has rolled up her sleeves and spent the past decade-plus grabbing stage time wherever she could find it, building industry relationships, serving as her own promoter (even though she finds that "icky" at times) and waiting, sometimes for years, for opportunities on which she consistently has capitalized. It's been a hard-earned musical career, one that's come with its share of highlights.
She's released four EPs (the last one, "Supposed," in 2017), perfecting a vocal style along the way that has echoes of Sheryl Crow, Alanis Morissette and Jewel. She's performed the "The Star-Spangled Banner" countless times at sporting events, and also sang for U.S. troops in 2011 at Guantanamo Bay. More recently, she opened for 10,000 Maniacs at Broward Center for the Performing Arts (April 2018) and the Gin Blossoms at Culture Room in Fort Lauderdale (March 2019).
Sweeney's music even played a role in her love story. She met her future husband, Bryan, at the Kingshead Pub in Sunrise. Sweeney was hosting open-mic night there, which she still does most Tuesday nights at the neighborhood British bar. Bryan had just moved to South Florida from Los Angeles. He ended up buying one of her CDs that night.
"I should've suspected something when he came up two weeks later and bought another copy of the same CD," Sweeney says. The couple, who have been together now for eight years, married in 2015.
These days, Sweeney's local popularity and industry reputation as a consummate pro lands her steady gigs at venues like Blue Martini in Fort Lauderdale, Buddha Sky Bar in Delray Beach and Seminole Casino Coconut Creek. Though she does mostly solo shows, Sweeney works with a dozen different musicians that she can call on for performances with a full band.
"I do want to find more opportunities to play for larger audiences and collaborate with artists that I look up to," Sweeney says. "But I wouldn't trade those goals for a lot of the things that I've been able to have—like time with family and friends, and a more stable life here, which some artists have to give up when they reach certain levels of success.
"In some ways, I feel lucky to have been able to take it one step at a time, to play music throughout my life without making a serious sacrifice. And even luckier to do something that I love."
Light the Way
As an elementary school student in Connecticut, Sweeney wrote and recorded three songs, including, "Some Day," which featured the lyrics, "Soon I hope people of all colors will live together in harmony." More than two decades later, she revisited that theme with the 2016 song, "Catch the Light," about celebrating our unique qualities in an era of divisiveness.
Every shade is perfectly made
To help the others catch the light.
When the colors of our soul
Shine for the common goal,
That's how we can make it bright.
That's how we catch the light.
Photos by Eduardo Schneider