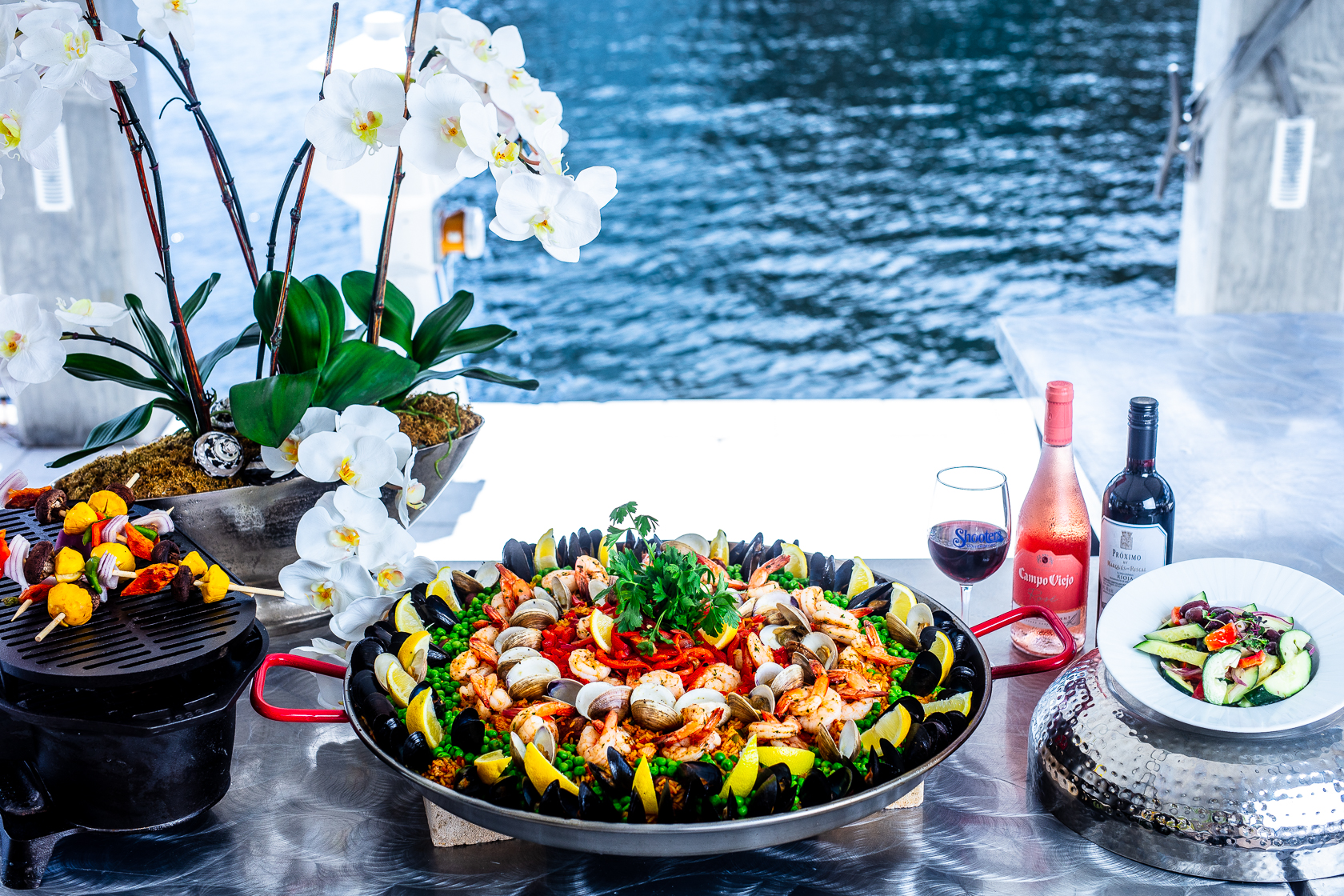 Let There Be Rice
Roberto Santiago brings his Puerto Rican paella to a Friday fiesta at Shooters Waterfront
Preparing paella for hundreds on a Friday night certainly sounds more daunting than helping his mother and grandmother stage the same meal for family in Ponce, Puerto Rico. But some aspects of Roberto Santiago's childhood paella experience continue to resonate—namely, the passion that the executive chef at Shooters Waterfront has for this enduring dish.
It's everything that Mom brought to the table—and more. Now, he's sharing that legacy with the masses. Friday night is a paella party at Shooters (3033 NE 32nd Ave., Fort Lauderdale), as Santiago and his team "put on a show" on the restaurant's open-air deck overlooking the Intracoastal Waterway.
The Spanish port city of Valencia often is credited as the birthplace of paella. Santiago says the dish is a mainstay in Puerto Rican households, too. He remembers his mother, Mara, coming home with a package of seafood in a clear, plastic bag, along with a small bag of saffron spice for the rice. "The first thing I ever learned to cook was white rice," he says. "My mother would instruct me: 'Add two cups of water, two tablespoons of oil, bring it to a boil.' "
When paella began appearing on Shooters' menu this summer, it was served as a single dish, part of the catch of the day with a piece of grouper on top. However, making paella in large volumes—and creating a party atmosphere around it—is what paella is all about, Santiago says.
"When you walked into the house where I grew up, even if you just stopped in to say hello, you would have to sit down at the table, and my mother and grandmother would put a plate in front of you and say, 'Eat, eat, eat,' " he says.
Cooking mass servings of food has followed the chef throughout his career. After leaving Puerto Rico when he was 17 and moving to Orlando, where one of his sisters was living, he landed a job at Universal CityWalk. "It was an underground commissary kitchen that prepared food for 22 different restaurants," he recalls.
At one point, he worked in Miami, at Jackson Memorial and Hialeah hospitals. "A Puerto Rican chef that I knew introduced me to the company that provided food service to the hospitals, and we changed the whole approach," he says. They got rid of food made in advance the day before. "We were doing black beans in big batches, 12 different soups for other hospitals, making 2,500 pounds of pork loin at a time."
Santiago, who's been executive chef at Shooters for nearly four years, promises a crowd-pleasing atmosphere and tasting experience during the paella party, Fridays from 6 to 9 p.m. The colorful rice meal is made from scratch in 4-feet-round paella pans (paella is the cooking pan; through the ages, it also became the name of the dish)—enough to feed about 200 people.
"Paella is not just about the food. It's about the sharing of the entire experience. My mother and grandmother always cooked with heart. My heart is in cooking, too," he says.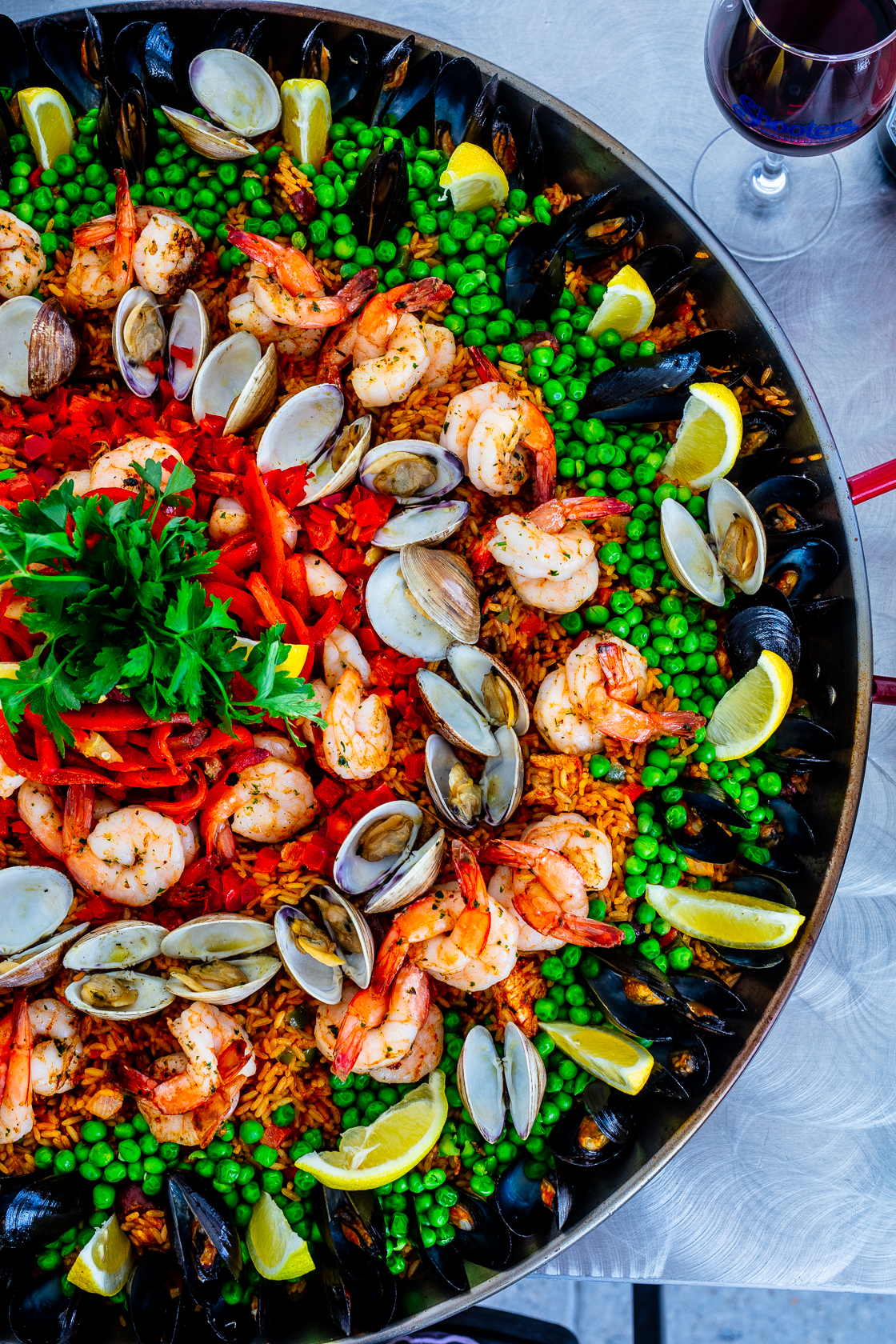 The right rice: Calasparra rice, a premium short-grain rice native to the Spanish region of Murcia, is the only one Santiago uses in his paella. "It's best for absorbing all the rich flavors," he says.
Come together: Every bite of Santiago's paella will have as much flavor and variety as another. "The clams, mussels and shrimp, the chicken, chorizo, piquillo peppers, and rice, the broth, the sofrito—everything goes together. Nothing takes over," he says.
Secret ingredient: Santiago adds Shooters' amber ale to the paella broth. "It delivers a hint of nuttiness," he says.
As a complement: Santiago recommends Shooters' chardonnay as a wine selection. "The white wine mixes with the oils from the chorizo to create this buttery flavor. It's also a drier wine, so it clears your palate between bites," he says. If you want to go bold, the chef suggests a red wine from Spain: Marques de Riscal Proximo, Rioja. Also a dry wine, Santiago says it brings out the flavor, "especially the smoked paprika on the shrimp."
The discovery: Santiago loved making paella, but it wasn't on Shooters' menu until a patron holding a large event asked if the culinary team could whip up a big batch for the event. "People on the staff tried it, and they were like, 'Wow! What's this?' " he says. It was added to the menu soon after.