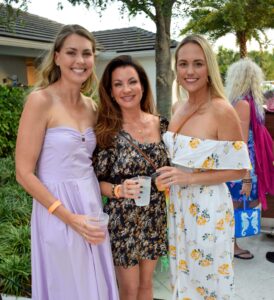 The 18th Annual Pediatrix Flip Flops on the Docks at the Lauderdale Yacht Club hosted by the Friends of Jack & Jill Center produced $435,000 for the Jack & Jill Center's mission to strengthen children and families through innovative education, supportive programming, and community engagement. The signature fundraiser featured relaxed tropical beach décor, drinks, food and live music on the docks overlooking the Intracoastal Waterway. More than 425 guests also bid on luxurious items in live and virtual silent auctions.
"We are incredibly grateful for the overwhelming support from all those who joined us for our Annual Pediatrix Flip Flops on the Docks at the gorgeous Lauderdale Yacht Club," Heather Siskind says, CEO of Jack & Jill Center. "It was great to see everyone leave their heels and ties at home to enjoy a wonderful evening to support children and families in need. Thank you to our event chairs and sponsors for helping us make it possible."
Since its establishment in 1999, The Friends of Jack & Jill Center has raised over $5.25 million and volunteered countless hours to improve the lives of the center's children and families. Jack & Jill Center supports children of high-need working families through quality early childhood education, elementary education and family strengthening programs to ensure every child and family has the tools they need to be successful. The organization has served 26,000 children and families in South Florida since 1942.
Photo Credit: Little's Photography and Sydney Stelter