Florida has helped to promote its share of inventions out of necessity, like sunscreen and air conditioning. But another phenomenon for which the Sunshine State can be thanked is all about desire—culinary desire.
"Florida [kitchens] are the pioneers of small plates," says Mike Mayo, the award-winning local food critic who writes for Fort Lauderdale's Sun-Sentinel, among other outlets. "Over the last 10 years, it seems like more and more places are offering them."
Tapas, or small plates, originated in Spain. When Mayo traveled to Barcelona in the mid-1980s, it's all he saw—and it was a culture shock.
"People nibbled and noshed, that's where it started," says the Broward-based writer. "But I think it's the perfect fit and really popular in Florida now because dining has become less formal. Restaurants realized people wanted a different way to eat."
Mayo says restaurants in Florida have hopped on the tapas train because it makes sense for everyone.
"People didn't just want the traditional multicourse meal," he says. "Instead, they want to go out and try more things. Restaurants love it because it's a better margin."
Throughout the tri-county area, restaurants are increasingly growing their small plates section of the menu and paring down on large entrees. Here are some of our favorite spots for light bites.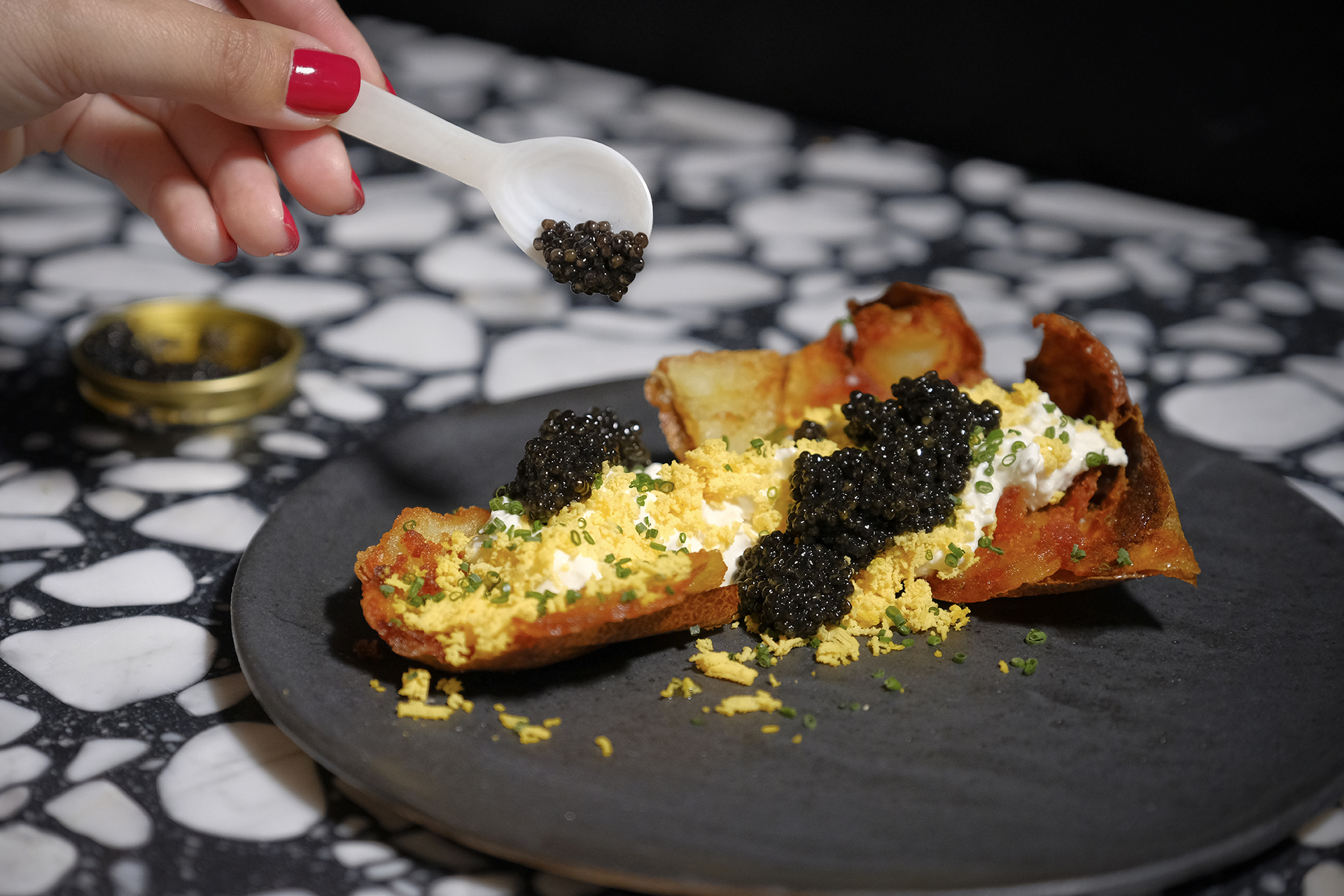 Crispy Potato Skins
Restaurant: Boia De (5205 NE Second Ave., Miami)
The lowdown: Inspired by the elegant, yet simple plates found in Tuscany, Boia De—which means "oh my!" in Italian—focuses on tapas-style plates with local seasonal ingredients. The restaurant's crispy potato skins dish incorporates creamy burrata, opulent caviar and hardboiled egg, which upon deconstruction creates a sophisticated party in the mouth.
Contact: 305.967.8866, boiaderestaurant.com
Photo by FujifilmGirl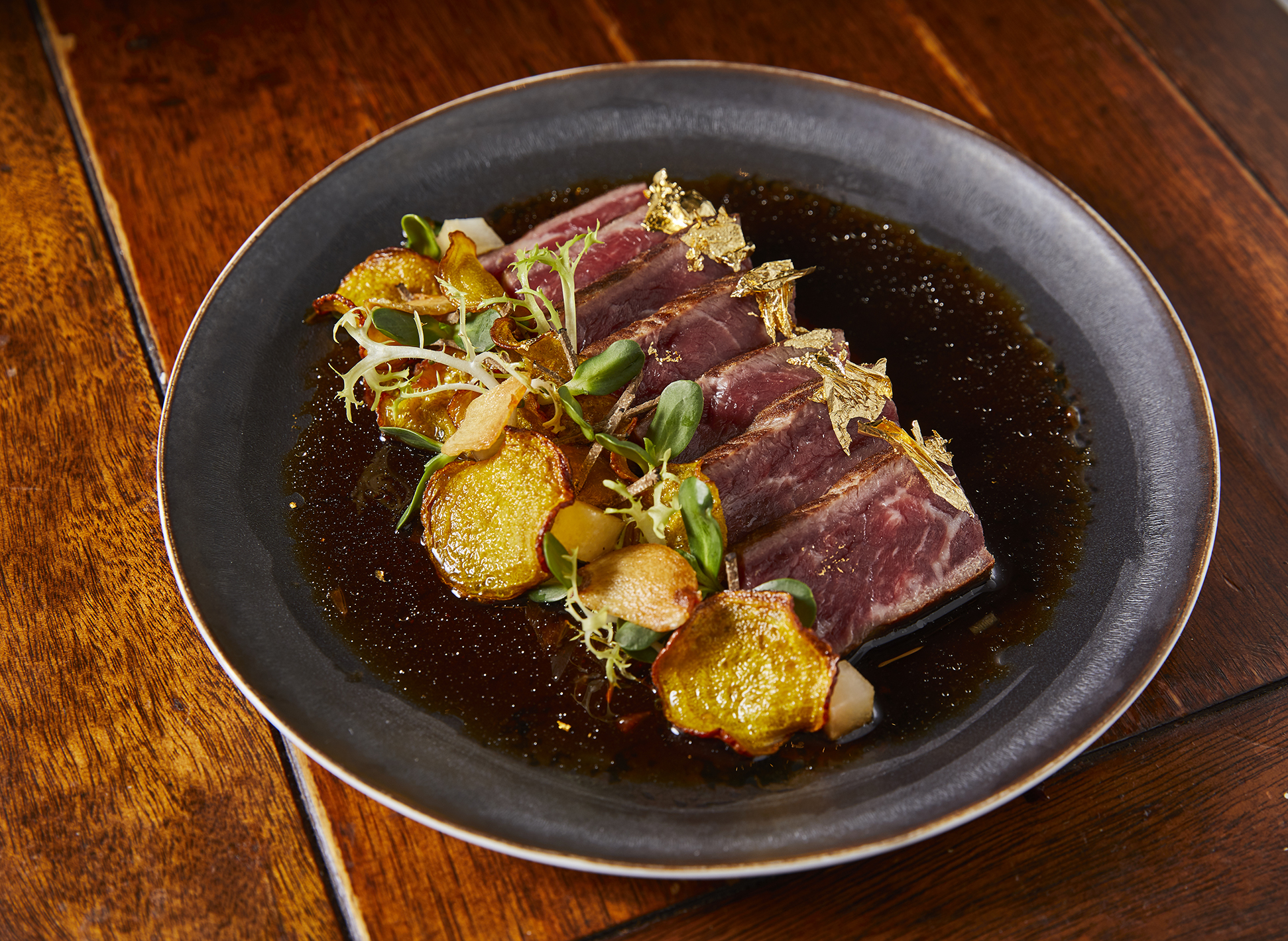 Wagyu Tataki
Restaurant: Jaya at the Setai (2001 Collins Ave., Miami Beach)
The lowdown: Vibrant and luscious, this small plate features seared, thick slices of wagyu striploin served in the most decadent way possible. It's plated with Matsuhisa dressing, lotus root chips and ginger—and topped with shaved truffles.
Contact: 855.923.7899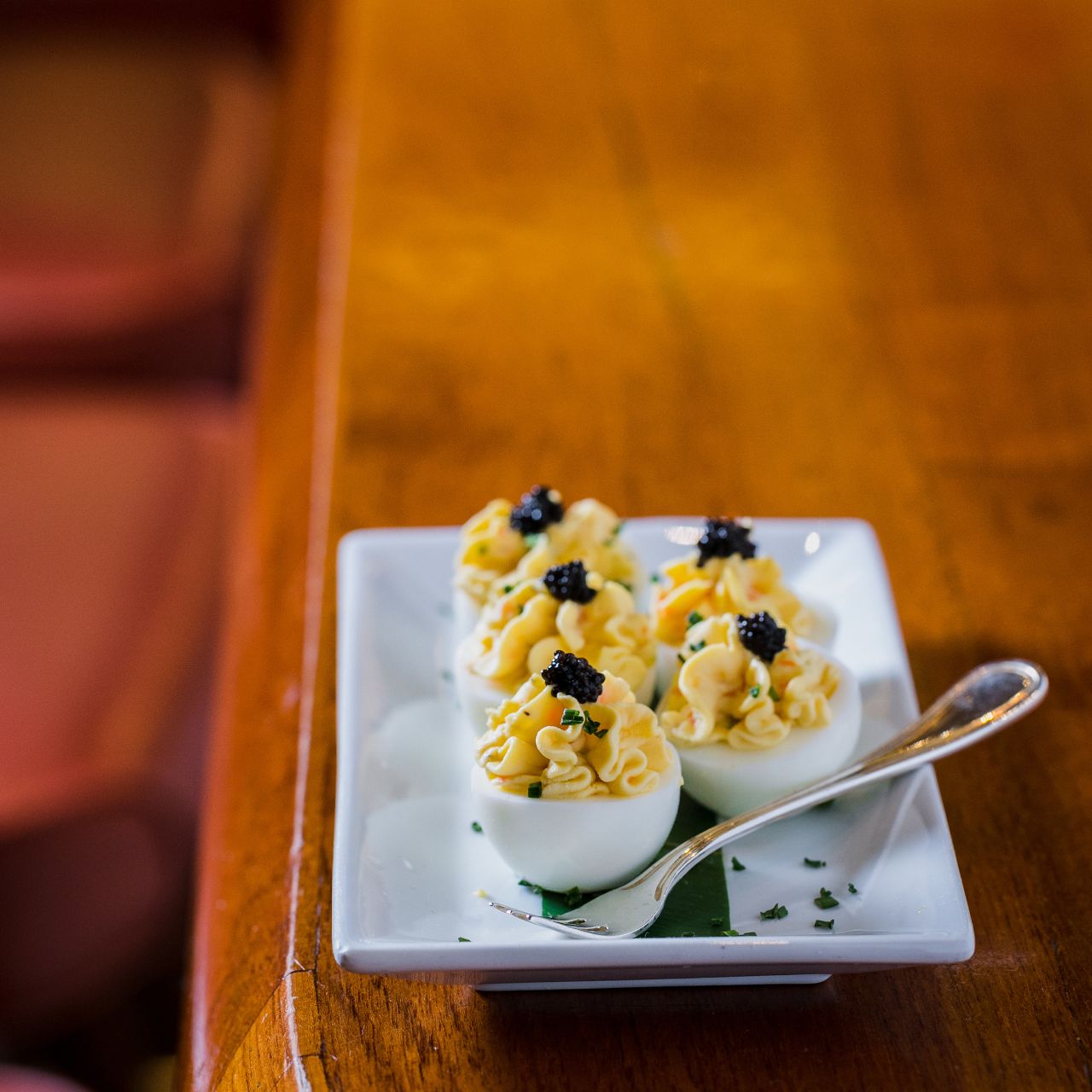 Deviled Eggs
Restaurant: Lure Fishbar (1601 Collins Ave., Miami Beach)
The lowdown: Located within the historic St. Moritz Tower at the Loews Miami Beach Hotel, Lure takes classic seafood delicacies—such as ceviche or tuna tataki—and gives them a modern refresher. Case in point: the restaurant's deviled eggs, which come plated in a row, simple and clean. Then, for added grandeur, each egg is topped with a heaping spoon of American caviar and chives.
Contact: 305.695.4550, lurefishbar.com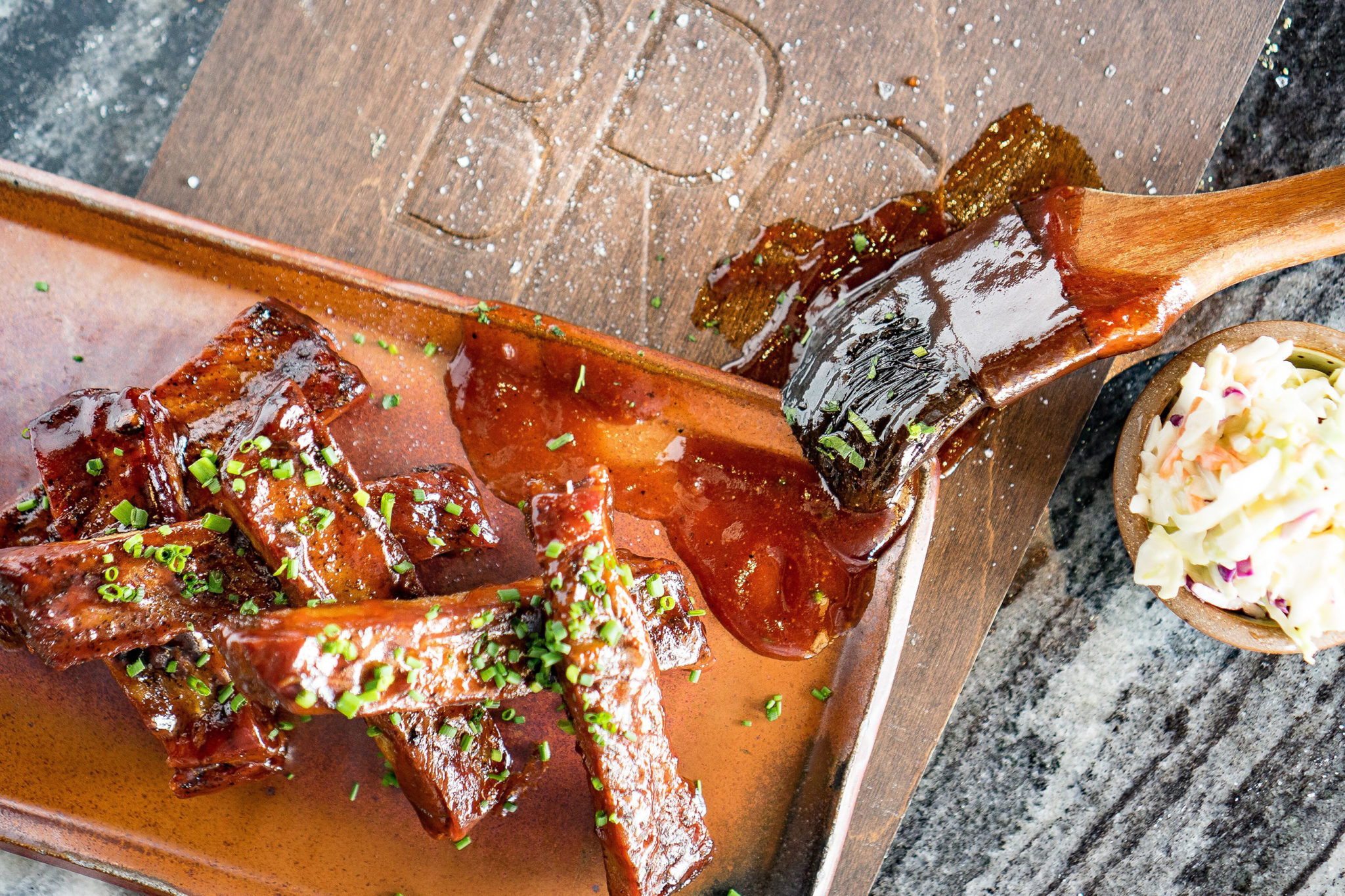 Sticky Ribs
Restaurant: Brimstone Woodfire Grill (8300 NW 36th St., Doral)
The lowdown: Available as a half or whole slab, this rack of ribs is served grilled and tossed in an addictively rich barbecue sauce. The Doral restaurant is praised for its grilled fare—hence the name—and the ribs are no exception, equally lauded when served in sandwich form. The half or whole racks come plated with a tangy slaw.
Contact: 786.837.8960, brimstonedoral.com
Miyazaki Tartare
Restaurant: Toro Toro (100 Chopin Plaza, Downtown Miami)
The lowdown: Described as a pan-Latin steakhouse, Toro Toro's menu is anything but ordinary. Its bar bites meld cuisines gracefully, such as its Filipino pork belly tacos or its chicken and chorizo croquettes. But the real star of the show is Miyazaki tartare off the small-plates menu. This cold dish features a battered and fried egg front and center, which it then marries with shaved radishes, garnish and sweet chili sauce.
Contact: 305.372.4710, torotoromiami.com
Photo by RM Studio Corp.
Hand-cut Prime Steak Tartare (pictured above)
Restaurant: Bourbon Steak (19999 W. Country Club Drive, Aventura)
The lowdown: Served with wedges of grilled pita bread, the steak tartare smacks diners atop the head with elegance, from its lines of garnish to the egg yolk on top. This appetizer from the JW Marriott Miami Turnberry Resort & Spa is one you won't find just anywhere.
Contact: 305.932.6200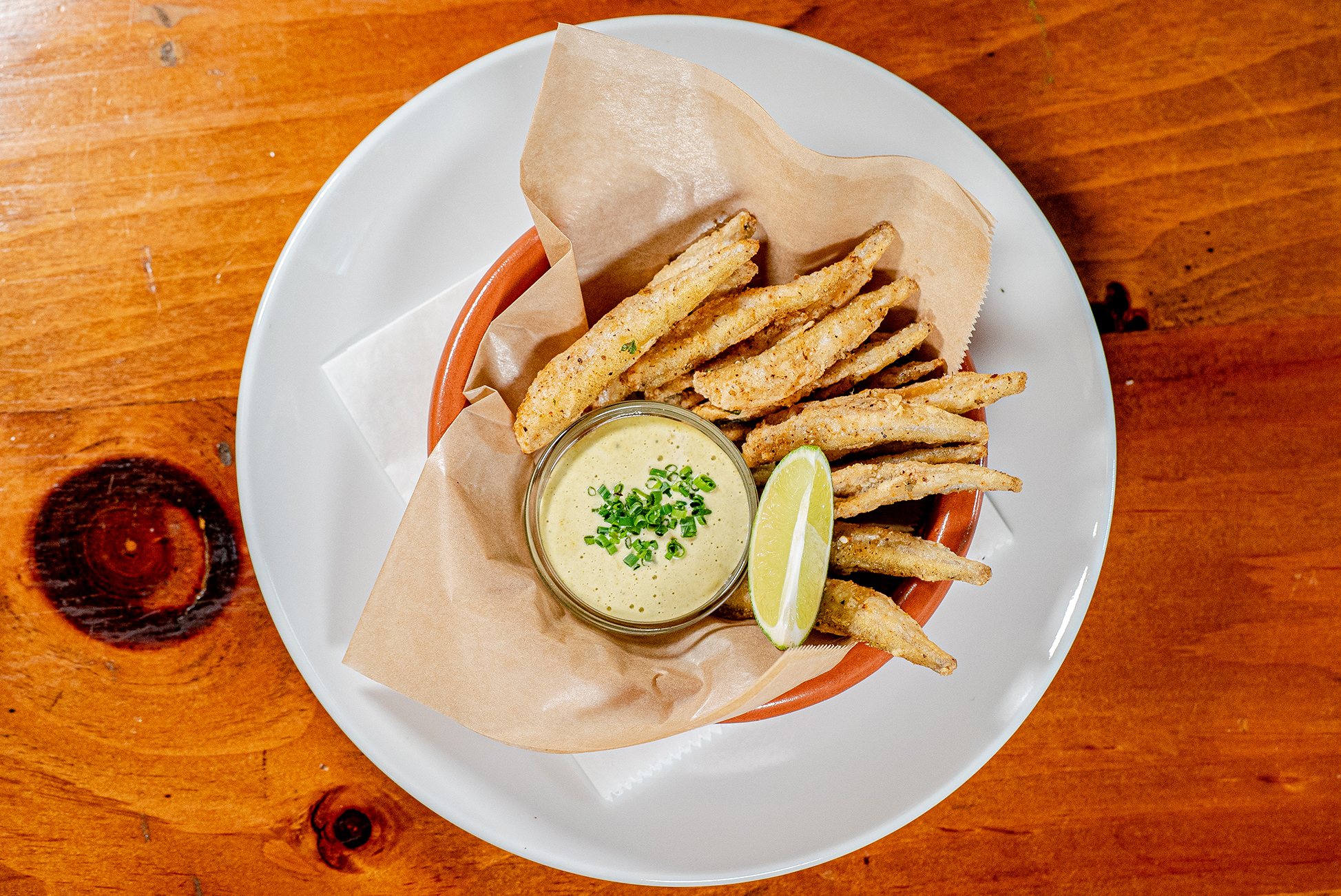 Majua
Restaurant: Ariete (3540 Main Highway, Coconut Grove)
The lowdown: You've never seen smelt like this before. Paying tribute to the Old World and then frying it to a crisp, Atiete's majua is a plate of hot, battered and crispy baby smelt, served with a wedge of lime and charred-lime aioli. The dish is one of the restaurant's multiple snack options and will have you licking your fingers for more.
Contact: 305.640.5862, arietemiami.com
Photo by Blue Shell Media
Tuna Tower
Restaurant: 26 Sushi & Tapas (9847 Harding Ave., Surfside)
The lowdown: Living up to its name, the tuna tower is a daunting stack of spicy tuna, avocado, masago, shallots, mushrooms and—brace yourself—avocado ice cream. The whole stack is finished with chili aioli. This vivid mix of flavors and textures is like a parfait, with all the fillings sandwiched between chunks of tuna.
Contact: 305.570.2626, 26sushitapas.com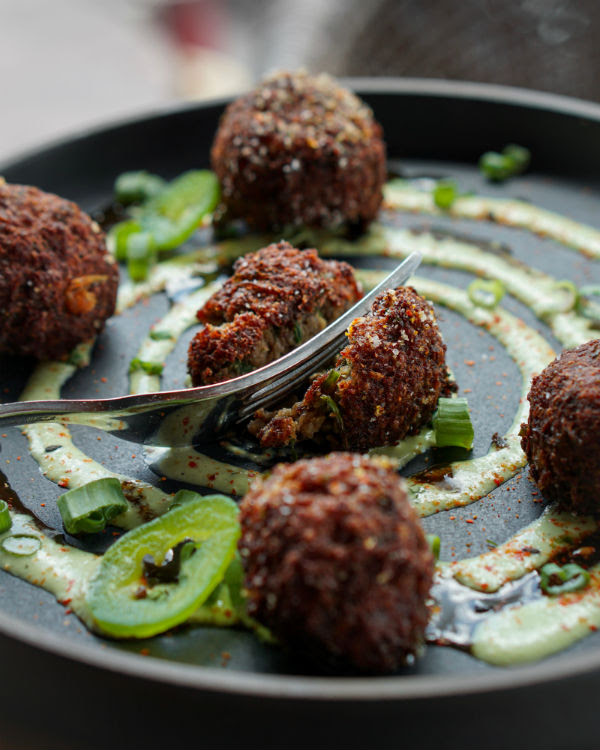 Adzuki Falafel
Restaurant: Beaker & Gray (2637 N. Miami Ave., Wynwood)
The lowdown: Taking its own spin on the classic Middle Eastern chickpea-based falafel ball, the restaurant makes its falafels with dark red adzuki beans. The happy-hour dish comes on a plate with spirals of creamy jalapeño ranch and tangy curry-barbecue sauce.
Contact: beakerandgray.com
The Art of Ceviche
It's bright and citrusy, has a little heat, and it's perfect for a beach day. Ceviche is one of those small plates of which Floridians can't get enough. Though the cold seafood medley originated in Peru, it's become ubiquitous with South Florida fare, popping up across menus throughout the tri-county area. Here are a few.
Brimstone Woodfire Grill
Where: 8300 NW 36th St., Doral
The spin: Chef Julio's ceviche is made the old school way, with corvina, shrimp and bay scallops served alongside crispy plantains.
Contact: 786.837.8960, brimstonedoral.com
Beach House
Where: 270 N. Pompano Beach Blvd., Pompano Beach
The spin: Beach House's ceviche lives up to its oceanfront location, boasting fresh lobster, shrimp and scallops marinated in a spicy, citrus sauce, and paired with sweet coconut milk. It's served with tostones.
Contact: 954.607.6530, beachhousepompano.com
Steak954
Where: 401 N. Fort Lauderdale Beach Blvd., Fort Lauderdale
The spin: An old favorite on this menu, Steak954's lobster and crab ceviche is an addictive combo of sweet and tart, combining coconut, cucumber, onion and jalapeno.
Contact: 954.414.8333, steak954.com
The Chimney House Grill & Café
Where: 701 W. Las Olas Blvd.,
Fort Lauderdale
The spin: Serving three different types of ceviche—white fish, mixed seafood and ahi tuna versions—this is the place to expand your ceviche palate. The mixed seafood and white fish varieties are classic Peruvian, melding together lime juice and red onion. The tuna on the other hand, is a take on Japanese fusion.
Contact: 954.900.5352, thechimneyhouse.net
Bao Bar and Asian Kitchen
Where: 1200 E. Las Olas Blvd., #101, Fort Lauderdale
The spin: Peruvian and Asian cuisine both utilize raw fish, so it only made sense for Bao to showcase ceviche—there's even a ceviche sushi roll. For those who still want to eat their ceviche with silverware, Bao offers two pseudo-traditional versions of the dish, incorporating starfruit, baby shrimp and sashimi.
Contact: 954.530.4176