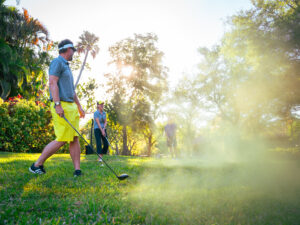 At its sixth annual Spirit Open, the Spirit Charitable Foundation raised over $1.5 million for national and local nonprofit organizations in South Florida. Participants included aviation industry professionals and community leaders who came together to raise funds for various charities across Spirit Airlines' growing network. More than 200 Spirit team members, aviation industry professionals and community leaders joined in celebrating the Foundation's mission.
The 2023 charity event was presented by NexGen Aero, with Airbus and Pratt & Whitney as Partner Sponsors. It also featured 150 other generous and civic-minded sponsors. The two-day event started with the "Carousel of Giving" social and networking event at the new Carousel Club in Hallandale Beach. Top industry leaders interacted while enjoying a wide selection of specialty food and drinks, a live DJ and an impressive silent auction. The following day, donors met at the Jacaranda Golf Club in Plantation for a fun round of golf.
"We're so grateful and impressed by the continued commitment of our supporters whose generous gifts advance our mission to inspire positive change in the communities where we live and work," Lania Rittenhouse, president of the Spirit Charitable Foundation and Vice President of Guest Experience, Brand & Communications for Spirit Airlines. "The Spirit Charitable Foundation gives back to organizations making meaningful impacts across our network, including supporting 51 nonprofits in 2022. This year's funds will empower us to extend our impact even further."
The Foundation makes charitable investments in nonprofit organizations across the U.S., Latin America and the Caribbean that advance its three pillars: Children and Families, Service Members and the Environment. The Foundation continues o honor its long-term commitments and support immediate community needs, such as last year's hurricane relief efforts in Florida and Puerto Rico.
The following nonprofit organizations in South Florida are receiving support from the Spirit Charitable Foundation in 2023, with more commitments coming throughout the year:
Broward Center for the Performing Arts

Honor Flight South Florida

Humane Society of Broward County's Mutts and Meows for Military

NSU Museum Children's Programming

The PATCH

The Underline

YMCA of South Florida