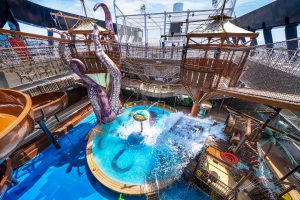 While losses mounted throughout the cruise industry amid a global pandemic that brought sailings to a screeching halt in March 2020, at least one category connected to passenger ships has seen significant growth.
The heavy-metal graveyard.
In an effort to offset declining revenue, boutique cruises lines and industry behemoths alike sold older vessels for scrap. Ships familiar to cruise enthusiasts—like Marella Celebration, Cruise & Maritime Voyage's Marco Polo and Costa Victoria—all were beached and demolished. Meanwhile, Carnival had a veritable garage sale, selling a slew of older ships, many of which, like Imagination, Fantasy and Fascination, wound up as scrap.
Then there's MSC Cruises.
Though hardly impervious to the effects COVID-19 had on the industry, MSC didn't flinch when it came to its big-picture plans. Its ambitious goal of doubling its fleet size (starting in 2017) in less than nine years remained on track with the launch in 2021 of MSC Virtuosa and MSC Seashore—the latter of which made a triumphant debut out of Miami last November.
This year, expect to see the debuts of MSC World Europa and MSC Seascape (the sister ship to Seashore).
In all, MSC Cruises is scheduled to boast 23 ships by 2025. By that time, or even earlier given current projections, MSC would surpass Carnival in combined passenger capacity to become the second-largest cruise line in the world, behind only Royal Caribbean.
"The pandemic did give us the opportunity to re-evaluate. But the good news is that we didn't change anything," says Ken Muskat, chief operating officer for MSC Cruises USA. "We didn't postpone any new builds, we didn't sell any ships, we didn't delay anything. We're on track to continue with the same aggressive new-build plan that we had pre-pandemic, because we're that committed to the growth.
"We're the fastest-growing brand in the industry. And we feel very confident about what we're doing moving forward."
Evidence of that confidence is reflected in the state-of-the-art terminal that MSC has planned for PortMiami. The roughly $400 million terminal, which the cruise division of MSC Group announced last year in partnership with Italian shipbuilder Fincantieri, will be able to accommodate upward of 36,000 passengers per day. It will be the largest terminal ever built at PortMiami—almost double the size of Royal Caribbean's recent "Crown of Miami" terminal.
"Terminals are paramount; that's where the experience starts," says Pierfrancesco Vago, executive chairman of the MSC Group's cruise division. "Thanks to the Italian flair that Fincantieri will undoubtedly contribute to this project … this new terminal will become a Miami landmark of style [and] comfort for passengers passing through what's considered the cruise capital of the world.
"It will serve as a platform to support and sustain the expansion of our cruise division across the region and in the Caribbean for years to come."
The terminal, designed by award-winning architecture firm Arquitectonica, includes two new docks (measuring 2,460 feet overall), office spaces, and parking for some 2,400 vehicles; it's slated for completion by December 2023.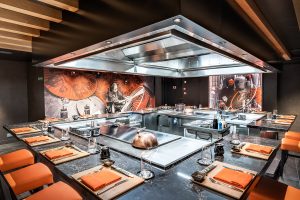 Changing the Game
Staying the course amid the COVID-19 pandemic isn't the only impressive quality about MSC Cruises' vision for the future. The cruise line's commitment to sustainability, innovation and the environment continues to distinguish its brand.
For starters, MSC Cruises is walking the walk when it comes to its eco-footprint. To support decarbonization, the cruise line is on track to see a 40% improvement in carbon intensity by 2030 compared to 2008; by 2050, it's pledged to have net-zero greenhouse gas emissions from its marine operations. The company also is assessing hydrogen as a future fuel, including the feasibility of building and operating a hydrogen-powered cruise ship (and the subsequent supply chain) in partnership with Fincantieri and Snam.
On the safety front, look no further than the recently launched MSC Seashore, which became the first cruise ship in the world to feature an air sanitation system—Safe Air (developed by Fincantieri)—that incorporates UV-C technology that eliminates 99 percent of viruses and bacteria onboard. The result is 100% fresh air with no recirculation, guaranteeing a clean-air experience for guests and crew.
The clean-air concerns don't end there. The ship's cutting-edge technology includes hybrid exhaust gas cleaning systems and a selective catalytic reduction system that reduce nitrogen oxide by 90%.
"Even pre-pandemic, MSC was always looking how to be cleaner, safer, healthier and more environmentally friendly," Muskat says. "So, every new ship that comes out has more of these advancements. Then, there are things like the design of the buffet, which obviously had to be amended with updates like [plexiglass] shields—as well as [staff serving the requested food].
"Plus, Seashore, in particular lends itself very well to social distancing because there's so much outdoor space [nearly 140,000 square feet] and so much space inside."
In the case of MSC Seashore, the enhanced sister of MSC Seaside (which launched in 2017), the splendor also is in the details. Among the many highlights:
The fleet's largest MSC Yacht Club, the brand's all-inclusive "ship within a ship" premium concept, boasts 131 staterooms and four decks with private amenities and 24-hour butler service, as well as a private pool area and sun deck.
MSC Seashore features 12 different types of staterooms and suites, including 50 terraced suites with extended balconies—and 32 suites with outdoor whirlpools. Overall, the ship can support nearly 6,000 passengers.
The ship's ode to New York City includes a 13-foot replica of the Statue of Liberty, a sprawling retail/entertainment area (named Times Square), and a 28-foot-high LED wall (spanning four decks) with a projection of the Manhattan skyline.
There are six swimming pools, including a childhood-dream-come-true interactive waterpark (Pirate Cove)—with a virtual reality experience involving a Kraken on the main waterslide.
Culinary and cocktail offerings abound on MSC Seashore, including 18 bars/lounges, four main restaurants (Central Park, 5th Avenue, Tribeca, Manhattan; serving Mediterranean and international fare), and a mammoth Marketplace Buffet with sections for different cuisines. In addition, the ship's Chef's Court features five specialty restaurants, including a steakhouse concept (Butcher's Cut), Asian fare (Kaito Teppanyaki) and seafood (Ocean Cay).
"This ship has taken it to another level," Muskat says. "Sixty-five percent of Seashore is different than Seaside or Seaview [which set sail in 2018]. We've enhanced the infinity pool concept in the back of the ship, we added a new aft lounge that holds 400 people, we have the largest kids' facility on this ship, we have the largest yacht club. The enhancements make it bigger and better than its sister ships, and even more appealing to the North American market."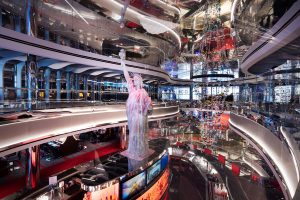 Private Paradise
One of the additional perks for those sailing MSC Cruises out of South Florida involves a one-time sandmining site located 65 miles east of Miami. As part of redeveloping it as a private island, MSC removed some 7,500 tons of scrap metal and relocated coral beds.
The result is Ocean Cay MSC Marine Reserve, which debuted in late 2019. As an extension of the ship experience, the two miles of beachfront offers everything from a food court and an ice cream parlor to a slew of aquatic activities (think kayaking, snorkeling, Champagne cruises, and WaveRunner tours).
But as a bold eco-commitment, Ocean Cay is so much more. The MSC Foundation has partnered with the graduate internship programs at the University of Miami and Nova Southeastern University on a "Super Coral" research and development initiative that seeks to restore the reefs and stimulate sea life amid the 64-square-mile marine reserve around the cay.
Part of this work involves the use of more durable Super Coral species and varieties that will allow the reefs to better withstand environmental changes. The first phase of the program also includes an onsite bio-lab. Ultimately, MSC sees Ocean Cay as a hub for marine biologists to conduct research into the issues surrounding coral restoration—and for guests to become more educated about the role of coral reefs in the larger ecosystem.
"There is an urgent need to … accelerate our efforts to find solutions to reverse the global trend of reef loss," says David Smith, chief scientific adviser on MSC Foundation's advisory board for the Super Coral program. "We have a real window of hope [at Ocean Cay].
"Initiating large-scale collaborative projects that seek to provide real solutions now, represents our best chance of securing a future for coral reefs and the livelihoods of the millions of people who depend on them."