Watching Steve Shapiro so confidently and comfortably own his weekday broadcasts on WSVN (7 News), as well as his Sports Xtra show on Sunday nights, it's hard to imagine the affable Boston native doing anything but deliver sports news to a television audience.
However, the only connection between Shapiro's first post-college gig and the gypsy life of a local sports broadcaster involved packing. After earning an economics degree from Tufts University in Middlesex County, Massachusetts, Shapiro went to work in the mid-1970s for Allied Van Lines in Washington, D.C., coordinating long-distance moves for diplomats.
"I'd go to an embassy and say, 'You got a guy moving to Malaysia? Here's what we can do for you,'" Shapiro says. "I did that for three years. I couldn't see doing it for the rest of my life."
If there was something he could see doing for the long haul, it had to involve sports. He played linebacker at Tufts, a Division III football program, and he grew up "loyal to the soil" when it came to Boston's professional sports teams. Still, he didn't want to work for a team, and he balked at the notion of doing public relations.
"But I thought I could do television," he says. "I certainly wasn't shy."
Nor was he unmotivated. Shapiro applied to the broadcast journalism graduate program at Boston University and quickly earned his master's degree over three consecutive semesters. After an internship at WBZ-TV, the NBC station in Boston (which became a CBS affiliate in 1995) that his parents watched when he was growing up, Shapiro put together his "reel," a compilation that showed potential employers what he could bring to a sportscast.
"I made 35 copies, got in my Volkswagen at the time, and I kept driving until I ran out of reels," Shapiro says, laughing at the memory. "I started in Burlington, Vermont and ended up in North Carolina somewhere."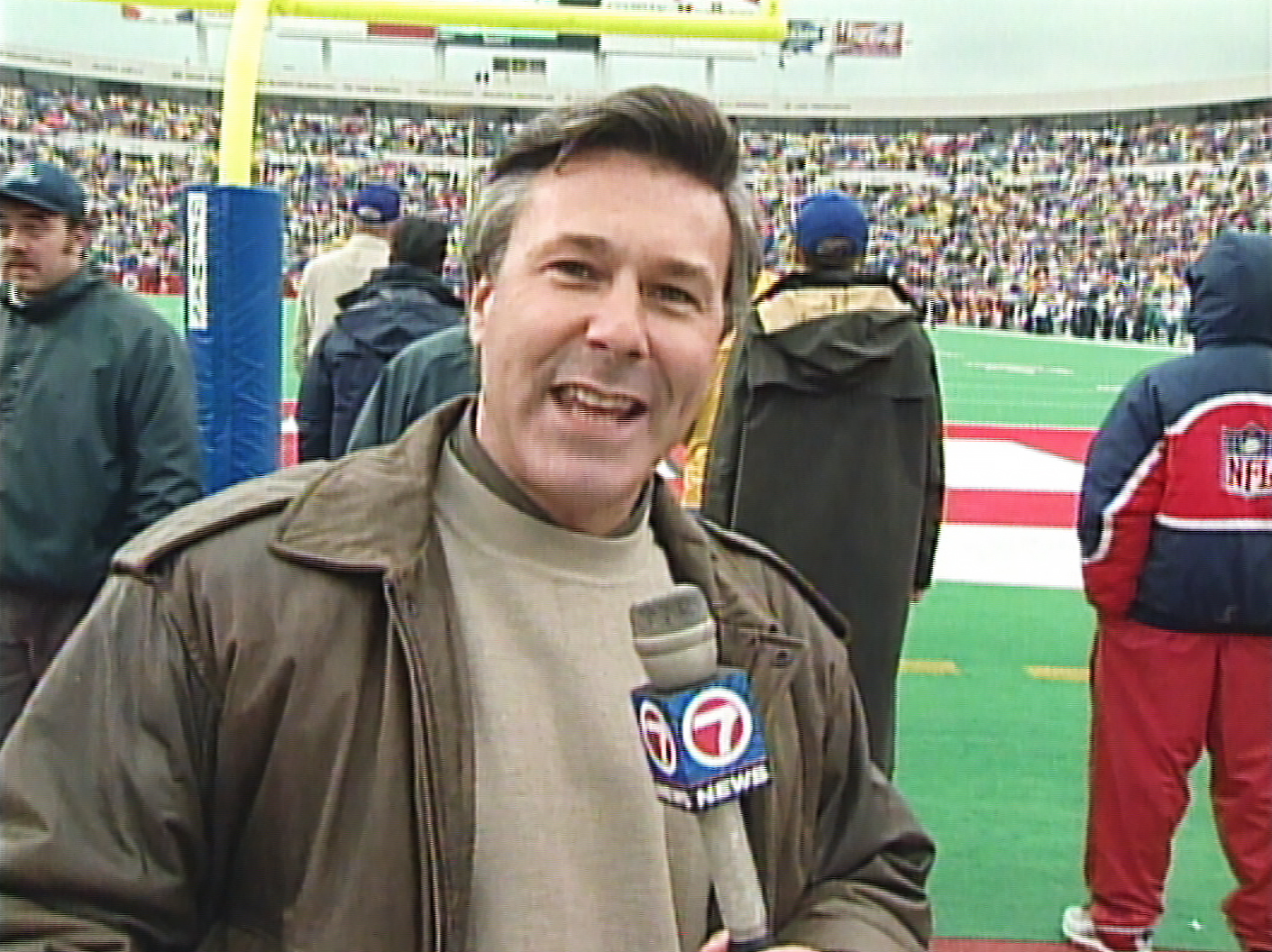 Along the way, a station in the Blue Ridge Mountains liked what they saw. On Labor Day weekend in 1979, Shapiro inadvertently put the pedal to the metal in Roanoke, Virginia (you'll understand what that means in a few paragraphs), the start of a broadcasting journey that ultimately brought him to South Florida. When he signs off for the final time on Dec. 30, it will mark more than 40 years on the air, and the end of a three-decade run in one market—23 of those years at WSVN, where Shapiro started in 1997.
In an era where local sports anchors have gone the way of Blockbuster stores in TV markets large and small, Shapiro not only has endured, he's thrived, connecting with the community in a way that may rarely, if ever, happen again moving forward given the trends in television. More important, for Shapiro, he's done it his way.
"For sure, I'm most proud of crossing the finish line with my arms raised," he says. "They're not going to carry me out on a stretcher."
Recently, over a few coffees in downtown Fort Lauderdale (and only a stone's throw from his home), the 66-year-old Shapiro flipped the script and looked back at his own reel of highlights and lowlights.
His first time: "Two things stand out about my days in Roanoke. The people there couldn't have been nicer—but, sportswise, that was a pretty deprived town. The thing I remember most, though, is that I had to run the teleprompter by myself—and you did it by working a foot pedal. So, my first time on the air, I'm [nervously] tapping that foot pedal, and it goes from 0 to 60 right away. The teleprompter just zooms by—and I spend [his opening seconds on the air] trying to find my place in the script."
Style and substance: Though former Heat coach Stan Van Gundy once joked of Shapiro's on-air longevity that, "It's more of an accomplishment in Miami that they haven't run him out of town," those who know him best paint him in a much kinder professional light.
"Steve is an incredible talent—smart, sharp and witty. … He takes a lot of pride in his craft," says renowned sports agent Drew Rosenhaus, his longtime friend and partner on Sports Xtra Sunday. "I've known him for almost 30 years, and he's always been energetic, likeable and driven to be the best."
Shapiro's trademark sense of humor and genial presence has been part of his on-air charm from the beginning. He points to a longtime sportscaster at WBZ in Boston, Bob Lobel, for providing an appealing blueprint.
"I wouldn't say I copied him, because our personalities are different, but I knew that he was the type of sportscaster that I wanted to be—more folksy, more funny, someone who integrated the anchors," says Shapiro, who returned to WBZ as a sports reporter several years after his internship and worked with Lobel. "I loved his demeanor and presentation."
When Shapiro turned 50 in 2004, he sent 50 postcards to people who had been most influential in his life. Lobel received one of those postcards.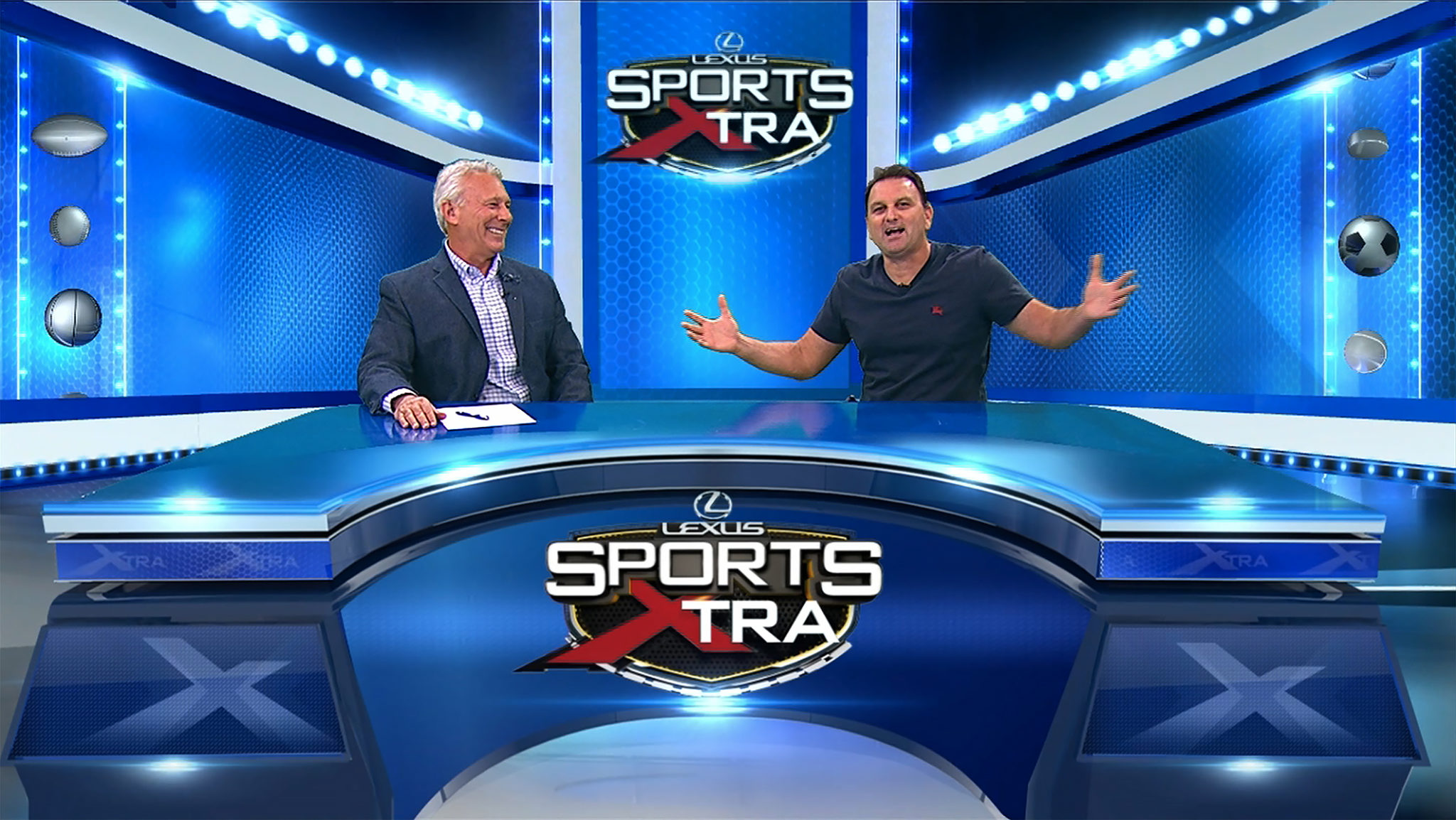 His Wizard of Oz moment: Outside of an appreciation for the Miami Heat since being in South Florida, Shapiro remains true to his Boston roots, wearing his loyalties for the Red Sox, Patriots, Bruins and Celtics (when they're not playing the Heat) on his sleeve. Still, there was something about pulling back the curtain on Beantown's sports mystique early in his career that stayed with him.
"One of my first assignments as a sports reporter in Boston was to do post-game interviews after a Red Sox game," he says. "I had never been in a big-league locker room. At the time, for me, there couldn't be any bigger star on that team than Carl Yastrzemski [the future Hall of Famer who spent all 23 of his seasons with the Red Sox].
"I walk in the locker room, and Carl is sitting naked on a stool with a beer and a cigarette. That changed everything for me. I was never starstruck after that, and not just with athletes because I've met presidents and movie stars. Seeing Carl popped the balloon."
Why Steve no longer plays golf: Shapiro has been fired twice in his career, including in Cincinnati after a management change. The second time occurred after the station that brought him to Miami in 1990 (WCIX) emerged with new call letters (WFOR) amid a deal with CBS and Westinghouse that led to a complete staff shake-up.
But, in retrospect, that wasn't the worst episode that Shapiro and his family endured during his initial stint in South Florida. Shapiro was on the air during Hurricane Andrew in August 1992—while his former wife and two of his three daughters (his oldest, Lindsay, was in Boston with her grandparents) were huddled in the closet of their Pinecrest home.
"The house had [huge panes of glass], so the wind caved everything in—and then everything inside got sucked out," Shapiro says. "Thankfully, my wife and the girls [Alix, who still lives in South Florida; and Sydney, who now lives in Austin, Texas] were OK. But the storm destroyed the house. Furniture, clothes, belongings; we lost everything."
The only thing that survived was a car and Shapiro's golf clubs. He tossed the clubs in the trunk, and drove the family to Pompano Beach, where a friend of his from Boston ran a hotel.
"The day after the storm, we drove to this little restaurant in Pompano," he says. "After dinner, we walk out to the parking lot—and my car had been stolen."
For the better part of a year, Shapiro says, the family lived out of hotels while the house in Pinecrest was being rebuilt. "As for [losing the clubs], I never missed golf. Maybe, now that I'll [have free time], I'll start playing again."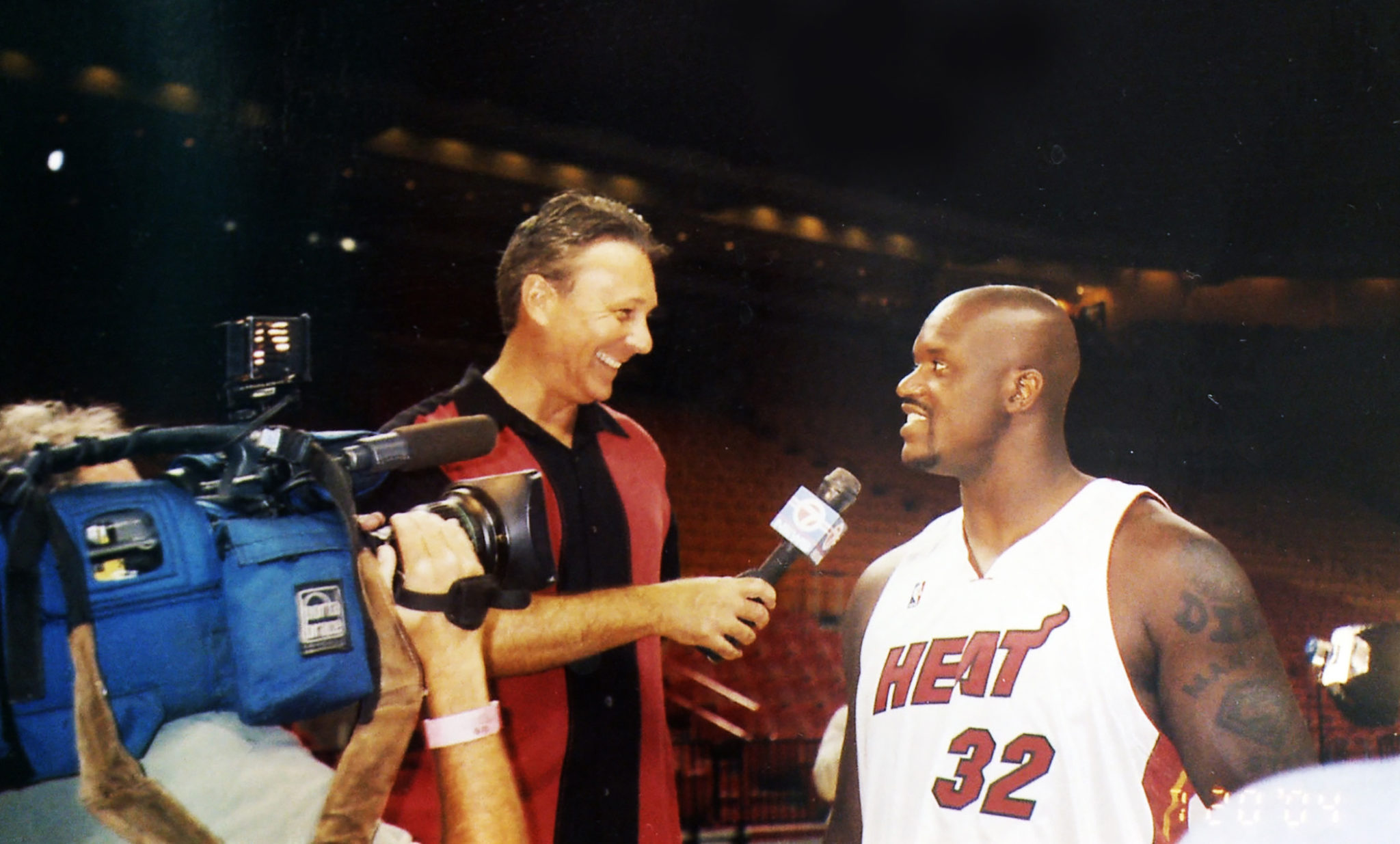 A place to call home: Shapiro had a noncompete clause in his contract that kept him on the sidelines for six months after being fired at WCIX/WFOR. In the interim, he did sports radio at WQAM, but he also reached out to Alice Jacobs, then the news director at WSVN (she's now vice president of news at the station). The two had worked together in Hartford-New Haven during the 1980s. Shapiro explained his noncompete situation.
"The morning my noncompete expired, Alice called me," Shapiro says. "She said if I wanted to come in and work freelance for a while … that we'd be able to talk down the line about something more permanent. And that's exactly what happened."
Shapiro went on the air at WSVN in February 1997 and has been there ever since.
The Juice on the loose: Shapiro was enjoying a private party at Morton's The Steakhouse in North Miami Beach when someone in the dining room began calling out his name. He turned around, and it was O.J. Simpson.
"O.J. is sitting at a table. This is several years after [the 1994 trial for the double murder of Simpson's wife and her friend, for which he was acquitted]. People are coming up and asking to take a picture with him, and he's going, 'Buy me a drink, and I'll take a picture.' That explained why there were like 50 drinks on this table.
"So, he says to me, 'I want to come on Sports Xtra.'
"And I go, 'You mean you want to tell your version?'
"And he goes, 'No, I want to handicap games.'
"I told him that I didn't think it was going to work, but he gave me his phone number and asked me to run it up the flagpole. So, I go into Alice Jacobs' office and say, 'Hey, I want to run something by you. I'm at a party and O.J. Simpson comes up to me …'
"She yells at me, 'Get out of here!' I couldn't even finish the sentence."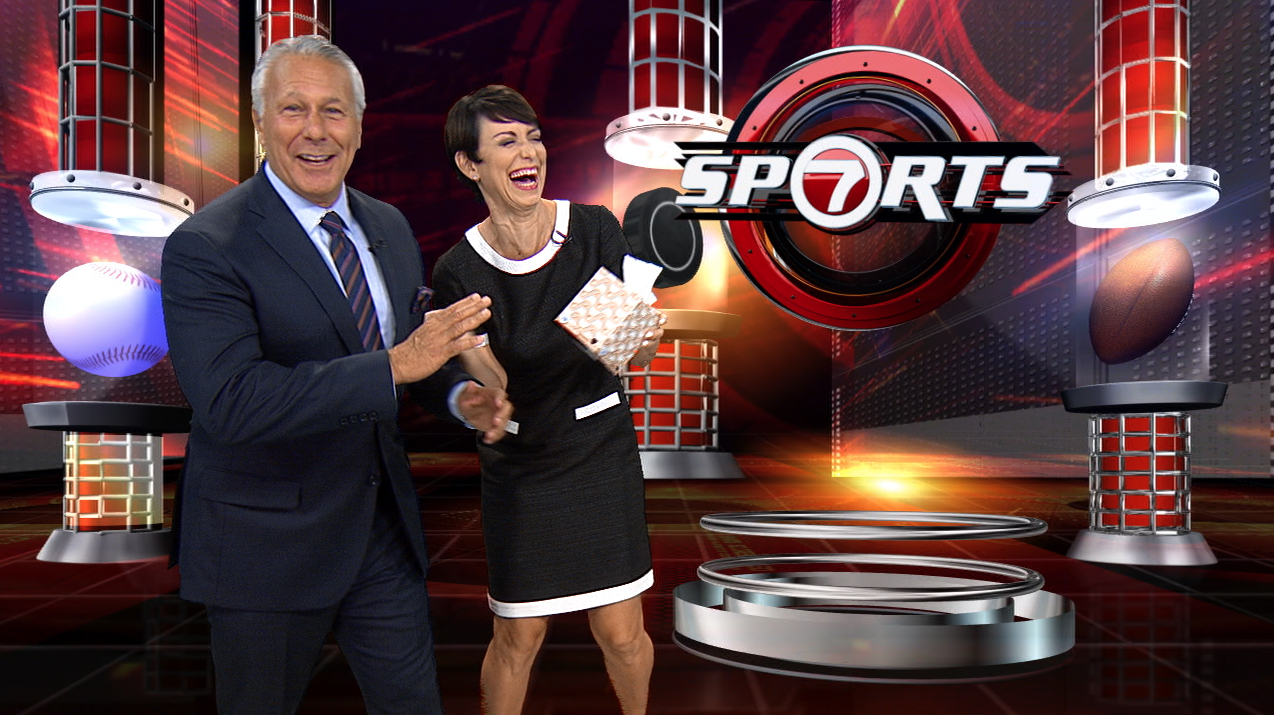 That time Steve did The Rock a solid: Long before he became box-office gold, and even before he achieved worldwide fame with the World Wrestling Federation as The Rock, Dwayne Johnson played defensive tackle at the University of Miami. After a failed attempt in the mid-1990s to play professionally in the Canadian Football League, Johnson called Shapiro—and asked if he'd do a story on him to help launch his professional wrestling career.
Asked if he could tell that Johnson was destined for greater things as a wrestler, Shapiro offers a definitive no. "Honestly, it felt desperate. He looked great, but wrestling? Really? You didn't make it in football, maybe try being an accountant.
"But I'll tell you this: He never forgot. I've seen him, infrequently, along the way. And he never hesitates to come over and say hello."
The turning point: During his time at WSVN, Shapiro has covered more than a half-dozen Super Bowls, three championship runs by the Miami Heat (2006, 2012 and 2013), a national football title by the University of Miami (2001) and two World Series wins by the now-Miami Marlins (1997 and 2003). The second of the Marlins' titles, which included a championship series battle with the Chicago Cubs and a six-game World Series win over the New York Yankees, also changed the trajectory of Shapiro's career.
"I was on the air all the time during those playoffs. The Marlins [were playing teams from two major cities]," he says. "I sensed what was happening; I could feel the community's [interest] growing. That probably, by itself, catapulted me to a different level."
Advice from No. 13: When Shapiro told Dan Marino he was going to retire, the Miami Dolphins' Hall of Fame quarterback shared a nugget of wisdom. "He told me to make sure I retired to something, not from something," Shapiro says. "I've thought about that, peripherally. I know that every day is going to be Saturday. And that's my favorite day. … I have a sweet girlfriend. I've got three great daughters. I've got a granddaughter [from Lindsay, who now lives in Nashville] that I don't see enough. My parents live in Boynton Beach [his father is 92; his mother is 89]. I have lots of friends. And for the first time in my life, I can go to happy hour every day. I'll be OK."
The last word: "I'm gonna miss being where everybody else wants to be—and I'm getting paid to be. The Super Bowl. The NBA Finals. I loved the big events. And I loved having a front-row seat for all of it."
Featured image by James Woodley