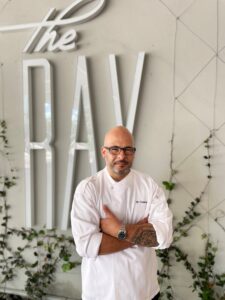 1. The Sage: It says as much about Vic Casanova's never-ending thirst for learning as it does his kitchen prowess that the executive chef overseeing the culinary program at the Ray quotes from the 1988 novel The Alchemist. Like the Andalusian shepherd in Paulo Coelho's best-seller ultimately discovers, Casanova continues to find lessons in the journey. For the New York native, the journey has included restaurant stops with star chefs such as Danny Meyer, Scott Conant and Daniel Boulud—as well as a reality TV turn on Iron Chef America.
2. Vision Quest: When COVID-19 dropped its hammer on the restaurant he opened in Las Vegas, Ambra at MGM Grand, Casanova spent two years as a private chef, jetting back and forth between New York, Beverly Hills, California, and Vegas, and cooking for A-listers. The restaurant reprieve, he says, reinvigorated him creatively. Anxious to jump back into "my world," he spent a year at Carbone in South Beach before learning about the opportunity at the Ray and its new American gem, Ember Grill. "It was love at first sight," he says of meeting the ownership team. "I shared their vision and saw the potential here."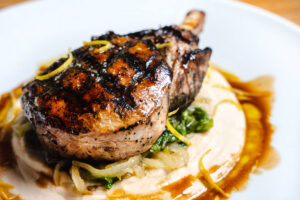 3. Elevation: To execute the best food, Casanova says, he needs to "get into the hearts of the people in the kitchen." His philosopher's mind-set extends to a cooking ideology that "activates and elevates" simple ingredients into something majestic. Look no further than the yellowfin tuna crudo, a starter inspired by a Japanese chef with whom Casanova worked in Vegas. "I wanted to lay down a few delicious flavors," he says. "So, I came up with a decadent black garlic sauce, pureed with Calabrian chiles, that's a perfect counterpoint to the tuna. We gloss the yellowfin with extra virgin olive oil to give it clarity, and then include a black truffle vinaigrette, a good juxtaposition against the earthy, rustic black garlic flavor."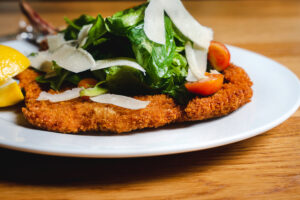 4. Basic Instinct: The allure of Ember Grill's menu, in part, lies in Casanova's ability to bring the sexy to dishes that another kitchen may see as an obligation. He describes roasted organic chicken with the same enthusiasm he has for Ember's more glitzy dishes—and why not, given the butternut squash, charred cipollini onions and black trumpet mushrooms that enhance the plating. Casanova is also proud to deliver American cuisine; that's why there's no wagyu among the steak offerings, only USDA Prime. "I'm not into smoke and mirrors," he says. He is, however, into the restaurant's charcoal-driven Josper oven on which beautifully marbled cuts such as the 16-ounce New York strip and 18-ounce bone-in ribeye are exquisitely prepared.
5. Highlights: The tightly curated winter menu delivers heightened flavors at every turn. Dungeness crab cake is kissed with tabasco tomatoes and basil aioli; sticky soy-glazed ribs come with pickled Fresno chiles; bone-in veal Milanese is served with wild arugula and shaved Parmigiano Reggiano; and Scottish salmon features dandelion, jamon iberico and fig vinaigrette. For lovers of shellfish, especially ones with a big appetite, the grand platter boasts lobster, 12 oysters, 12 shrimp and a half-dozen Florida stone crab claws.
Contact: The Ray Hotel, 233 NE Second Ave., Delray Beach; 561.739.1705; therayhotel.com/dine-drink
Food photography by Pier G / Interior photo courtesy of The Ray