It's His Time: When Tristen Epps describes the experience at Ocean Social as poetic, it's not because he's about to launch into iambic pentameter. That said, there is rhyme and reason to the creative kitchen artistry that the director of culinary operations at Eden Roc brings to a restaurant that, for the first time, bears his name. It's a much-deserved milestone for Epps on a culinary journey that's taken him from McDonald's and Applebee's to the historic Greenbrier resort in West Virginia to working for esteemed chef Marcus Samuelsson in New York and at Red Rooster, the award-winning ode to comfort food in Overtown. The Afro-Caribbean style for which he's known appears in dishes like the fish and grits (local black grouper ramps up this nod to his Red Rooster days), but that's hardly the only multicultural note on a menu that can flip the script, in the most imaginative ways, when it comes to starters, shareables, surf and turf.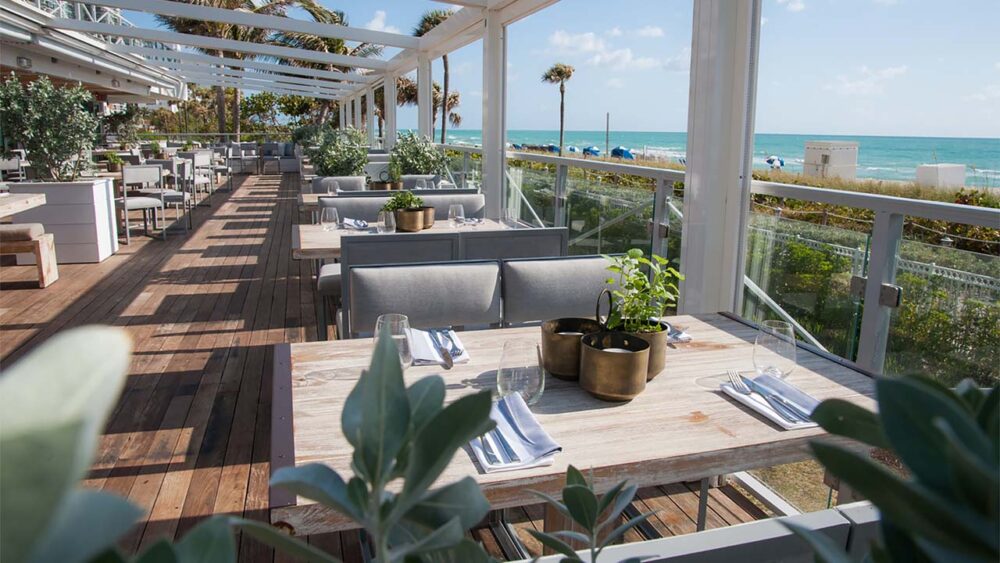 Up a Notch: Among the lessons that Epps learned from Samuelsson: Restaurants need a narrative. He didn't want Ocean Social to be all things to all people, despite a luxury resort backdrop that draws guests from all over the world. The storylines here speak to cooking influences that not only represent Miami but that pull from Epps' travels, his foodie obsessions—and even his co-workers. The lomo saltado (a stir fry, often with sirloin strips) that Epps' Peruvian sous chef prepared during his job interview sparked one of the menu's fire-to-table favorites. Epps and his team, always looking for ways to elevate, ditched the sirloin strips for certified angus short rib—braised for 36 hours. French fries were bounced, replaced by tiny umami potatoes, and the rice, instread of plain white, is simmered in butter and miso. "It's an elegant version of lomo saltado that's true to the Peruvian influence."
Fish Tale: Epps calls the swordfish T-bone "a culmination of all my passions in a dish that represents this restaurant." It's also a little jab at the same-old, same-old steakhouse fare that frustrates him. Ocean Social takes a catch that most recalls steak and treats it like a piece of meat. Not only does the kitchen dry-age the swordfish, but, in honor of Miami's Jewish community, it braises brisket and incorporates the meat's juices into a wood-fired dish that also features Szechwan peppercorns. That's not all. Instead of plating it with a traditional steak side, creamed spinach, Ocean Social places the smoky, charred swordfish atop creamed greens (kale, cabbage and collared greens). "We treat it like a dish you'd have in a steakhouse—but with more care and imagination."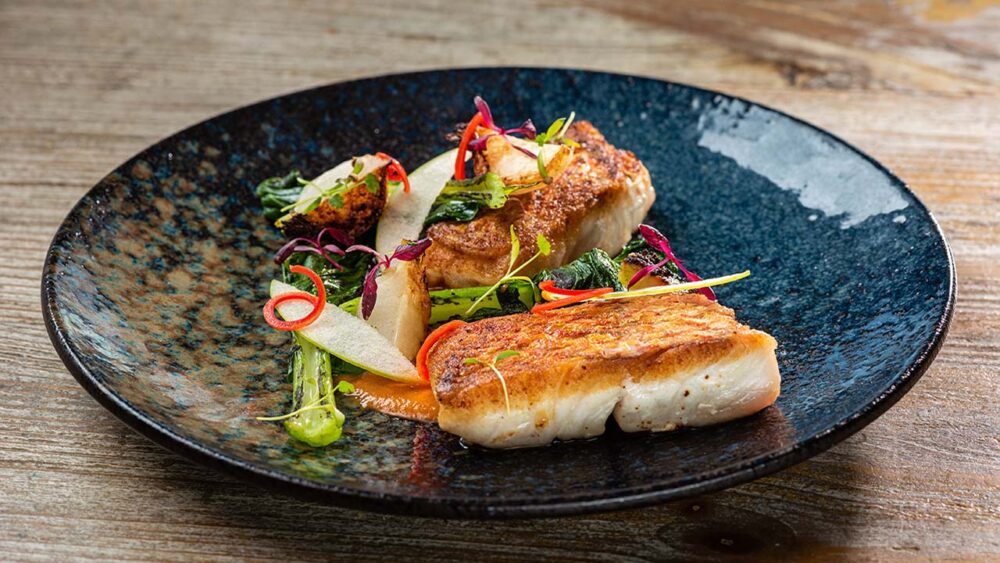 Switch It Up: Two more dishes play into the expect-the-unexpected thread. Among the social starers is ceviche, a staple at seaside restaurants in South Florida. But instead of dressing raw fish in citrus juices, Epps turned to the mushroom, which can have a texture similar to fish. The team added chili, lime, shiro dashi sauce and almonds (which pair well with mushrooms). The result is a full-blown vegan ceviche. On the turf side, the roasted heritage pork chop is a mirrored version of the swordfish strategy—a meat dish that's smothered, not in classic brown gravy, but a bright red bisque-like seafood gravy with Alaskan king crab and lobster. The pork chop is meltingly tender on the inside with a skin that's crackling crisp—so much so that Epps can hear the crunching sound when diners bite into it.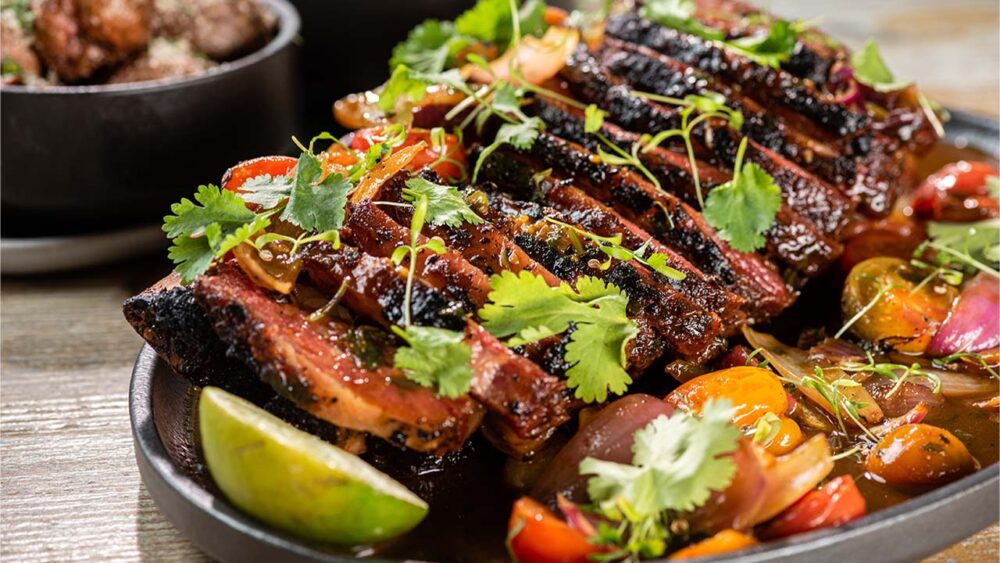 Slice is Right: The thought of mundane shrimp cocktail on the menu gnawed at Epps. So, he turned to the fried shrimp toast you see at Asian restaurants—and, naturally, spun it his way with Peruvian flavor (aji amarillo chili) and Chinese mustard to go with chunks of shrimp and a garlic honey drizzle. The result? "I was genuinely surprised, but it's taken off," Epps says. "It's so fun to strive toward something and see where the potential can be."
Contact: Eden Roc, 4525 Collins Ave., Miami Beach; 786.961.6043; edenrochotelmiami.com/dine/ocean-social
Photos courtesy of Ricardo Meija (RM Studio Corp)