1. Long road: It's been three decades since Chris Wilber honed his Italian kitchen skills alongside Mario Di Leo's uncle, Vincenzo, co-owner (with Mario's father) at La Perla in Fort Lauderdale. When the La Perla space became available in 1994, Chris and Mario reimagined the room as a home to innovative, Southwestern-inspired fare. Nearly 27 years later, Canyon remains one of the most popular and enduring culinary concepts in all of Broward County. Still, somewhere on the back burner, the business partners and longtime friends considered the idea of revisiting the past.
2. Door opens: When the COVID-19 pandemic hit, opportunity knocked—a package deal that offered two restaurant spaces (One Door East and Valentino Cucina Italiana, both of which had shut down) at one location on South Federal Highway. Last August, after taking over the lease and making the necessary cosmetic renovations to both rooms, Chris and Mario reopened Canyon at its new, larger digs—and debuted Primadonna, a concept that veers from the greatest hits offered at many Italian restaurants. "When you go to Italy, there's no chicken parm on the menu," says Mario, whose grandfather was a chef in Italy. "We don't do red sauce on this menu. This is more traditional, contemporary Italian—but with an American twist."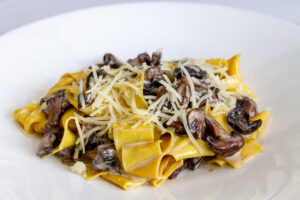 3. Mixing it up: Credit Chris, and his interest in fusion, for the twists. "When I was learning to make hollandaise sauce [in cooking school], I remember adding orange juice and cilantro. The chef was like, 'It's good, but you're still getting an F,' " says Chris, the executive chef for both restaurants. "I just love taking different cuisines and marrying them together. So, here, if I do an osso buco special, [the veal] isn't just going to be braised in chianti. I'll put in some chilis, maybe tequila. I'll make a mushroom sauce, and I'll serve it with mushroom risotto, instead of saffron risotto."
4. Seem familiar? Chilis and tequila aren't the only nods to Canyon's fare on the Primadonna menu. The popular linguine with pan-sauteed jumbo shrimp and sweet garden peas—bathed in a Thai red curry cream—is a variation of the special Chris did at Canyon in the mid-1990s (only that dish had rigatoni and scallops). Similarly, the famed white chocolate bread pudding at Canyon has a decadent sister dessert at Primadonna—amaretto-soaked bread with vanilla semifreddo and amaretto caramel sauce on top. Patrons, Chris and Mario say, are torn between the two.
5. Menu highlights: Other popular dishes include pappardelle pasta with braised mushrooms (shiitake, oyster, porcini) finished in heavy cream with Parmesan cheese and truffle oil (and shaved truffle on top). The sauce for the traditional fettucine carbonara looks like cream, but it's really egg yolk mixed with melted pancetta and pecorinocheeses. Appetizers include favorites like crispy calamari and grilled octopus, as well as a carpaccio that replaces standard beef with black pepper-crusted venison. Braised lamb shank and grilled ora king salmon are among the limited entrees.