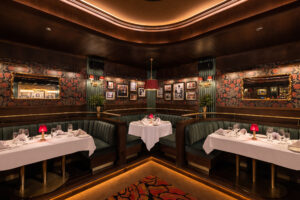 1) Roll camera: It's Wednesday night at a restaurant with a four-decade history in Fort Lauderdale, but the electric vibe inside is anything but dated. There's discernible buzz in a stylish room brimming with contemporary cool and sophisticated warmth—an updated ode to the supper-club charm of another era, complete with crystal chandeliers, dark woods, white tablecloths, red-velvet chairs, and photos of Frank and Dean and Marilyn on the walls. "It feels like you're walking into the scene in Goodfellas when Ray Liotta [strolls] through the Copacabana," says Marc Falsetto, one of the three partners, along with Pat Marzano and Anthony Bruno, at Runway 84.
2) Back story: The Rat Pack-era vision is exactly what the trio had in mind for Bruno's beloved Broward mainstay, the former Anthony's Runway 84, which closed for eight months before debuting a $4 million makeover (and abbreviated name) in January. The reimagined result is nothing short of fine-dining nirvana. Amid the glam—including a stylish new bar and a grand piano lounge—impeccably tailored servers like Massimo add to the experience, providing menu insights (and suggestions) and engaging customers in rich conversation. "It's that feeling of family," says Falsetto, the founder of Handcrafted Hospitality "Everyone [dining at Runway 84] feels like they are at home. That will never change."
3) New stars: The chic revamp (courtesy of Bigtime Design Studio) isn't the only thing new about Runway 84. The menu of Italian-American favorites also was updated, including a tableside Caesar salad and the chopped antipasti with salami, provolone and mortadella (Italian sausage). Fork-tender swordfish cloaked in fresh garlic, basil, olive oil and cherry tomatoes—once a popular special—now occupies a permanent place on the entrée side, along with the new chicken parmigiana. The flavorful, melt-in-your-mouth wagyu beef carpaccio—topped with shaved truffles, pistachios, mushrooms and chives—is an instant classic.
4) Prime time: Curated cuts of prime steaks and chops—think 16-ounce New York strips and 10-ounce filet mignons—already are drawing raves. But the early showstoppers have been the 42-ounce dry-aged porterhouse for two and a 16-ounce veal chop named after Falsetto's wife, Danielle, served parmesan-style with spicy vodka sauce, peas and crispy prosciutto. Those looking for menu staples like rigatoni cauliflower, baked clams oreganata, beef braciola, linguine aglio e olio (olive oil and garlic) and lasagna Neapolitan (served tableside), fear not—they're all still available.
5) That's a wrap: Falsetto's mixology prowess is evident across a new craft cocktail menu with entries that play off the restaurant's proximity to the airport—like Anthony's Paper Plane (Woodford Reserve bourbon, Amaro Nonino, Aperol and passion fruit) and Wheels Up (Gray Whale gin, St-Germain, lemon juice and simple syrup). Aficionados of top-shelf spirits will appreciate reserve cocktails including the Mile High Club with Macallan Rare Cask and Caffé Borghetti espresso liqueur. "When it comes to dining out, guests are looking for elevated experiences that merge dining, drinking and entertainment," Falsetto says. "That's exactly what Runway 84 delivers."
Contact: 330 W. State Road 84, Fort Lauderdale; 954.467.8484; runway-84.com