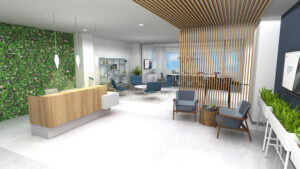 There's a reason the "corner office" is the most coveted, and it's not just because the person who occupies it is generally the boss. The corner office is more spacious, and, typically, more interesting. For years, we've looked at it longingly from the confines of our cubicles.
But imagine if the entire office was that appealing? How much happier, healthier, and more productive would we be? Could we finally remove "work" from the list of four-letter words?
Bryce Harlow, president and co-founder of Align1 Solutions—a full-service workplace innovation firm based in Fort Lauderdale—thought so. His goal wasn't a corporate takeover, but rather, a corporate makeover. And it all started with an office chair.
"I wanted to create something to reverse the ill effects of sitting all day," says Harlow, who comes from a commercial furniture background. Harlow teamed up with two female friends, each with a unique skill set. Together, they created The Muuv, a reimagined version of the classic office chair that combines aesthetics and functionality, addressing the alignment, support and function of the body while looking awesome in an office environment.
It was a hit.
Harlow and his friends—Halle Mindala (operations, customer service, and logistics expert) and Nikole Hall (licensed physical therapist and wellness expert)—collectively decided that instead of resting on their laurels, they'd optimize more than just the chairs in an office setting.
Enter design expert Lindsay Copeland, Harlow's longtime colleague, who soon joined Align1. "As our team grew, clients were reaching out to us as experts in all things workplace-related for recommendations on all aspects of their projects," Copeland says. "It was the natural evolution to become a one-stop solution."
Tapping into their tech-savviness, the group created their proprietary web-based platform. Since then, Align1 has been delivering virtual office design with true-to-life renderings in real time. "We're laying it all out there," Copeland says. "This technology is the ultimate management tool; it lets us deliver a profound level of transparency and efficiency. It's not only effective in helping us bring our clients' visions to life, but it also strengthens the confidence and trust that they already have in us."
A streamlined, cutting-edge approach to optimization that offers a stress- and guesswork-free solution to office design is a wonderful thing. And it's more urgently needed than ever. Why? Because as offices reopen post-pandemic, they need to adapt to people's work habits, which have dramatically changed. "There's a hybrid trend emerging where people are working more from home, and only part-time in the office," says Hall, the company's director of innovation and engagement. "This has led to building workstations that are not assigned to one person, but that need to accommodate multiple associates on a rotating schedule."
Hence, new tech solutions are in order—which is keeping Align1 Solutions quite busy. "Dependable technology and automation are required to ensure a transfer of the collaborative culture, no matter where you call home base," Hall says. "To complement this, we provide all the [information technology] and [audio-visual support] to employ this rotating in-office method, where associates can schedule when they come into the office and which workspace or communal area they'll utilize."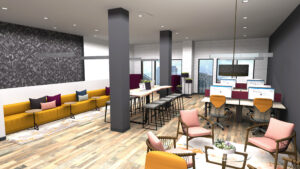 Mindala, vice president of operations at Align1, elaborates. "As companies realize that associates are equally as productive from home when provided the proper resources, we're seeing a downtrend in the amount of traditional office space they're retaining," she says. "Since they're reducing their real estate footprint, it frees up funds for the organizations to invest in more efficient workspaces that foster wellness and health. In turn, that makes for happier, healthier and more productive teams."
Now that traditional office spaces are free to convert to shared workspaces, Align1 is responding with a holistic approach. "We're proposing more collaborative areas, comfortable communal workstations and open-air or spaced-out layouts that allow associates the freedom to work in the way that best suits them," Hall says.
In addition to businesses, the design community is also turning to Align1 for solutions, as architects and interior designers are tasked with creating well-conceived, efficient, and aesthetically pleasing home offices for those looking to make "working remotely" a permanent situation.
"With the uptrend of people working from home, we're seeing a new niche emerge," Harlow says. "Residential designers are looking for collaborations to elevate the home office experience. We work closely with them to provide that unique solution in this new setting."