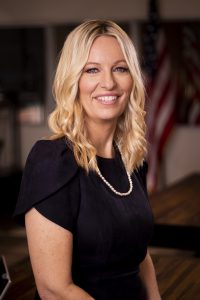 Kelly Hyman can still hear the anguish and desperation in their voices. Feel the pain ravaging their bodies. Understand the anger and the determination to seek justice.
Hyman was an attorney for hundreds of women suffering from the horrific complications connected to transvaginal mesh implants—devices used to repair weakened bladder and pelvic areas. Clients cited issues including multiple follow-up surgeries (sometimes because the device had migrated to other parts of the body and damaged organs), life-threatening infections and, most heartbreaking of all, the inability to be intimate with their spouses, often leading to divorce.
One of the first cases stands out from Hyman's work as an associate with the Searcy Denney Scarola Barnhart & Shipley law firm in West Palm Beach. A potential client, a middle-aged woman from South Carolina, presented a pair of stipulations over the phone. She wanted to come down and meet Hyman in person, and she wanted her lead lawyer to be a woman.
"I'm not going to be talking about this with a man," she told Hyman.
They met, Hyman was hired, and at that moment her lifelong mission of helping and empowering women was never clearer.
"I believe half of her had died,'' Hyman says. "I was excited and nervous. As [someone] raised by a single mom, it was instilled in me as a child that, as a woman, you always need to stand up and support women.
"I felt a sense of obligation—the obligation I felt as a child to support my mom."
Indeed, Hyman remembers her days as a budding child actor, motivated at a tender age not by the thrill of performing but by the need for a paycheck.
"I'll never forget as a young kid, probably third grade, laying down, looking at the stars and saying, 'Please, God, give me another commercial,' " she says.
The stars certainly have aligned for Hyman, now two years into running her own shop (the Hyman Law Firm) handling mass tort and class-action suits. In addition, the author of two political books is a regular on Fox News as a Democratic strategist and legal analyst. Plus, she's able to light up a cocktail party conversation with a Brad Pitt story or two from her acting career.
But it's the example of her late mother, Patricia Bindley, who died nearly six years ago, that continues to provide a guiding light.
Hyman, 52, was born in Miami and moved to Los Angeles with her mother, who grew up in a rural farming community in Australia. Extremely athletic, Bindley took up tennis while attending boarding school, eventually turning pro and launching a career as an instructor. But she was struggling to make ends meet as a teaching pro in Southern California. Bindley couldn't afford a babysitter so her daughter, then 5, sat courtside during lessons. One day, Hyman chimed in with her own coaching orders.
"Bend your knees!'' she screamed at one of her mom's students. It was another precious moment when Bindley realized her little girl might have the right combination of prettiness and personality to land some acting gigs.
She quickly enlisted a student who was in showbiz for a sort of on-court audition.
"I knew him as Chuck," Hyman says. "He was a tall man, and mom brought me out on the court and said, 'Kelly, I want you to meet Chuck.' I said, 'Hi, Chuck.'
"Mom said, 'Can you help us?'"
Charlton "Chuck'' Heston couldn't resist the cuteness and just like that Kelly had a commandment from Moses himself to get her name out on the talent-seeking circuit.
Print ads and commercials soon came her way, and Hyman got her first big break in the 1980 TV movie pilot Getting There, playing the daughter of Three's Company star Norman Fell.
Soon, Hyman and her mother were splitting time between Los Angeles and New York, where she landed roles in off-Broadway shows and did more TV commercials and print ads. One of the ads was a New York Times spread for Oreos with defensive lineman Marty Lyons of the New York Jets and quarterback Scott Brunner of the New York Giants.
"I was getting paid $75 an hour, and Scott Brunner was about five hours late," Hyman says. "Mom was very happy I was getting paid to wait."
Hyman was enjoying the cool perks of childhood stardom, but she was well aware of the bottom-line goal.
"I remember my mom would go to the mailbox looking for the residual checks from commercials," she says. "I was cognizant at a very young age how important that was.
"Acting was a kind of blessing and curse. I'm very thankful for it, but at times it was a job. I always tell people, 'Yes, I've been working since I was 5.' "
Hyman was nominated for a Youth in Film award for her regular role on the soap opera The Young and the Restless. Her best friend, Shalane McCall, had a part in the popular series Dallas. Pitt played McCall's boyfriend on the show. He was about six years older than both girls and on a steeper career trajectory.
"We all were at a McDonald's one day and a local news station was doing a story about [Pitt]," Hyman says. "I said, "Wow, that's a big deal.' He smiled and said, 'You're very optimistic.' "
Hyman would occasionally run into Pitt at auditions and publicity events, and she'll always have the photo taken at McDonald's—Hyman and McCall in all their 1980s big-hair glory and Pitt's 100-watt smile in what could've been an ad for a Cool Kids Meal.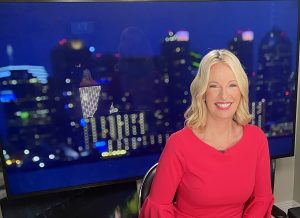 Legal Detour
Hyman continued acting while earning a communications degree at UCLA. There, a friend was attending law school, rekindling a spark Hyman had since high school about becoming an attorney. Back then, while preparing for a project in a civics class, Hyman's teammates unanimously agreed on her role.
"Kelly, you're going to be the lawyer. You like to argue—in a good way. You're good at that."
"Acting was good, but I always knew I wanted to go into law," says Hyman, who also drew inspiration from her paternal grandmother, who earned her degree at St. John's University School of Law.
"I'll tell people that I'm a third-generation lawyer and they'll always say, 'Where did your grandfather go to law school?'" Hyman says with a laugh.
Hyman, then 30, received a scholarship to attend the University of Florida College of Law. She wasn't sure what kind of law she wanted to practice, but she was resolute about a need to "help people and make a difference in their lives."
After graduating with honors, she got her introduction to class-action suits while working as a judicial clerk for Brian Sandoval, then a federal judge in Reno and later a two-term governor of Nevada.
Hyman eventually returned to Florida where she met her husband, Paul Hyman Jr., a bankruptcy judge for the Southern District of Florida, and joined Searcy Denney in 2011. By then, she knew that mass tort and class-action law was her passion.
"A lot of these types of litigation wouldn't be brought unless they were brought by the masses," Hyman says. "It's the only way to hold people like corporations accountable."
She spent almost five years representing plaintiffs against manufacturers of transvaginal mesh and bladder slings.
"There was documentation out there that you should not put this product in humans, yet it was put into women, and it ruined their lives," Hyman says.
She spent countless hours in interviews and depositions listening to women, and, often, their husbands recount the physical and mental torture resulting from the procedures.
"Every woman was different," Hyman says. "Some were so poor they used their ovens to heat their homes. Settlements could change their lives—buy a first home, get some kind of transportation … get heat.
"But I don't think any amount of money can be life-changing for them because I'm sure they would give it all back. They'd say, 'No, I want my husband back,' or 'I want my intimacy back with my husband.' No amount of money can make them whole again.
"Knowing that this was so dramatic for them, that I could help them in trying to change that, was the most rewarding thing I've ever felt."
Hyman also has worked on cases against tobacco companies accused of harmful use of their products and false advertising. The current workload at her own firm includes suits alleging the presence of carcinogenic materials in certain CPAP machines.
Common Ground
In addition to making a name for herself in the courtroom, Hyman has become a regular on Fox News, offering a left-leaning viewpoint on a variety of politically charged topics and legal analysis. In the process, she offers herself up as a dartboard for conservative counterpart analysts and many viewers.
"I get fewer hate tweets as a lawyer than as a Democratic strategist, which I find interesting because it's still me," says Hyman, who had an internship in Bill Clinton's administration and volunteered for both of Barack Obama's presidential campaigns. "It's still my perspective. But I grew up in the entertainment business, so I have a thick skin."
Her television work was precipitated by a cold call, based on her LinkedIn profile, to gauge her interest in appearing on Fox News. When she agreed, the caller replied, "Great, you're going on Laura Ingraham tonight to discuss abortions."
Hyman's succinct review of her maiden voyage into the stormy seas of prime-time political discourse with the conservative firebrand Ingraham: "I believe every woman should have the right to choose … and she feels differently."
Hyman clings to her belief that while exchanging perspectives might not necessarily change minds, it can at least lead to a more harmonious coexistence.
As evidence, she presents to the court a driver who once ferried her to a studio in Denver for a Fox News appearance. A lifelong Republican and staunch advocate of the Second Amendment, the driver couldn't understand why his liberal passenger was careening toward a conservative stronghold.
Hyman explained the importance of listening and respecting opposing viewpoints. They talked about some issues. Then, just before she was about to go on-air, a cameraman told her that the driver would like to slip on some headphones and listen to the segment. She gave the green light, and the driver came away with a new outlook, telling her that "the other guy was full-of-you-know-what and everything you were saying, I was nodding my head."
"He said, 'You know, Republicans and Democrats should have more conversations like this,'' Hyman says. "I was like, well, at least I changed one person."
As Brad Pitt once said, Kelly Hyman is an optimist—and she certainly knows how to make a difference.
By Nick Moschella / Photography by Eduardo Schneider