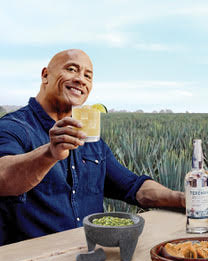 "The Rock" Leads Charge to Aid Local Restaurants
"Guac on the Rock" will reimburse certain purchases at eateries
To incentivize residents to eat at local bars and restaurants, Dwayne "The Rock" Johnson recently launched an initiative to reimburse patrons for purchases at local eateries. Johnson's tequila brand Teremana helped establish the "Guac on the Rock" concept, which refunds customers around the country who order any Teremana Tequila cocktail and guacamole.
"Guac on the Rock" lasts from May 1st through May 5th and will reimburse U.S. customers for their guacamole purchases, up to $1 million. The intended goal entails encouraging people to dine at their favorite restaurants to boost consumer spending to help generate more sales for eateries and restaurant staff as COVID-19 restrictions lessen.
"This is an industry close to my heart and one who normally gives all of us so much support year-round. These people need our help and support to get back in business," says Johnson in a press release. "Let's go help them out, enjoy some amazing drinks and food and say thank you for all they do. And let everyone know that The Guac's on The Rock!"
Anyone 21 years of age and over is eligible for the reimbursement (up to $10) at establishments carrying Johnson's Teremana Tequila and serving guacamole. Consumers can upload their itemized receipt at guacontherock.com and approved refunds will be transferred via Johnson's Venmo account.
Some South Florida restaurants serving Teremana Tequila and guacamole include:
TacoCraft

El Camino
The Drunken Taco
Rocco's Tacos
La Bamba Mexican and Spanish Restaurants
To find more local establishments serving Teremana, visit Teremana.com/pages/find-us.