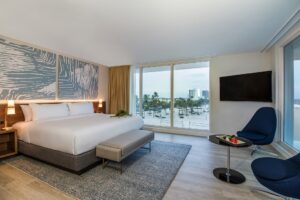 Just because a new school year has started doesn't mean locals can't enjoy summer rates at local hotels and resorts in South Florida. To entice travelers to extend the season a little longer, B Ocean Resort in Fort Lauderdale is offering special rates and incentives on stays through Sept. 30, as well as new entertainment offerings.
Along with exclusive lower rates when booking directly with B Hotels & Resorts, guests are eligible for a complimentary room upgrade to the next room category. B Ocean Resort also recently debuted a new family-friendly Mermaid Elle & Friends show every Saturday at the hotel's Wreck Bar, which also hosts adults-only shows, Sunday brunch and private parties.
"B Ocean Resort has long been known for our unique mermaid experiences, which began when the hotel first opened in 1956, so we're extremely excited to continue to expand our offerings with an engaging new show for families," said Rizwan Ansari, General Manager of B Ocean Resort. "Through the creative and fun storytelling of Mermaid Elle Jimenez, this is a perfect opportunity for us to also raise greater awareness for the importance of marine conservation, a cause that is near and dear to our hearts."
In addition to accessing a private beach and an outdoor infinity-edge pool overlooking the Atlantic Ocean, hotel guests and Wreck Bar patrons can enjoy watching the live underwater aquatic performances of the mermaids courtesy of a porthole pool lounge. Booking through the resort's summer promotion also features additional perks like flexible cancellation policies.
"We're excited to invite travelers to each of our properties to enjoy distinctive experiences such as taking in the breathtaking sunset from a waterfront hammock in the Florida Keys or catching a one-of-a-kind underwater mermaid show in Fort Lauderdale," says Ayelet Weinstein, chief executive officer of B Hotels & Resorts.
For more information or reservations, visit Bhotelsandresorts.com/offers/