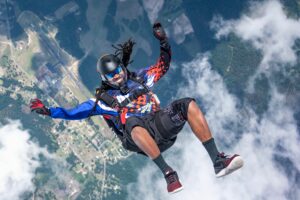 Billed as a free community affair with Air Show-Esque qualities, the Tribute to America's Heroes at Las Olas Oceanside Park on Sept. 11 provides a host of entertainment for visitors. Along with skydiving, Thundercat Boats, Drift Car, and GT sports car demonstrations, the tribute will feature The Human Baton, a high-octane relay demo developed by the popular Ninja Warrior obstacle course creators. The contest has teams competing on multiple stages over land, sea, air and online, with Fort Lauderdale serving as the course.
From noon to 6 p.m. on Sept. 11, Las Olas Oceanside Park will host a family-friendly kid zone sponsored by FLIPANY. It will include a pop-up food village with local eateries, video game trucks and simulators provided by local U.S. Military organizations, which offers an opportunity to learn more about military and first responder duties. The area will also feature an exclusive VIP village with refreshing cocktails from the city's craft bars. A ceremony will also be performed to honor the victims of 9/11 while celebrating military and first responders.
The Veterans Trust will distribute all net proceeds from the event to eight local nonprofit organizations that support local initiatives dealing with employment, education and veteran programs.
For more information, visit Theveteranstrust.org/911-tribute/