Villa Azur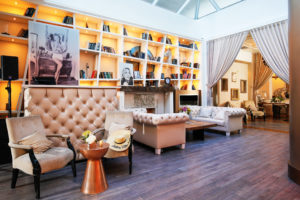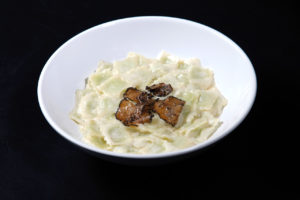 309 23rd St, Miami Beach
This restaurant, located in the heart of Miami Beach, features touches of subtle elegance including an expansive bar, a white piano and artwork throughout the interior. Guests can choose to dine indoors or outside in the spacious covered patio.
Enjoy a variety of unique, truffle-infused menu items like the Baked Truffle Brie with Truffle Carpaccio, local honey and lightly toasted bread. Those looking for something heartier can opt for the Truffle French Raviole De Romans with Raviole de Romans and shaved black truffle (pictured) or the Truffle Farro Risotto with roasted maitake, pistachio dust and fine herbs.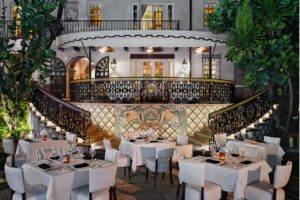 Gianni's at The Villa Casa Casuarina
1116 Ocean Drive, Miami Beach
Inside the iconic Versace Mansion, Gianni's offers guests an escape to true luxury on the al fresco terrace overlooking the world-renowned gold-tiled pool and Roman and Garden rooms.
For a limited time, executive chef Valter Mancini offers a five-course menu highlighting the flavor of the truffle. Menu items include Filet Mignon with White Truffle, Burrata with White Truffle and White Truffle Tagliolini made fresh in-house and served in a cream and parmesan sauce with seasonal white truffles (featured image). The White Truffle is shaved tableside for each dish to emphasize the ingredient's unique aroma.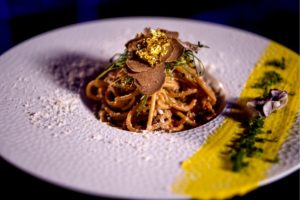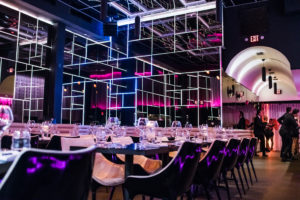 Myn-Tu
1905 Collins Ave, Miami Beach
Though its exterior may be unassuming, Myn-Tu offers diners a lively atmosphere once indoors, with futuristic synced lighting and nightly dinner parties.
Those with a penchant for truffles will not be disappointed by the expansive menu featuring a fusion of French and Japanese flavors. This restaurant offers decadent plates like a Truffle Spaghetti with wild mushroom and shaved truffle (pictured) and Steamed Truffle Seabass with Chilean sea bass and yuzu truffle. Shaved white or black truffles can also be ordered by the ounce to accompany any dish.