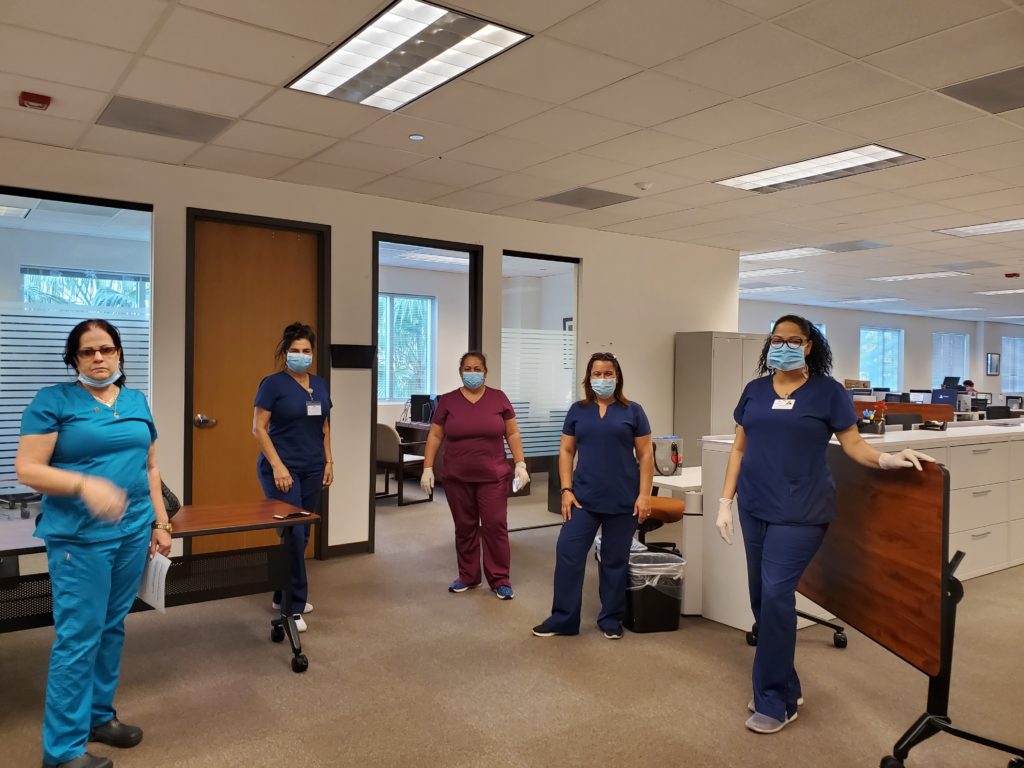 United HomeCare's (UHC) office operations have remained open as an essential business in response to the COVID-19 crisis, with mission critical personnel and management steering their areas of operations. UHC has elevated best precautions for the health and safety of our elderly clients and employees. Our 700-plus Home Health Aides are trained on containing and preventing the spread of the coronavirus and receive continuous training. In turn, the Home Health Department is diligently addressing the needs and concerns of our home health workers who are on the front line providing care and services to our older and disabled adult clients in their home.
UHC has taken monumental steps for our clients to continue receiving essential home care and community services, including meal deliveries as meal sites for seniors and businesses close around the state. UHC has procured (which was not an easy feat) and provided face masks, protective gloves and hand sanitizers to our 750 health aides and office employees. The Director of Nursing and Home Health Agency Administrator and their groups are conducting weekly health observations of our home health aides along with the distribution of personal protective equipment (PPE's). The logistics in managing the procurement, handling, safe storage and distribution of these precious personal protective devices (PPEs) requires yeoman's effort.
Everyone from field staff to case management, nutrition, counseling, board of directors, and office administrative staff has either taken on additional responsibilities, maintained contact with clients, and assisted in some way to ensure there is no disruption to clients' services. Caregiver support groups are now being held remotely via teleconference so that our caregivers can continue their group sessions, safeguarding their mental health and emotional well-being especially throughout this crisis. UHC is keeping staff abreast of every new resource that may become available such as drive-thru food distribution and COVID-19 testing sites to prevent the spread of virus.
UHC also is working closely with the Department of Elder Affairs, Florida Department of Health; Miami Dade County and The Mayor's Initiative on Aging; H.O.P.E. Community Center; the United Way of Miami-Dade; Home Care Association of Florida and our local Alliance for Aging to remain current regarding daily updates or modified and adopted policies and procedures that are critical as events are rapidly unfolding each day. These collaborations are essential to ensuring our vulnerable older and disabled adults have access to care, food and support during this unprecedented crisis.
It takes a community to guarantee continuity of care to our most vulnerable in response to the COVID-19 crisis. United Home Care is committed to being on the frontline with our workers and elderly clients. I am proud of every one of our employees for their commitment during this crisis. We are ever thankful to all the healthcare professionals and workers serving on the frontlines of the battle against COVID-19. These men and women are real life heroes, and for their sacrifices, we must do everything in our power to do our part for our community and our world.
Carlos L. Martinez
President and CEO
United HomeCare is a nonprofit home health and community care organization that has served South Florida since 1974. Today, United HomeCare is one of the largest home health agency in South Florida; its staff of employees and volunteers provides care each week to nearly 5,000 clients across Miami-Dade County.