Growing up in an Italian and Colombian household, Valentina Mussi developed a love for international foods, but she never thought she would transform that appreciation into a full-time job. Now 21, Mussi commands the attention of more than 100,000 Instagram users with her hundreds of lavish, over-the-top food-focused photos and videos on her account, @SweetPortfolio.
Though Mussi started the account in 2017, she has been an active social media user since her creation of a personal Instagram account in 2011. But after a trip to New York, where Mussi documented her entire eating experience on Snapchat (a social media application that deletes post after 24 hours), her father suggested she post her musings to Instagram instead. It took her a few weeks to settle on the name "Sweet Portfolio."
"At the beginning, I studied Instagram trends and observed what other users were posting," she says. "I soon realized that the best way to grow an Instagram account is to be yourself and post quality content. It may not be the answer you want to hear, but I've learned it doesn't matter what time you post or what kind of hashtag strategy you implement—if your content isn't good, no one will want to engage with you. Building an audience takes time, and ultimately, it's about building a community."
Her dedication eventually caught the attention of national brands and small businesses alike. Mussi now works with companies by posting a mixture of photos and videos to promote new products, noteworthy menu items, specials or limited-time offers.
"Most cases, publicists reach out to me when they have a campaign and ask me to work on the creative side of things," she says. "That's when I come up with a concept for the post, which may be either photos, videos or both.
"My completed campaigns have been incredibly successful for both my clients and my own account," she adds. "I've seen small businesses have an incredibly high return on investment. Let's say they release a new crazy dessert and ask me to make a video of it. After I post it, I can see a wave of posts of the same item across Instagram. Hundreds of people will go to that business and ask for that same item because they saw it on my page."
When it comes to national brands, such as a chain restaurant, measuring this return is more difficult. "The objective of most of these campaigns is to raise brand awareness," Mussi says. "Instagram offers metrics to their business and creator profile users so I can show my clients the impressions my posts garner for them. It can be millions of views in just one single post."
Still, running @SweetPortfolio has become Mussi's full-time job. She clocks in more than 40 hours a week of work, which can consist of shooting photos and videos, developing campaigns, reviewing contracts, emailing and invoicing and editing. One of the downsides of Mussi's rapid growth is the increased amount of "mean comments" she receives on a weekly basis, she says.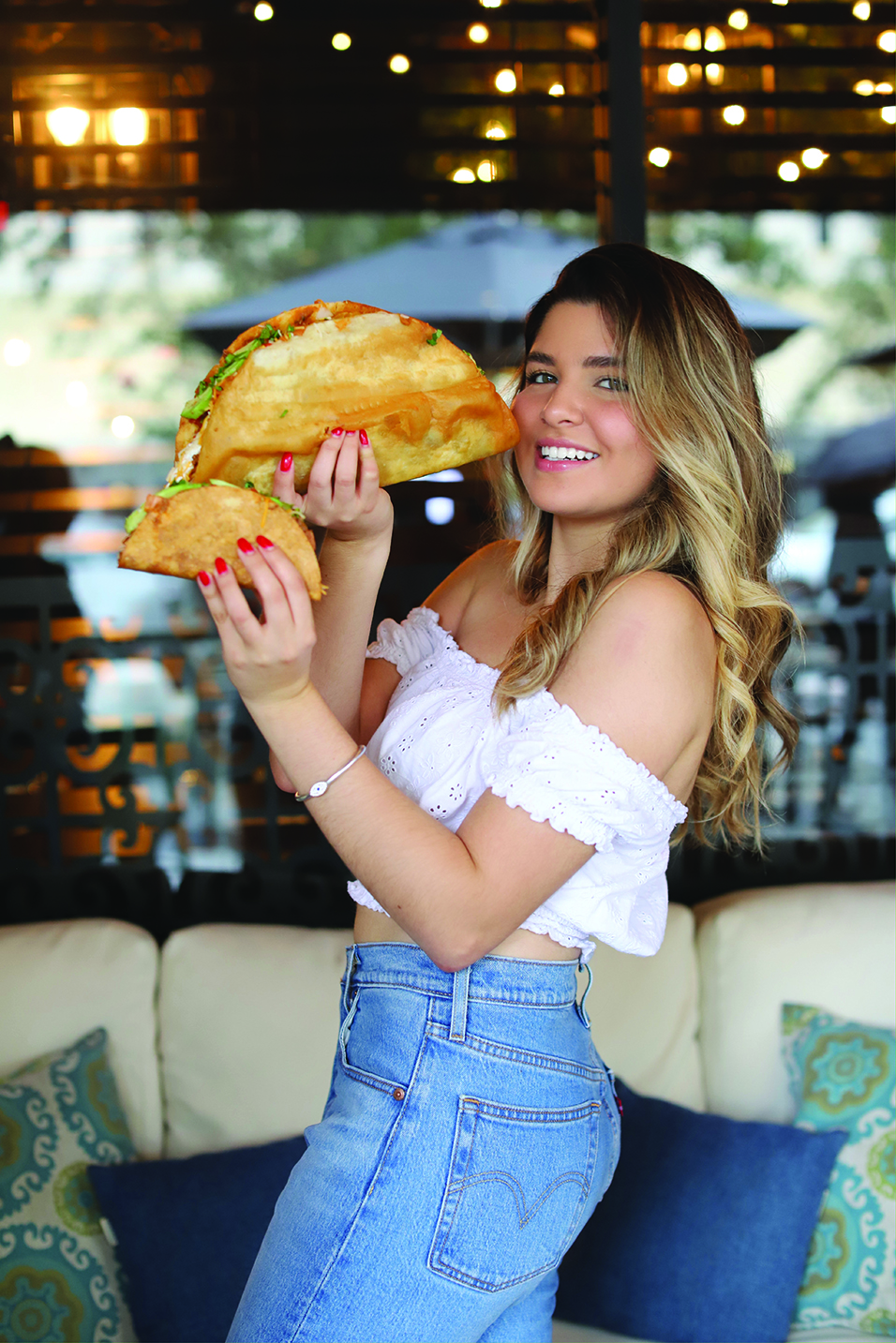 "As your account grows and you share more, you will inevitably find 'haters,' " she says. "They're usually people who don't like to see me eating and call me a pig or tell me I have a double chin. I usually laugh it off and don't respond, but sometimes it can get a little harsh."
Looking beyond 2020, Mussi, who lives in Brickell, plans to post more #BigBiteSzn content, in which she photographs or records herself taking a substantial bite of a large piece of food, be it a slice of pizza or a triple-layer slice of cake. She also hopes to continue her ongoing ambassadorship with Google Pixel and other Google products. Beyond that, you're going to have to follow her to stay tuned.
"Being an influencer sometimes has a negative connotation," she adds. "Some people think I am trying to be a model or score free stuff. This is definitely not the case. I treat my page as a business and my followers with respect. Above all, I am a professional and take my brand collaborations extremely seriously."
SOBEWFF Tips
With the South Beach Wine & Food Festival coming up this month, we asked Mussi for some advice on how to navigate the foodie spectacular:
• Eat your way through every event from back to front. Don't start by the booths near the entrance. Instead, go all the way to the back since those will most likely be empty.
• Wear comfortable shoes. There likely will be a lot of walking and standing, and a lot of these events take place by or on the beach.
• Take advantage of all the photo booths and photo opportunities.
• Have fun. Don't count calories, and just enjoy. It's one week a year.
Tips for Insta-Worthy Photos
We all try to capture the perfect shot of our delicious Miami meals. Here, Mussi offers her tips to make your photos stand out on your Instagram grid.
Gear
Previously, Mussi filmed all videos on her iPhone XS Max but recently upgraded to the 11 Pro Max. For photos, she shoots with a mirrorless Canon M50 with a 50-millimeter lens and a Google Pixel 4 in portrait mode.
Editing
Edit colors, exposure, and white balance on Camera Raw
Use the noise reduction feature in Lightroom, if you have that Adobe photography product
Facetune on the iPhone to smooth out a person's skin a bit or cover up any major blemishes
Use the TouchRetouch app to remove any crumbs or weird marks on a food photo
More Tips
Use natural light whenever possible and avoid using a phone's flash. If shooting at night, carry a small photographer's light to light the food.
Don't be afraid of taking 1,000 photos. (That's what cloud storage is for!) You will have a higher chance of capturing a photo you love.
Experiment with different angles. Don't be afraid to climb on a chair or get down on the floor to capture the right perspective.