In the years leading up to the delivery of its first ship in February 2020, Scarlet Lady, the question wasn't if and when Virgin Voyages would make a splash in the highly competitive cruise industry.
It was how the brand helmed by British billionaire Richard Branson would distinguish itself in a market brimming with established and more prolific players on the high seas.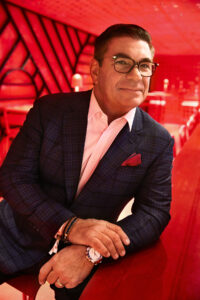 But to the surprise of no one familiar with the entrepreneur's ventures and innovations, Branson and his Virgin Voyages team—led since 2015 by president, CEO and cruise veteran Tom McAlpin—had a vision.
"In the early days, we developed our brand purpose—which was to create an epic sea change for all," says McAlpin, whose background includes nearly 15 years with Disney Cruise Line, as well as five-plus years with the World, the private luxury yacht with 165 exclusive residences that travels the globe. "It had to be grand, and it had to be significant. We wanted to create a different way to cruise.
"And [targeting the] adult market allowed us to distinguish ourselves."
Though providing a cruise experience exclusively for the 18-and-over crowd that's equal parts sophisticated, relaxed, food-forward, health-focused and free-wheeling seems consistent with Virgin's go-big-or-go-home vibe, nothing about the accomplishment should be minimized.
For starters, Scarlet Lady already was halfway across the Atlantic Ocean on its way to New York when COVID-19 not only dropped the hammer on its maiden voyages but shut down the entire industry. Scarlet Lady wouldn't sail with passengers in the United States until October 2021. The following May, Virgin celebrated the debut of Valiant Lady, which launched from Barcelona.
Virgin's four-year window to roll out its first three ships (Resilient Lady is expected to launch this May in Athens, Greece, followed by a fourth ship, Brilliant Lady, by late 2024) had been chopped by more than half the time.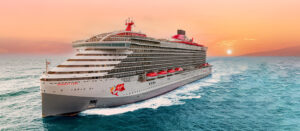 Undaunted, Virgin (with headquarters based in Plantation) set about making immediate waves with Scarlet Lady and Valiant Lady. Early returns suggest the ships have done just that, blowing up travel company sites like Tripadvisor with five-star reviews. McAlpin, part of the original team that conceived the ships and the business plan, says that size and ambience mattered from the outset.
"Our ships are purposely built to be mid-sized ships," he says. "The industry is moving to these behemoth 6,000-passenger ships. We're at [2,770] sailors.
"It's also about the culture we wanted [to cultivate]. Our uniforms are even different; they symbolize the more relaxed environment on board. You don't see captains with five stripes trying to show how important they are. The captain is wearing clothes that you'd see on a super yacht. We want people to be themselves; that's going to allow the crew to engage in a more authentic way with the sailors.
"[For example], on Disney ships, the crew isn't allowed to have visible tattoos; on our ship it's kind of a badge of honor."
It's also available to travelers. Scarlet Lady and Valiant Lady, in a partnership with World Famous Tattoo Ink, bring the seafaring tradition directly to guests with an on-board Squid Ink tattoo shop.
But the Virgin difference doesn't end there.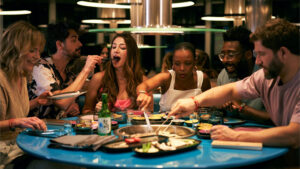 Foodie Fare
"Feedback-wise, our food continues to be one of the top things that people love about our ships," McAlpin says. "We have six specialty restaurants [along with a food hall, The Galley, with shops and carts that satisfy lovers of burgers, tacos, soup/salads, sushi, baked goods and more]. These are restaurants you'd want to go to on land, they're not just part of the ship experience."
Among the themed restaurants:
• The Wake: The stylish spin on the steak-and-seafood concept features a raw bar and tableside drink cart service.
• The Test Kitchen: The not-so-mad culinary scientists here present a list of ingredients to passengers before they dine; from there, the chefs deliver original courses that inspire and educate.
• Pink Agave: Raising the bar on Mexican cuisine, the elevated fare here includes tortas, esquites and tamales—as well as a world-class array of mezcals.
• Gunbae: Flameless grills engineered into the table allow guests to cook their own meats as part of a fun, interactive experience that also includes Korean drinking games.
• Extra Virgin: The ship's trattoria serves up regionally inspired Italian dishes, house-made pasta and stellar wine selections to go with every menu item.
• Razzle Dazzle: This ode to contemporary vegetarian dishes (named after the camouflage patterns on battleships from World War I and World War II) boasts a nice menu (plant-based alternatives to dishes like burgers) and a naughty side (for meat add-ons).
In addition, Virgin ships feature more than their share of indoor and outdoor lounges as well as themed concepts like Athletic Club (inspired by New York sports clubs from the 1920s), Draught Haus (for beers on tap, artisanal brews and shots) and Sip (a Champagne house, featuring an array of luxury labels).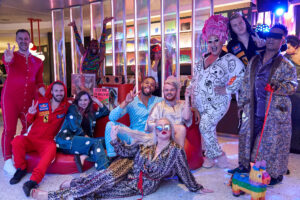 On With the Show
The adults-only thread aboard Virgin Voyages extends to entertainment that ranges from the glittery Manor nightclub (which recalls Branson's first Virgin music studio) to karaoke rooms to original shows like the R-rated "Never Sleep Alone," an energetic, interactive and laugh-out-loud evening of sex and intimacy talk led by "relationship therapist" Dr. A.
Meanwhile, the Red Room represents the first transformational multiform theater at sea—with the potential for three different configurations (a traditional stage, a runway stage used in fashion shows, and a flat-floor setup for dancing).
"Being geared for adults," McAlpin says, "allows us to create more sophisticated experiences all over the ship. People are loving it."
People also are taking advantage of the wellness and rejuvenation possibilities on Virgin's ships—the training center at Athletic Club, complete with strength and gymnastics equipment,
plus a boxing ring; the B-Complex with its spin, yoga and cardio rooms; and Redemption Spa, which sports a hydrotherapy pool, mud and salt rooms, and icy plunge pools. Redemption even throws evening spa parties, complete with a D.J.
"People can have as much fun as they want," McAlpin quips, "and find plenty of ways to be healthy and detox."
Eco-Sensitivity
As part of Branson's ongoing commitment to the environment (and net-zero carbon emissions for the fleet by 2050), Virgin Voyages has banned single-use plastics all of kinds on its ships and instead incorporates recyclable and reusable materials. It's part of an eco-positive philosophy that includes sustainable sourcing of the fish and seafood served onboard.
"We've created a very efficient ship, one that creates less waste," says McAlpin, who points to the lack of buffets as a major contributing factor.
With the launches of Resilient Lady and Brilliant Lady right on schedule, McAlpin thinks Virgin Voyages is on its way to creating the kind of sea change in the cruise industry that he and his team envisioned it could.
"When you go back to the very beginning and think about all of the things that need to be done, it's daunting," McAlpin says. "What is the ship going to look like? Can we find a shipyard to build it? Can we get it at the right price? Can we get the $3 billion of financing for it? Can we find the ports of call? Can we get a terminal built?
"The way you get through that is hiring great people and creating the right culture. At the end of the day, the culture will be what drives this business. If you look at where we're at today, all the risks are behind us. Now, it's about filling these ships and getting the right consumers to enjoy our product."
Visit virginvoyages.com for more details about the ship, cabins, destinations and pricing (gratuities are included in voyage fare)