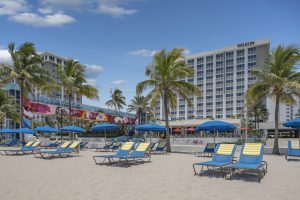 The Westin Fort Lauderdale Beach and Spa will provide a bevy of ways to celebrate Global Wellness Day (GWD) on Saturday, June 11. The resort has crafted a curated exercise and education program to raise mental health awareness and promote wellness. The beachfront resort's on-site Heavenly Spa will provide a morning of movement, empowerment and positivity. Attendees are encouraged to wear bright pink and embrace the GWD theme: #ThinkMagenta as a reminder that living well begins in the mind. 
"Life's daily stresses and worldly happenings take a toll on our minds and thoughts," spa director Ashley Spurlock says. "Now more than ever, we need to uplift ourselves and those around us. Global Wellness Day is a powerful reminder that through positive affirmations, movement and self-care, we can institute positive mental and physical health habits that not only benefit us as individuals, but improve the health of our personal and professional relationships at home and work."
Spurlock has partnered with mental health professionals, fitness experts and spa and wellness brands to present a program to provide information and practice to those interested in better care for themselves and those around them. Self-improvement opportunities include yoga, a beachside spin class, attending mental and physical health discussions, enjoying relaxation stations, product sampling and skincare demonstrations. 
Attendance at the event, primarily on the hotel's Sky Terrace, is free and open to the public; a $40 per class fee and advance registration are required to participate in yoga and spin classes. The Broward Chapter of the National Alliance on Mental Illness (NAMI) will receive 100% of the funds collected. Donations will support the organization's mission to improve the quality of life for people with mental illness and their families through support, education and advocacy.
Raffle tickets to benefit NAMI are available at the Heavenly Spa through June 11. Tickets are $10 or 10 for $50 and will be available for purchase during the Global Wellness Day Event. Winners will be announced after the program on the Sky Terrace at the Westin Fort Lauderdale Beach Resort. Prize drawings include a Pure Fiji Guava Jewel Box, Coola SPF Basket filled with Coola healthy sun and skincare products, LaFlore Skincare Basket and a Westin Beach Resort Spa + Stay, including a one-night stay, dinner for two at Lona and a $150 spa treatment credit.
To register for a yoga class by phone, please get in touch with Heavenly Spa at 945-245-3040 or email [email protected]. Spin class participants should register online to reserve a bike: Westinfortlauderdalebeachspa.com/personal-training/