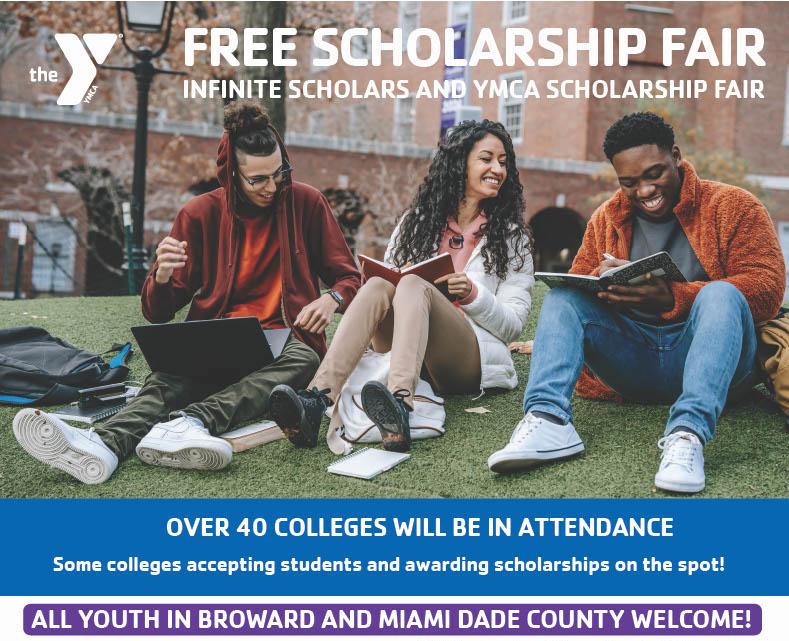 YMCA of South Florida to Host College Scholarship Fair
More than 40 colleges will be in attendance
The YMCA of South Florida and Infinite Scholars will host a free Scholarship Fair to provide local high school students with an opportunity to meet college recruiters and secure scholarships. Over 40 colleges will be represented, with many prepared to offer acceptances and scholarships to qualified students who attend the event starting at 9 a.m. on Monday, Jan. 23 at L.A. Lee YMCA/Mizell Community Center in Fort Lauderdale, 1409 NW Sistrunk Blvd.
"This is an incredible opportunity for students to take advantage of potentially walking away with scholarships, financial aid and acceptances to colleges," Sharon Hughes says, the YMCA Family Services Program Director. "We encourage all families to encourage their students to attend to get a jump start on the next phase of their education journey."
Students must bring multiple copies of ACT/SAT scores, unofficial transcripts, resumes and personal statements of "Why I want to attend college." Students can register here.
For more information, contact Hughes at [email protected] or 954.467.2444, ext. 1717, or Infinite Scholarship Board Member Dr. Laura Dorsey at 407.719.0225.