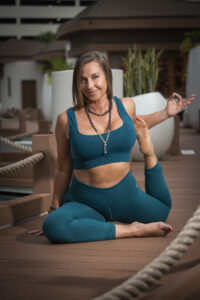 Looking back more than 20 years, with the accident safely in her rearview mirror, Tiffany Levy doesn't dwell on the physical suffering—the torn hip, the injured knee, the damaged neck vertebrae, the compressed and swollen intestines. She recovered from those injuries in a matter of months.
What lingered, what fueled her curiosity about the healing roads revealed through yoga, were the memories. The young woman's face as her car ran the red light at 65 mph and plowed head-on into Tiffany's automobile. The sight of her car roof split in half. The panic she felt being pinned in the vehicle before emergency personnel arrived.
"Those were the moments that stayed with me; they seemed to embed themselves in my nervous system," Tiffany says. "The girl who hit me lost both her legs. I wasn't injured like that—but the replay of the accident in my mind was breaking my body."
At the time, she was a 19-year-old undergrad at Meredith College in Raleigh, North Carolina, studying business management and marketing. But, in many ways, Tiffany's education was just beginning.
"Because of the accident, I had such anxieties," she says. "Just getting into a car bothered me. It was through a massage therapist, who was helping me work out the contusions in my body, that I learned about Kundalini yoga [which involves chanting and breathing exercises].
"Yoga wasn't exactly mainstream in North Carolina back then. My college friends were like, 'You're so weird.' But it saved my life. It brought back the flexibility I was told I couldn't have. And it helped me breathe through the stress and the pain and the anxieties. It was a pivotal moment in my life to understand how people live with traumas forever. I had to learn how to navigate my trauma. Thankfully, yoga found me."
It wouldn't be until 15 years after the accident that Tiffany fully embraced the journey on which she had embarked. She'd spent more than a decade in the corporate world with Sprint, selling phone packages to major businesses (Ford, Enterprise, Coca-Cola) and custom networks to government entities. Along the way, she continued to pursue yoga. But she didn't yet see it as a career option until reaching a low point in her life.
"My mom had passed away," says Tiffany, now 41. "My boyfriend and I were breaking up, and he had cancer. And I was hit by another car, this time while riding my bike. … I had reached that moment. Do I go back to another full-time job? Or do I soul search? I had friends who encouraged me to do what was going to set my heart on fire. And I wanted to teach yoga."
After finishing yoga school, Tiffany began teaching classes full-time in 2014. She initially partnered with Synergy Yoga in Miami before eventually going out on her own. Today, her business—which includes private clients, group classes (like the free one at 4:20 p.m. on Saturdays at Space Park Miami), special events, and yoga retreats—is funneled through Tifftopia Wellness. Her classes, primarily in the hatha vinyasa tradition, focus on breath, movement, mindfulness (and often incorporate guided meditation), in an effort to "balance the yin and yang energies in life."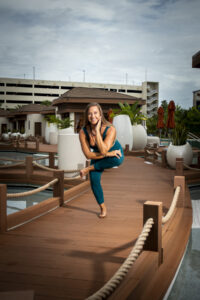 "When I teach yoga, I don't force things on people," Tiffany says. "I'm always the seeker, and I love giving information to other seekers. … The deeper you practice and discover, the more you learn about your shadows. You stop denying yourself, and you start living a full life with purpose.
"Yoga has opened me up to so much over the years. There's infinite learning to absorb by following its paths."
Yoga with Tiffany
• Private client classes
• Wednesday night (7 p.m.) beach yoga classes, 18th Street in Miami ($15)
• 4:20 Yoga, Saturdays at Space Park Miami (free)
• Evening yoga amid the "Beyond Van Gogh" experience at Ice Palace Studios in Miami through mid-August (visit @tifftopia on Instagram for updates)
• Visit tifftopia.com for more information, including details on her Morocco retreat in late October.
Photos by Eduardo Schneider
Shot on location at Seminole Hard Rock Hotel & Casino, Hollywood