Beach House Pompano
Address: 270 N. Pompano Beach Blvd., Pompano Beach
The Buzz: The second-story bar view here is hard to beat; you're perched high enough at the Rooftop Lounge to enjoy the exquisite sand and surf. Better still, nab one of the Crows Nest VIP booths for an even better view—availability is at a premium and it is first-come, first serve, so get there early. Beach bites include grilled artichokes, little neck clams and smoked trout dip. Sushi rolls also are on the menu, along with fish tacos served with the fresh catch of the day or Costa Rican shrimp, all topped with homemade slaw and grilled mango.
Contact: 954.607.6530; beachhousepompano.com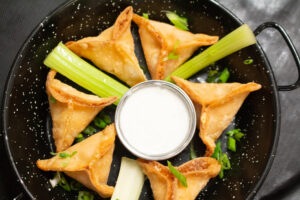 Kings Dining and Entertainment
Address: 3450 NW 83rd Ave., CityPlace, Doral
The Buzz: The retro space here includes a bar that overlooks the indoor bowling alleys, and pool and foosball tables. Kings also rolls a strike with its bar bites. Instead of chicken wings, Kings takes a different approach with its most popular shareable, Buffalo chicken wontons. Grilled chicken and a blend of cheese melted into a sauce are inside the hand-crafted wonton wrapper, which is then deep fried. Just like a conventional wing dish, accompaniments are celery sticks and King's house-made ranch dressing. Traditional wings also are on the menu, as well as pizza, tacos, burgers, fried cheddar bites, Boom Boom shrimp—and more.
Contact: 844.494.9400; kings-de.com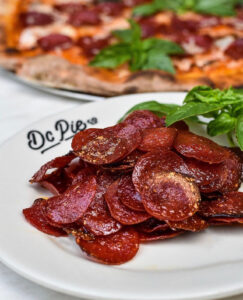 DC Pie Brickell
Address: 1010 Brickell Ave., #200, Miami
The Buzz: Brooklyn brick-oven pies are all the rage here, but one of the most inventive (and may we say addictive) menu items cooked up by DC owner Dominic Cavagnuolo is to serve a pizza lover's favorite topping sans dough. Pepperoni chips are super shareable and great with a brew at the bar. The all-beef slices are oven-baked, giving them a slightly smoky taste; they're topped with a sprig of fresh basil before serving. Inside tip: Get a side of hot honey sauce for dipping.
Contact: 786.453.6888; dcpieco.com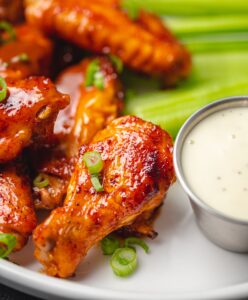 Shooters Waterfront
Address: 3033 NE 32nd Ave., Fort Lauderdale
The Buzz: Belly up to the bar at Shooters or grab an outside table along the Intracoastal Waterway. The extensive bar menu includes shrimp cocktail, smoked fish dip, and delicious flatbread options. Meanwhile, chef-driven sauces help to turn familiar bar items into memorable dishes: Chipotle garlic lime aioli accents the crispy calamari; a mango chili sauce gives a spicy tang to the sweetness of in-house battered coconut shrimp. But it's the guava chili glaze that sends Shooters' chicken wings soaring. For a "this is why we live in Florida
experience," park the car nearby and visit Shooters via the Water Taxi, which stops directly at the restaurant's dock.
Contact: 954.566.2855; shooterswaterfront.com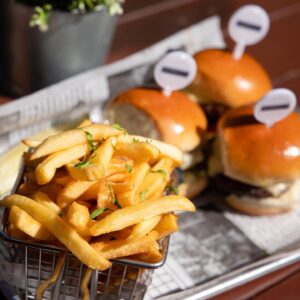 Norman's American Bar and Grill
Address: 6770 Collins Ave., Miami Beach
The Buzz: Go where locals have been heading for more than five decades. There are countless burgers on the menu, but if you're looking for a true all-beef experience, the American Wagyu sliders fit the bill. Expect three mini-Wagyu patties (they don't skimp on the premium meat here, these are small but mighty), melted cheese and a generous helping of caramelized onions on a grilled bun. Of course, it arrives with a basket of crispy French fries. If you want to go big, pick one of the jumbo hamburgers. Might we suggest the Bacon and Blue—blue cheese crumbles and crispy bacon piled on top of a juicy hand-crafted hamburger. For an extra kick, order any of the burgers Cajun style, a Norm's original.
Contact: 305.868.9248; normans.biz