Photo by Eileen Saavedra
Chickens. It was thousands of chickens that started Coconut Creek resident Brook Katz on his crusade of rescuing animals.
Before moving to South Florida in 2006 to care for his aging parents, Katz lived for 10 years in Maui, Hawaii. There, he noticed huge metal sheds on a site where battery cages kept thousands of chickens being primed for slaughter. When it went out of business, Katz wondered what would happen to the hens.
"They just closed up shop and left these big sheds full of hens with no electricity, no water and no feed," he says.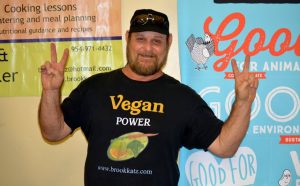 He gathered up two friends and rescued the abandoned birds. They couldn't get to all of them, but they were able to take almost 100 chickens to Laurelee Blanchard's Leilani Farm Sanctuary, where they would be saved from slaughter and nursed back to health.
The experience made Katz begin to think about other unwanted animals: "the three-legged cat or the one-eyed dog—the animals here in Broward County that will, most likely, never have a chance of finding a home."
Eight years ago, Katz had the idea to put together an animal adoption fair where some of the smaller rescue groups in the area could be put "on equal footing" with the larger shelters for one day, under the same roof. He found a large vacant store in Plantation and persuaded the owners to let him use the space for one day, to host the adoption fair.
"We had 20 different rescues and shelters and a few vendors," he says. "We had about 2,000 people that day show up and adopted out about 100 animals."
He had plans for the fair to be a one-time event, "but it was such a hit that everyone kept asking me to have it again," he says. The store property was sold, but he found a home for his adoption fair at the War Memorial Auditorium in Fort Lauderdale. This year, at the eighth annual Animal Adoption Fair, more than 70 shelter and rescue groups will be on hand with hundreds of animals of all shapes and sizes available for adoption, plus dozens of vendors and exhibitors.
The adoption fair is part of a bigger picture Katz has for animal welfare in South Florida. He's created a nonprofit organization that will eventually open the Brookhaven Animal Sanctuary. Katz's goal is to acquire at least eight to 10 acres of land in Broward County, fence it in, and create a place for unadoptable animals—cats, dogs and pasture animals—that will become "residents for life" relieving shelters of the financial burden.
The adoption fair is the seedling of what he hopes eventually will grow into Brookhaven Animal Sanctuary.
"It's a day that is about the animals, but also about all of these rescue groups that are heroes," he says. "This is our way of giving them recognition; for them to have their day in the sun, and to get animals into forever homes."
Eighth Annual Animal Adoption Fair
When: April 28, 10 a.m.-5 p.m.
Where: War Memorial Auditorium, 800 NE Eighth St., Fort Lauderdale
What: Owners are invited to bring leashed pets for vaccinations, microchipping, ear and teeth cleaning, and nail clipping. Parking and admission are free.
Info: animaladoptionfair.com