Few pockets of South Florida have aged with more pomp and style than Aventura. What began as 785 acres of swamp and slop when developer Donald Soffer and his group purchased it more than 50 years ago is now a certified slice of the good life, with luxury high-rise condos, chef-driven dining, and one of the largest shopping complexes in the United States (Aventura Mall).
At the heart of this affluent community in north Miami-Dade County is a famed resort with its own humble beginnings. Back in the late 1970s, then-Turnberry Isle was a sweet golf getaway, featuring a quaint hotel and club. Over the decades, like the burgeoning city around it, Turnberry would emerge as a showpiece all its own, with world-class dining, services and amenities that elevated the resort into rarefied hospitality air.
But as evidenced by its rebranding in December 2018, even a property that already encompasses some 300 acres has room to grow. Since debuting as JW Marriott Miami Turnberry Resort & Spa, the resort, incredibly, has raised its profile even further by revamping its venerable golf courses, expanding and modernizing its conference center, adding glitz and glam to the lobby—and nearly doubling its total number of guest rooms.
Oh, and did we mention there's also a five-acre water park on-site, featuring the world's first uphill waterslide among its aquatic adventures? It's no wonder that readers of Condé Nast Traveler regularly name Turnberry one of the state's top resorts.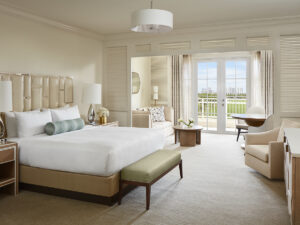 The accommodations: Turnberry always has distinguished itself with chic, contemporary décor and room to roam inside its guest suites (which all have private furnished balconies). The new 16-story Orchid Tower, the centerpiece of the more than $250 million renovation under the JW Marriott banner, adds 325 rooms to that legacy, boosting the overall room/suite total to 685 (spread across four towers). The 1,000-square-foot, one-bedroom corner suites—rich with warm earth tones and sophisticated furnishings—feature a separate living area, a full bathroom with a marble shower (as well as a half-bath), and a plush king-sized mattress. The two-bedroom penthouse suite, nearly triple the size at 2,700 square feet, boasts a living and dining room (with seating for 10 at the table), as well as a study and full kitchen.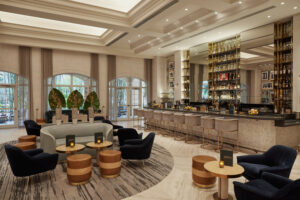 Food for thought: For more than a decade, Michael Mina's Bourbon Steak has captured the imagination of fine-dining lovers in South Florida. The James Beard Award-winning chef's ode to the American steakhouse soars with all-natural, organic cuts of USDA Prime steaks and Japanese A5 Wagyu beef seasoned in herb-infused butter and cooked on an oak wood-fired grill. Equally impressive is the wine menu, featuring some 850 offerings. … Corsair Kitchen & Bar is the resort's casual, all-day complement, but under the direction of Gordon Maybury, it makes a garden-fresh statement all its own. The dinner menu is filled with light comfort food (think soups, salads, sandwiches and wraps, chicken breast) and select entrees that are all bursting with flavor. Good luck finding a better lobster roll—which, in addition to spicy slaw, surprises with chunks of crab and shrimp.
The fit life: The renowned Âme Spa & Wellness Collective at Turnberry remains destination rejuvenation in and around Aventura. The facility, known as much for its aesthetic splendor as its offerings, encompasses three floors and some 25,000 square feet. Highlights include 22 treatment rooms, a yoga studio, a recently updated 3,600-square-foot fitness center, an indoor cycling room, a cardio studio, a Pilates room, and a full hair/nail salon. The three-step Wellness Circuit inside the men's and women's locker rooms invites customers to arrive early and enjoy, in order: the aroma, chroma and music therapy steam room; the Himalayan salt suite; and a five-minute Swiss shower. All that before surrendering to one of the 50-plus treatments on the spa menu.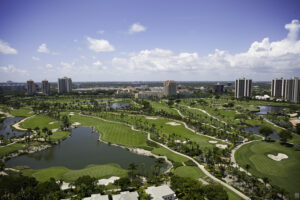 The links: Before the COVID-19 pandemic, World Golf Hall of Famer and four-time major champion Ray Floyd brought his keen eye for redesign to the resort's already renowned Soffer and Miller courses. Renovations to the original Robert Trent Jones Sr. layouts, completed in late 2019, included new TifEagle Bermuda greens on the Soffer Course (the beautifully manicured surfaces can be icy slick, but your ball rolls consistently true), and a new front driving range, as well as chipping and putting greens. Though the Miller requires its share of thought and shot-making ability, the Soffer (some 7,000 yards from the back tees) is a golf experience to cherish, one filled with striking hole designs that manage to challenge and enchant at the same time. Even the second shot on the par-4 18th to a peninsula green is one worth savoring—depending, of course, on whether you carry the water.
Catch a wave: It's only been two-plus years since it opened, but Tidal Cove already has staked its claim as a must-experience outdoor attraction. Better still for customers staying at Turnberry, the sprawling water park is complimentary. It also has a little something for everyone: There's a safe, fun space for parents and little ones (a 4,000-square-foot kids pool/play area); a mammoth zero-entry pool and winding lazy river for the less adventurous; a 60-foot tower that leads to water slides like the vertical Aqua Drop and the aforementioned uphill Master Blaster for thrill-seekers; the first-ever FlowRider Triple simulation pool for surfers and bodyboarders; and 25 spacious cabanas (with flat-screen TVs, a stocked mini-fridge, and personalized service consistent with the Turnberry brand by the all-star staff) for families, couples, and groups of friends. Surf's House Bar & Grill serves up comfort food and healthy fare, along with cocktails and beer.
In addition: The stylish new lobby bar, Soff's (named after Donald Soffer), actually is a throwback, rendered with the kind of smart sophistication found in resort lounges during Miami's Rat Pack years. The drink menu, on the other hand, is all modern with local brews, craft cocktails, and top-shelf spirits. … On the food and beverage front, there's also an on-site Starbucks, and Freestyle at Tidal Cove, a grab-and-go spot with croissant sandwiches, slices of pizza, fruit bowls, salads and more. … Call the resort to learn about late summer and fall specials, as well as spa and golf packages.
Contact: 19999 W. Country Club Drive, Aventura; 305.932.6200, marriott.com/hotels/travel/miajt