What started two decades ago with the purchase of one of South Florida's most beloved concert venues has evolved into a business platform under an umbrella—Damn Good Hospitality—that says plenty about the intent of the company's CEO, Jeff John, and his brother (and chief operating officer), Jarred John.
In part two of Lifestyle's August cover story, Mother Nature deals Jeff another setback. But it's not long before he and his brother have the business running on all cylinders.
Riding the Storm Out: In 2005, back-to-back hurricanes—Katrina in late August and Wilma in late October—dealt Revolution a blow that lingered for more than a year. In the short term, downtown Fort Lauderdale was a disaster with windows blown out, and light poles and electrical lines down. But even as the area gradually recovered, people were too busy dealing with their own storm-ravaged properties and lives to think about live music.
"It wasn't just the lost bookings," CEO Jeff John says. "No one was going out."
Asked how he kept the business going, Jeff pauses before saying, "That's the trust and love of family. If it wasn't for that, we wouldn't be here today."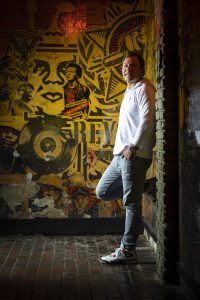 Brothers in Arms: Speaking of which, by this time, Jeff had help at Revolution from a familiar face. After the family invested in Revolution, Jarred's father encouraged him to also attend Lynn and learn the business—even though his ski-loving youngest child had his heart set on college near the Rocky Mountains.
It turned into a bonding opportunity for the brothers, who were nine years apart.
"My first year at Lynn was 2004," says Jarred, who earned his bachelor's degree in business four years later. "That's where my relationship with Jeff evolved. On my off days from school, I'd barback and bartend. I ended up learning the business from the ground up."
"He was working there," Jeff says, "but don't think he wasn't having fun."
"I definitely got to reap the benefits of being at Revolution," Jarred notes with a laugh.
"I will say this," Jeff adds. "He was a great ambassador of the brand. He brought boatloads of people to Revolution while he was in college."
Expanding the Portfolio: Though the country was dealing with an economic downturn in the late 2000s, Jeff was thinking beyond the Great Recession. In 2008, a renovation of the outdoor space behind Revolution resulted in a casual favorite for cold brew and all-night parties called America's Backyard (now, Backyard; see sidebar). Two years later, a 5,000-square-foot space at the end of the building opened as an artist-driven spot to support the local cultural scene called Green Room. That room eventually re-emergred in 2013 as Damn Good's 1920s-era speakeasy, Stache.
By then, Jeff had developed a passion for whiskeys, purchasing private barrels and building a spirit portfolio that would set the stage for Warren. The Delray restaurant debuted last year with a collection of nearly 1,000 original bottles, including single barrels that Jeff personally taste-tests and purchases in Kentucky from brands like Buffalo Trace and Russell's Reserve. (Before Warren, Damn Good acquired the healthy food concept Green Bar & Kitchen in 2018.)
The steady growth coincided with Jarred's emergence, after coming aboard full-time in 2008, as a secret promotional weapon that, along with his guerilla marketing team, helped to fill the rooms at Revolution and Backyard. He would go to become director of operations for all the Fort Lauderdale properties, set corporate polices and handle much of Damn Good's finances.
"When I started Revolution, we went to head shops and tattoo shops and tanning salons with flyers. We were old-school promoters," Jeff says. "Jarred, being nine years younger, grew up with this digital world. I despise it. His ability to understand all of that—the posts, the retweets and all that—from a marketing and branding perspective? You can't put a price on that knowledge and what he brought to our businesses.
"He's also great with the staffs. He makes people feel comfortable and creates a workplace atmosphere that's honest and fair. If Jarred wasn't doing what he's doing, I couldn't get away from the day-to-day at the properties and grow our business."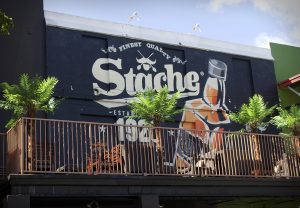 All For One: The brothers remain humbled by the response to the concepts they've launched. Along the way, they've seen expansion the likes of which Jeff could only dream about when he was focused on replacing the $40,000 electrical breaker that blew in 2002. Today, Damn Good Hospitality employs more than 200 people—a figure that will exceed 300 after the launch later this year of Damn Good Sweets in Delray and a second Warren across the state in Naples.
"We do see things differently sometimes, because we grew up in different eras," Jarred says. "But Jeff has this ability to go out, network with certain people, and truly visualize the growth of this business. If we make a mistake, we learn from it. But if the juice is worth the squeeze, we'll move forward on it."
"The worst decision you can make," Jeff says, "is not making a decision. We try to make ours as a team."
Years before he bought out the other investors—and long before Katy Perry and Lady Gaga played Revolution during a three-week span in 2009—Jeff remembers thinking during his early Lynn days what a gem the property seemed. And how it was perfectly situated.
"If you put a dart board over South Florida, Fort Lauderdale is the bull's eye," Jeff says. "You're 18 miles from Miami, 20 miles from Palm Beach, and you're in a market that's now one of the five largest in the country.
"But the biggest thing in 2002 was that I had given these guys a hundred grand of my money—and I didn't want to lose it. So, I said, screw it. I'll buy out the old partners, and we'll put in the millions to renovate the building.
"Let's go all in."
Twenty years later, Damn Good Hospitality continues to reap the benefits of that bet.
Damn Good Options
The offerings under the eclectic Damn Good Hospitality umbrella include a live music haven, a spot to hang and play games, a 1920s-era drinking den, a hub for healthy dining, and the hottest restaurant in Delray. Here's the rundown.
Revolution Live: The OG in the Damn Good stable remains one of South Florida's hippest and most intimate concert venues, with room for 1,300 people in its two-floor, standing-room-only setting in downtown Fort Lauderdale. (jointherevolution.net)
Backyard: The laid-back space behind Revolution hosts everything from glow parties to beer pong tournaments to luxury brunch seatings and much more. There's a good-time feel to this spot for fun and socializing. (backyardftl.com)
Stache: The art of mixology has a home inside this craft cocktail/whiskey bar and nightclub with a discernible air of speakeasy cool. Entertainment includes live bands, cabaret shows and DJs. The two-level space is perfect for private events. (stacheftl.com)
Green Bar & Kitchen: The only concept not originated by the Damn Good team is an ode to wholesome dining in Fort Lauderdale with an array of vegan treats, plant-based burgers, smoothies, salads, bowls, cold-pressed juices and more. (greenbarkitchen.com)
Warren Delray: The brothers' Uncle Warren would be proud of this restaurant in west Delray Beach, inspired by him, that boasts a whiskey collection valued at some $1 million and a chef-driven menu that has this part of Palm Beach County buzzing. (warrendelray.com)
Coming soon: Damn Good Hospitality is poised to launch a second Warren later this year in Naples. In addition, a space behind the Warren in Delray will serve as home to a new concept: Damn Good Sweets, a spin on the traditional sweet treat shop.